Diné fuses jazz, flute into 'Appear to Be' album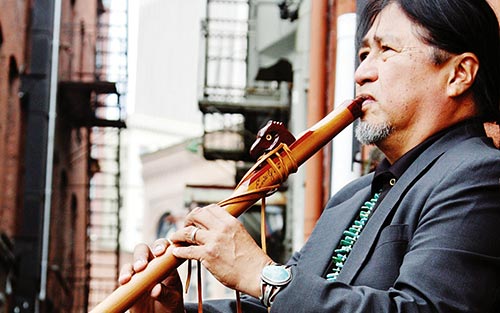 WINDOW ROCK
The Native flute is not an unfamiliar sound to the Navajo Nation, but Vince Redhouse is hoping to surprise listeners with his new album "Appear to Be."
Redhouse, 60, said his album is the first ever composition that encompasses Native flute and jazz music.
"In playing the Native flute I began to understand that it has this tremendous, beautiful sound. I wanted people to hear how well this sound could be adapted to jazz music," Redhouse said, adding "it's easy to play jazz on the Native flute."
Redhouse said as he was developing this album he noticed that no one has ever produced Native flute music before, and was excited to share it on his album.
"I have spent years in developing a fingering system for this instrument with six holes and you will hear how fluent this sounds playing jazz," Redhouse said, adding that him being a jazz tenor saxophone player is what contributed to what he's done with the music in his album.
---