'Night of the Navajos' samples the Diné music scene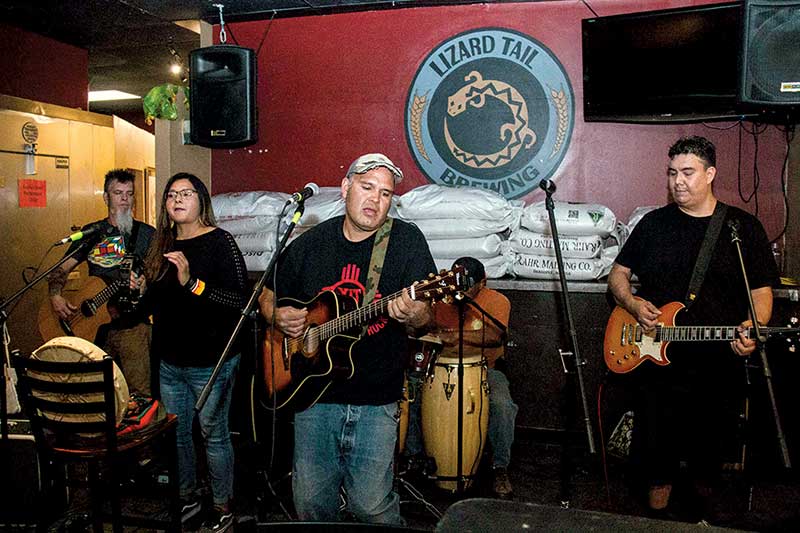 By Jason Morgan Edwards
Special to the Times
ALBUQUERQUE
Andrew "Buzzy" Wilson is no stranger to the Native music scene.
With the Gathering of Nations Powwow bringing tens of thousands of Natives and other visitors to town last weekend, he decided that he wanted to host his own kind of music night, featuring some musicians that might not get to showcase their talent otherwise. Thus was spawned the "Night of the Navajos."
The lineup featured some faces and voices familiar to the Albuquerque music scene but also lent the stage to a few out-of-towners. Buzzy says the plans for the event arose because "I have been interested in playing a show here at Gathering for several years. I never got the opportunity to put on a sideshow.
"I played the main show last year," he said. "I was talking with some of my friends from the Navajo Nation and a lot of them didn't get the opportunity. So I decided to throw my own show here at Lizard Tail Brewery."
Lizard Tail has a history of supporting local Native bands. It was among the first named sponsors of the Native Guitars Tour, led by Jir Anderson, four years ago. The company has continued its support by hosting one or two Native showcases per year during Gathering of Nations week.
The lineup included JJ Otero (Ta'néészahnii, born for Kinlichíi'nii; maternal grandfathers are Kiis' anii and paternal grandfathers are Haltsooí Dine'é) of Son of Hwéeldi. He performed with a couple of friends, rather than his band. But it was all in the spirit of kinship and artistic expression.
---