Professional orchestra wows Chinle, Many Farms students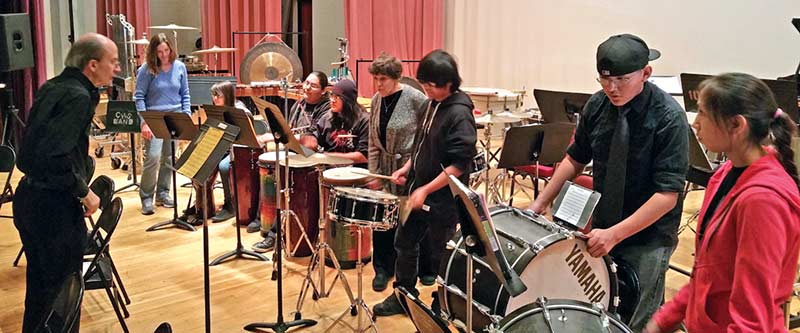 By Shondiin Silversmith and Cindy Yurth
Navajo Times
 MANY FARMS, Ariz.
From chord progressions to playing in sync, students from Chinle and Many Farms high schools enhanced their skills as musicians with the help of Philadelphia award-winning ensemble Orchestra 2001.
Artists from Orchestra 2001 led several students through music workshops at Many Farms this past Saturday. All the students worked on music they've played at school.
"I can teach them five days a week but they don't always hear everything I have to say," said Many Farms music teacher Carol Ridley on why it was a treat to have students work with Orchestra 2001.
Ridley said the workshops are a way for the students "to get extra help from someone else."
The workshops included percussion, wind instruments, brass instruments and guitar.
Percussion players perfected their beat with a drum workshop led by two percussionists from the orchestra.
"I enjoyed working with these kids. The percussionists learned things so quickly and they're so eager to learn," said percussionist Susan Jones, adding that she was happy to see the kids easily move from one instrument to the next.
"It's just fabulous. I am so glad they are so hungry for music," Jones added. "I learned stuff from them and they learned stuff from us, but that's what music is about. It's give and take."