600 youth attend Native American College Day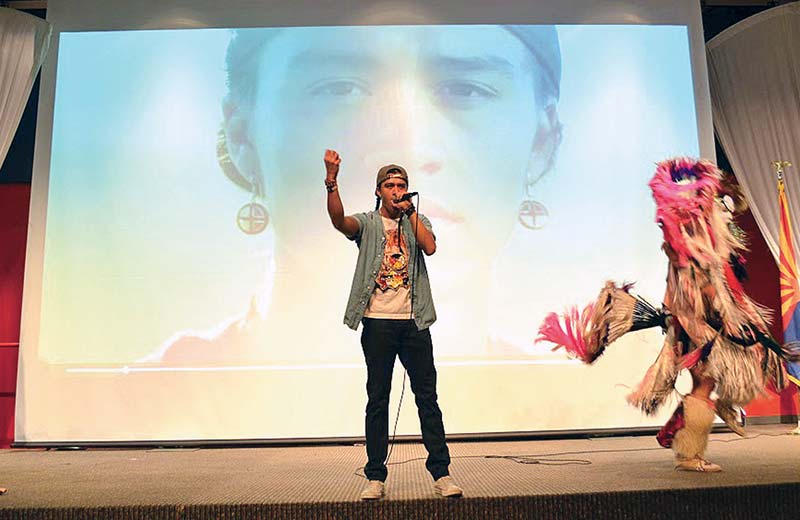 By Amanda Bahe
Special to the Times
TUCSON
More than 600 Native youth and their families, some traveling in buses from as far away as Tuba City, arrived on the University of Arizona campus last Saturday for the second annual Native American College Day.
Aimed primarily at acclimating students to a university environment, college day is free and provides workshops on financial aid and the college application process. Personal stories from current U of A students highlight areas that may benefit first-year students.
"We want to let them know that they're not the only ones going through this process," said Monika Honeyestewa, graduate assistant with the U of A's Native Student Outreach, Access & Resiliency mentoring program. Native SOAR caters to seven different high schools around Tucson and the Tohono O'odham Nation, and served as the day's primary organizer and host.
Undergraduate students in the Native SOAR program moderated the workshops and interacted with high school students on a more personal level throughout the day.
Amanda Tachine, doctoral candidate in higher education and leader of the Native SOAR program, said this approach to college day is important because it allows high school students to visualize themselves as part of a college community.
Tachine said Native SOAR is a year-round program whose goal is to inspire high school students to begin thinking about college.
Undergraduate students in the program are also matched with professional mentors as a way to encourage persistence in college.
For college day, Tachine and the Native SOAR team partnered with numerous offices and organizations to reach students beyond the Tucson area in an effort to give them the benefits of the year-round program in one day.
Keynote speaker Frank Waln, Sicangu Lakota, a rising rap artist, is featured in the November 2014 episode of MTV's Rebel Music series and raises awareness about issues affecting indigenous communities. He is also a recent graduate of Columbia College and past Gates Millennium scholarship recipient.
Waln's presence at college day was highly publicized and many students stayed at the event in order to get a glimpse of the celebrity after his speech was delayed by a missed flight.
Speaking alongside his touring partner, Lumhe "Micco" Sampson, Waln urged the youth to use their talents to create positive change within their communities.
Waln and Sampson also shared advice on resiliency, telling students to remain true to themselves and to pursue what they are most passionate about even in the face of adversity.
"Find your passion. Do what you love and do it no matter what," Waln said.
Waln spoke about his journey into higher education and the initial culture shock he experienced as a first-year pre-med student at Creighton University.
Though he was a standout student at his local high school, he recalled the struggles he endured as a result of being less academically prepared for college-level coursework than his peers.
Waln took time off from Creighton, eventually realizing that his true love was music.
"If you see a problem or something that needs to be done, go do it. Don't wait around, go do it," Waln said.
"He has a positive message, his (words) really instill college as an avenue to take and he has a balanced approach so you leave feeling good," Tachine said, of the reason Native SOAR pushed to get Waln and the Sampson brothers to the university for the speech and free public show later in the evening.
Waln and the Sampson brothers used music and dance as a call for action, asking spectators to pay close attention to ongoing issues in their communities.
"It doesn't matter where you're from," said Micco Sampson. "Each person has something to bring to the table. You're a part of this community, you're a part of this world. We all have a job and some part to do."
Their performance featured popular songs such as "Oil 4 Blood" and "Hoka" and included Waln rapping over the flute playing of Samsoche Sampson, the other half of the Sampson brother duo, in a preview of music from Waln's upcoming second album.
Waln closed the show by welcoming the audience to rush the stage for a selfie that he would later share across social media networks. The impact of Waln and the Sampson brothers could be seen hours after the show as fans – old and new – stood in long lines for a shot at a coveted picture and autograph.
"It's really about the hope," Tachine said, of the reason Waln's message resonates so deeply with the Native community. "We know we have struggles, but he shows that there's hope. And we're a part of that hope. I think that's really powerful."