'The vibes are great'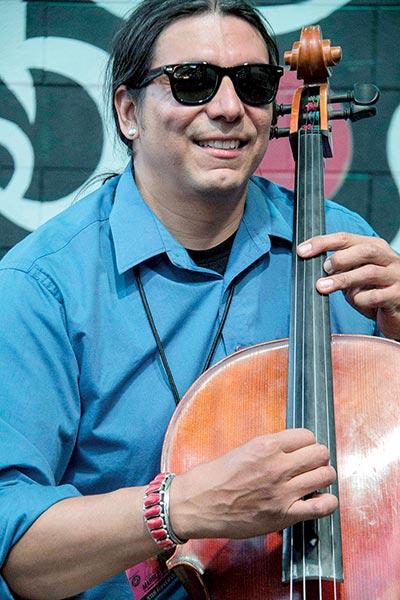 Native Guitars Tour makes its 6th stop at Gathering of Nations
By Jason Morgan Edwards
Special to the Times
ALBUQUERQUE
The Native Guitars Tour event, "Under the Native Stars," made an exciting return to Albuquerque during Gathering of Nations week. NGT provided an opportunity for Native musicians to showcase their talent and skill before national audiences.
It is the brainchild of blues artist Jir Anderson, Cochiti. The event tries to feature music from all genres. This year they featured Diné cellist Randall Warren to lead off the night.
He was followed by the reggae stylings of I. Conscious, Liv The Artist, The Desert Loops, and The Jir Project. The evening was closed by hard-rocking Canadian Derek Miller. "So, the genres are really (varied)," Anderson said. "What we like to do is see who's really out there, who's touring, who's putting in the work."
NGT is fast developing a reputation for finding skilled Native musicians, wherever their homes. After making multiple appearances at Austin's SxSW Music Festival, Warren was added to the Tour. A crowd favorite, he made a second stop in Albuquerque. Warren is a classically trained musician and graduate of the University of California, Berkeley College of Music.
But as he terms it, "I play a box with strings. But, no, I'm classically trained. I learned how to play the cello through public education, which I think is conflicting sometimes. Some people say that public education and music is fine, these days. I think there could always be more investment."
He plays original compositions and some easily recognized classical tunes. But he studied jazz while in college, which makes perfect sense considering his knack for improvisation and unconventional playing style. He plays a few selections with the bow. But the next instant he's plucking the strings as if he's playing an upright bass. He even sings a few tunes, all in the name of having an entertaining set.
---