Diné students celebrate Indigenous Peoples' Day in Boston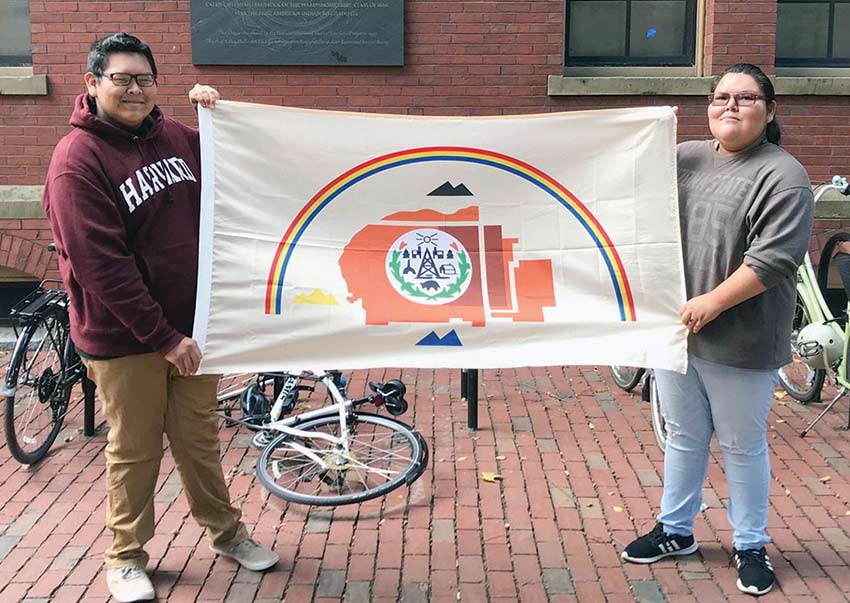 WINDOW ROCK
Two 2018 Chinle High grads attending college in New England were determined to get together and celebrate Indigenous Peoples' Day … and while it didn't turn out the way they had planned, it's still one for the memory books.
Keanu Gorman, who's studying at Harvard, and Tasheana Tom, a freshman at Hartford University in Connecticut, had decided to represent their Navajo culture at a gathering of Natives and other interested folks in front of Matthews Hall at Harvard, which was originally the site of the university's Indian college.
After nearly aborting the mission when she thought she had missed the bus Saturday (fortunately it was late), Tom joined Gorman on campus where "all I remember is eating and laughing," Gorman said.
The next day, "We started off very early with prayer," Gorman recalled. He got into his traditional outfit; Tom wore a T-shirt with a pottery design and her Navajo jewelry.
Then the two went to one of the dorms to make fry bread dough, which they were going to share with a Native American club from Boston that had walked from Brookline to meet the Harvard group.
Unfortunately, "We were both very tired from studying," said Gorman, neglecting to mention the part about staying up laughing with his old high school chum the night before.
The two decided to take a nap, but Gorman slept so long he missed the program.
Tom went, and reportedly gave a stirring presentation on missing indigenous women, but she had picked up a bug somewhere and lost her voice for the rest of the day.
"From what I heard, a lot of people stopped by to listen," Gorman said.
Tom and Gorman had planned to meet with the other two Navajos in the area and unfurl a Navajo flag in front of Matthews Hall, but the other two didn't show up.
"It didn't all go as planned, but the important thing was we got to get together and talk about home and make fry bread," Gorman summarized.
Gorman said that while Natives are few and far between on the East Coast, there are some active groups, including the Ivy Native Council, which he talked Tom into joining with him.
"We get together once a semester to have conferences, talk and have fun," he said.
He added he misses his family and the rez, but is working through his homesickness and enjoying the challenging classes.
"One time they had rack of lamb in the cafeteria," he said. "I don't know how many times I went back. I figured it was the closest I was going to get to mutton for a while."
---