Hopi Police officer in shooting incident is former Diné Ranger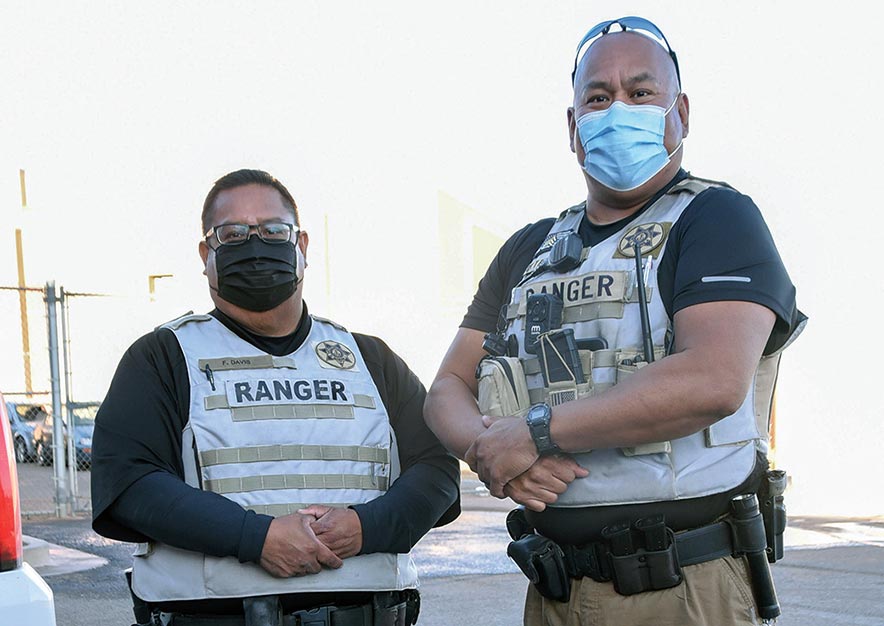 By Krista Allen
Special to the Times
TÓNANEESDIZÍ
Navajo law enforcement rangers in Western Navajo are often the first on the scene of an accident or an emergency.
Their job is incredibly multi-faceted and diverse, but their main job is to protect Diné Bikéyah.
"There are a lot of things that have happened and that I came across," said former Navajo Ranger Fred Davis, who was stationed in Western Navajo. "But there were also many things that were good."
Davis's last day as a law enforcement ranger was on Jan. 15. He announced his resignation in a letter to Navajo Ranger Sgt. Elmer Phillips on Jan. 5.
He joined the Hopi Police force the week of Jan. 18.
Within his first three weeks as a Hopi Police officer, Davis was involved in a shooting during a traffic stop.
He was one of two law enforcement officers who attempted to pull over a vehicle at First Mesa when shots were fired at their police unit.
"Yeah, it's crazy," he told the Navajo Times. "I'm OK."
Eventually all the suspects in the incident were arrested.
In his letter resigning from the Navajo Rangers, Davis thanked Phillips for the opportunity to work as a ranger for more than 10 years. He started his law enforcement ranger career in 2009.
Davis's career in public safety started in 1998 when he started a corrections officer position at the Navajo Department of Corrections in Tuba City.
"I've seen (law enforcement) officers come and go – I saw that, and I saw how they carried themselves," Davis said in an interview. "I saw how they were respected in a uniform. I thought, 'Hey, I want to do that.' So, I started from corrections."
In 2000, Davis left for a corrections officer position at the Western Navajo Juvenile Detention Center.
"At first, I was working with adults, and then I (transferred to the juvenile detention center)," Davis explained. "That kind of inspired me because I saw all the kids that needed help.
"So, when the opportunity came to go into law enforcement," he said, "I saw an advertisement (for a law enforcement ranger)."
Davis looked into the position and decided to apply. This is something he always wanted to do, he thought.
"I wanted to do something outdoors and be a law enforcement officer," he said. "And you're not doing one thing, but you're doing multiple things. You're doing boating patrol, ATV patrol – you're pretty much out in the public areas.
"At the same time, you're also enforcing Navajo Nation codes that the Navajo Police enforce as well," he said. "So it was all the things I wanted to do rolled up in one."
Davis said being a ranger, one does both ranger and police work.
"That's why I chose (the field), and I applied and went through the whole interview process," Davis said. "I was hired and a month later I went to the police academy in Artesia, New Mexico, a federal law enforcement training center and I was there for about five-and-half months."
After completing the academy, he "wanted to save the world," said Davis.
"I knew that with the experience I had in corrections, I couldn't do that," he said. "I had to just be myself and behind this badge, I'm human as well. And now, I'm in a position to do a little more, and helping families that need help."
When the coronavirus entered the Navajo Nation, Davis, along with his longtime partner Travis Fuller, was one of the law enforcement officers to help patrol and secure areas impacted by COVID-19.
He's also helped patrol and secure areas during events such as the annual Western Navajo Fair, Discovery Channel's "Skywire Live with Nik Wallenda," YouTube Original's broadcast of Will Smith "The Jump over the Little Colorado River," Navajo YES's Navajo Park Race Series, the Navajo Nation inaugurations, among a list of others.
"The people out here (in Western Navajo), no matter who or where they are, they could be from different tribes, we're all the same – that's something I can take with me: I can help people," he said.
He added that one of his biggest highlights during his career was getting a call from then-Vice President Jonathan Nez, who personally asked him and Fuller to be his executive protection security during his inauguration.
"I was like, 'Whoa! Really?' He said, 'I want you part of our team for that day, but you're going to have to wear a suit and tie.'
"I said, 'Oh, great!'" he said. "So, Travis and I … went to get a suit and tie.
"That was something that was really awesome," he said. "We had our suit and tie and our side arms. Since then, we've been working closely with the president's office."
President Nez recognized and thanked Davis for his service saying he played an instrumental role in coordinating partnerships with outside law enforcement agencies in the state of Arizona.
"He also helped to coordinate Toys for Tots events, the Special Olympics Law Enforcement Torch Run, anti-bully and suicide prevention programs, and numerous community outreach events with the Navajo Nation," Nez said. "The Nez (administration) honors Mr. Davis for his service and contributions over the years and we wish him the very best as he and his family move forward."
Surrounded by Tuba City Police District officers, along with his friends and family, Davis did an official sign-off call on the radio with the Tuba City Police District.
"I'm not ready," he said emotionally, as he sat in his white unit and held up the radio.
"All units stand by for a special message, all units stand by for a special message," a dispatcher announced. "Thank you, sir, for your 12 years of service and dedication to the community of Tuba City and the Navajo Nation …."
"I'll be in Tuba City," Davis said, "just patrolling across the street."
---