Young horseman spent a year working with his animal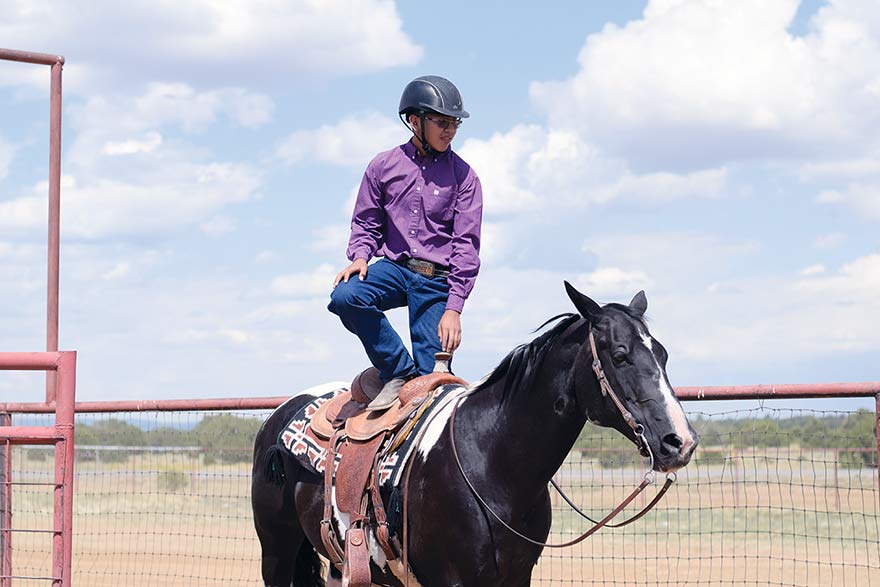 PINE HILL, N.M.
Jace Begay, 14, looked so content and comfortable with his horse, Roxy. Jace bought her, with money he earned from 4-H, exactly one year ago. The pair have been working together ever since.
But the ease between Jace and his horse looked like more than a year in the making. So it comes as no surprise that Jace grew up with horses and has spent the last year working on his horsemanship. "I did junior rodeos when I was younger and I wanted to see a different way besides going fast and doing all these other competitions" Jace said. "I wanted to see what I could do in a different competition." This is why he chose to do the 4-H horse series.
To prepare for this Jace works with his horse for one to three hours every day. "It's a chance to get to know your animal and how they can work with you," he said. "It's a fun activity too." Jace won champion showman and the trails competition at the 2019 Navajo Nation Junior Horse Show Series held at the Ramah Navajo Fair and Rodeo last Friday.
"It feels good to win," he said. To get ready for the horse showmanship competition, Jace has to wash and condition Roxy's mane and tail. Then, he has to put the tail into a tail bag that keeps it clean. "That's why her tail is all wavy," Jace said. "It's because it had a wrap on it."
Jace has been a part of 4-H since he was nine years old. He also shows lambs and goats. His focus though is to win a high-point award at the New Mexico State Fair Horse Show. Winning this entails scoring high in the trails competition, which is a series of obstacles that a competitor has to complete on horseback.
This is why his family made him a trails course at home. This is how Jace got his horse used to all the obstacles that consist of trotting over logs, opening and closing a gate, and opening and closing a mailbox. The mailbox was the most difficult for most of the young contestants at the Ramah Navajo Fair.
There was one horse that literally jumped away from the mailbox when the mail was taken out. On the other hand, Jace's horse handled all the obstacles with ease. "To help them get trained you would walk with them all the way up to it and just let them stand there," Jace said. "So they can get used to it. Then, you would open it and close it. Keep doing it until they get used to the sound."
His mother, Lacey Begay, encouraged her son to do 4-H because she wanted him to have horsemanship skills as well as learn how to care for animals.
"So he could use it, if he decided to do other disciplines in the horse field or with equines, like showing halter, or going onto rodeo," Begay said. She's hoping Jace stays with it. The family's next stop for 4-H is the Navajo Nation Fair that starts next week.
Information: Navajo Nation 4-H Program on Facebook.
---