In Chinle, 1-Stop fills many needs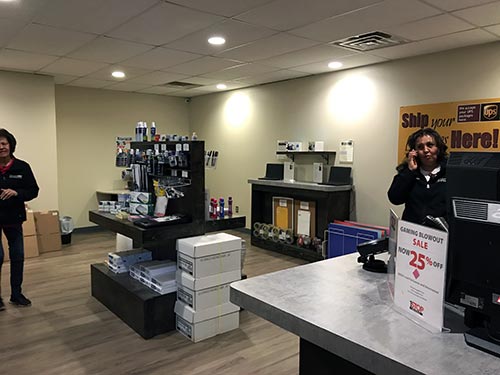 CHINLE
When Cellular One's higher-ups at the regional office in Show Low, Arizona, were looking to diversify from the communications business, they asked their employees at the Chinle Cell One store what Chinle needed.
The ideas just kept coming.
Mailboxes (the post office was always running out). A place to pick up and drop off UPS parcels. Video games and consoles. Office supplies. Fax, copy and computer services. A notary public. Bingo cards and daubers.
It soon became apparent it would have been easier to ask what Chinle DIDN'T need.
The result of that conversation is a store so eclectic, they must have had trouble naming it. "1-Stop Mail & More" fills the bill, and dovetails nicely with the Cell One brand, whose Chinle store is right next door.
"Basically," said Cell One's district manager for the area, Todd Begay, "they chose us for their pilot project because we had the space."
The Cellular One store had been using the large open room in their rented space just past Church's Chicken as a conference room, but with a small staff, conferences could easily be handled in a smaller area partitioned off behind the counter.
With business site leases at a premium on the reservation, any space that remains vacant for more than a few hours a day is the real estate equivalent of an employee who's not pulling his weight.
1-Stop opened its doors last August. The first people to discover the new shop were medical transport drivers who have to fax in their mileage forms daily, and the bingo hall owners.
"We sold out of daubers almost immediately," said Fran Catron, who works next door at Cell One but fills in for 1-Stop sales rep Audrey Joey when Joey is at lunch. "Now we order them by the case."
---