Cleanup company hiring Diné: Workers invited to 'join the fight' against COVID-19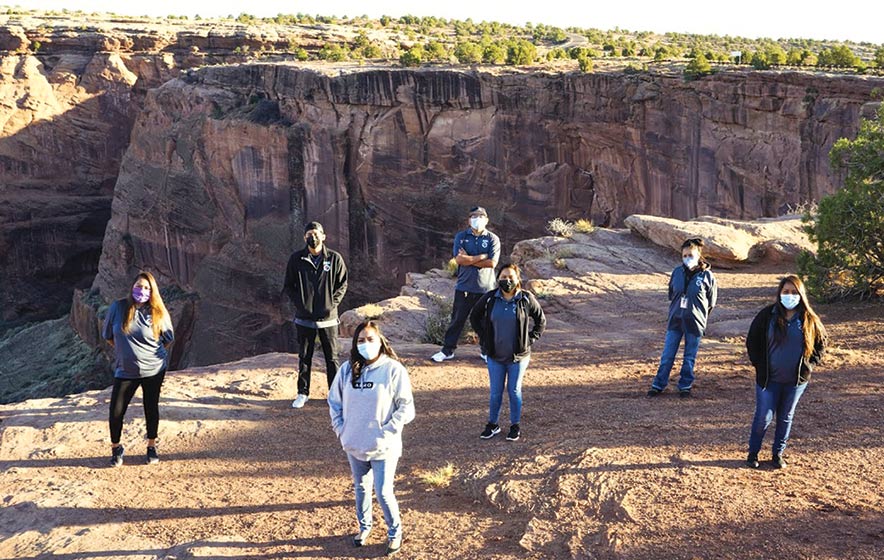 WINDOW ROCK
As business closures and unemployment rise with the COVID-19 surges, it's a bit of good news that one company on the Navajo Nation is growing rapidly and looking to hire workers.
Founded by President and CEO Scott "Ike" Hawkersmith, Southern Solutions Environmental specializes in viral pathogen mitigation and biohazard emergency response. Hawkersmith moved the operation from Tennessee to the Navajo Nation in June to help "fight COVID-19."
Since then, SSE has hired approximately 25 Navajo and will be hiring about 75 more employees by the end of December in order to keep up with demand for facility decontamination services.
"We're expanding and growing," said Hawkersmith. "A lot of our people are younger, motivated individuals who want to participate in fighting the pandemic and we're giving them a pathway to do that. That's powerful, especially right now."
Ivan Nez, 31, from Piñon, is a project manager who joined SSE in October. He says he appreciates the opportunity to fight the coronavirus on a bigger scale, help his people, and be a part of history.
"I take a lot of pride in what I do because I'm recruiting, I'm training people, and managing sanitizing of isolation sites," said Nez.
SSE has been working under the direction of the Navajo Health Command Operations Center and the Facilities Maintenance Department in Fort Defiance, where they now have an office, and is committed to hiring a majority Navajo workforce.
Their weapon against COVID-19 is an aerosolized decontaminant called "D7," produced by Decon7 Systems, which breaks down and kills coronavirus by penetrating the layers that surround it and destroying its RNA.
Hawkersmith says he's glad to be able to create opportunities and work with talented people who need jobs to address a problem that is bigger than all of us – the pandemic.
"People want to participate because they're tired, they're exhausted, after a year of this, and they just want to go back to normal life," he said. "We're the only ones who can kill COVID."
'Like a family'
Hiring Navajos is beneficial for the company, its employees and clients, says Personnel Director Dustin Leyva, who formerly worked at the Navajo Nation COVID-19 Command Center. When his contract there ended, he made the leap to join SSE.
"Dustin had done a tremendous job back in the summer assisting the company," said Hawkersmith. "We recognized that this was exactly the kind of individual that we want to hire."
Leyva, who is now SSE's hiring manager, said the company has been recruiting through job posts on social media, word of mouth, and working with chapter administrators, with the goal of hiring workers who can serve each agency on the Nation.
Entry-level pay for SSE's D7 technicians is $20 per hour. Applicants must be at least 18 years old.
Leyva said there are also opportunities for advancement to become a team leader or to move into administrative positions.
"We've initiated a sense of pride and service for our Navajo hires," said Leyva. "We are looking for new hires to 'join the fight,' so to speak."
SSE Chief Operating Officer David Barnes said without Leyva, SSE would not have been able to scale up staff as quickly as they have.
"The fact that he grew up here and knows everyone made it a lot easier for us to recruit," said Barnes.
Leyva said, as a Navajo, his knowledge of what is culturally appropriate and what is not is important too. For example, if there has been a death related to COVID-19.
"We, as Navajo people, understand those cultural sensitivities and make it a team effort, like a family," he said.
Barnes said that Leyva, knowing the lay of the land, has also been extremely helpful in mapping client locations that often lack physical addresses.
In the past month alone, SSE has decontaminated over a million square feet of buildings, including government offices, chapter houses, and senior centers, plus additional on-demand services for COVID-19 exposed sites.
"We've seen the need rise significantly," said SSE Vice President Collin Anderson. "It helps our company to have people in the communities."
Safety first
Originally developed at Sandia Labs, D7 is an advanced hydrogen peroxide-based decontamination formula that is non-toxic, non-corrosive and Environmental Protection Agency-compliant.
SSE technicians deliver D7 through two methods – atmospheric bombardment, where the aerosolized product disperses through the air and covers all surfaces, and direct surface spraying for highly touched areas and focused applications.
Hawkersmith says for each decontamination assignment they do two rounds of D7 fumigation, which eliminates the virus, along with other pathogens, including in hard-to-reach spaces like heating ventilation and air conditioning ducts.
While it only takes up to 10 minutes of contact with D7 for pathogens to start breaking down and neutralizing the virus, the decontaminant's full cycle is eight hours, after which it degrades back into water.
Hawkersmith says SSE goes by strict safety guidelines. D7 technicians wear full protective gear, including body suits, face respirators, double-layer gloves and sealed rubber boots.
Leander James, 22, from Red Lake Chapter, said joining SSE and taking proactive action to decontaminate with D7 in a way makes him feel safer.
"I'm glad and proud to serve the Navajo Nation and our people and I want to inspire young people as well," said James. "It's best to do something now than to just wait."
Leyva said that before any decontamination work is done, his team communicates with site managers instead of just showing up in Hazmat gear without introduction.
"We meet with the property manager and go through a synopsis of the procedures and answer any questions they have," said Leyva.
Anderson said being able to talk to facility managers before they get there also helps minimize resistance to something people might find scary – cleaning up COVID-19.
"Unfortunately, COVID has tremendous psychological effects on all of us," said Hawkersmith. "We make sure all of our technicians are friendly and accommodating. Keeping people calm is a large part of our strategy in our daily routines."
The SSE team responds to requests for decontamination services within one day, and they do take requests from entities and individuals that are not part of the Navajo government.
They also initiate a rapid response if there has been a COVID-19 exposure.
"Unfortunately, a lot of the places where there's been a contamination, say a chapter house, there's food, water and supplies in there that nobody can access until we've been in there," said Hawkersmith. "We have to get into those buildings and guarantee that whoever is going back into the building is safe."
Hawkersimth said there have also been a lot of issues with some of the larger administrative buildings on the Navajo Nation.
"With so many people coming in and out of them, those are the buildings we're finding ourselves in the most," he said.
Fighting an invisible disease
While their work has been focused on decontamination, SSE also does sanitizing with D7 as a preventative measure. They recommend highly trafficked buildings and offices, especially those with poor ventilation, be disinfected regularly to proactively fight the virus.
"What we'd like the people to know is that we are here to help and that our main objective is to make it safer for everybody to go to the necessary places they need to go to," said Barnes.
Barnes said the SSE team is glad to be fulfilling their goal of helping to fight the pandemic on Navajo while creating opportunities to include people in the community.
"I want the people of the Navajo Nation to understand that we recognize that the Navajo helped save America before with the Code Talkers," said Anderson. "This is not something we should be surprised about, that people are willing to step up and help, especially in a warrior community like this."
With respect to Navajo history, Hawkersmith believes each generation has been asked to step up in one way or another, whether to fight a war or confront the federal government.
While he understands that working for SSE is not for everyone, he welcomes those who are in need of work and want to help mitigate the virus apply.
"This time it's a fight against an invisible disease and it's up to you if you want to answer the call," said Hawkersmith. "For everyone that does, you have our greatest esteem."
Information: www.cleanup-coronavirus.com or email jobs@cleanup-coronavirus.com.
---