Coming together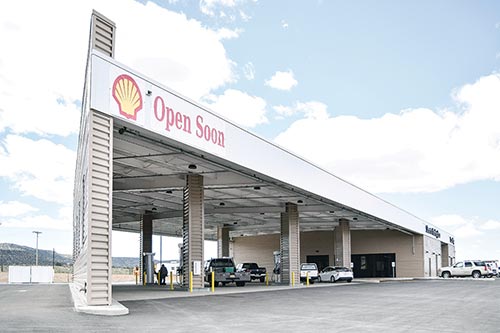 Shonto opens new store after years of work by tribal officials
SHONTO, Ariz.
The long-awaited Shonto Marketplace opened for business April 27 as the Shonto Community Governance began a soft launch period, said Robert Black Jr.
The Shonto Marketplace, located at the junction of U.S. Route 160 and State Route 98, officially opened Tuesday, May 2, with a grand opening at 9 a.m.
"We want to open … with a ribbon-cutting ceremony," said Black, manager at SCG. "Afterwards, we'll have the rest of the agenda."
Shortly after the ribbon-cutting, dignitaries invited by SCG, including President Russell Begaye and Vice President Jonathan Nez, will be taken on a tour of the convenience store and laundromat built on 4.2 acres of a 10-acre site that local leaders had fenced off through grant money in 2006.
The agenda includes speeches by Douglas Adams, marketplace operator; Seth Damon, chairman of the Budget and Finance Committee; and Felix Fuller, president at SCG, among others.
"It's actually coming together!" exclaimed Elizabeth Whitethorne-Benally, vice president at SCG. "Is this real?"
The dream of a convenience store began more than a decade ago when the current officials were first elected into office and Nez was a Council delegate for Naatsis'áán and Oljato-Monument Valley, Utah, Shonto and Ts'ahbiikin – what locals call the NOST (Náás in Diné bizaad) region.
"When we came into office, we asked each other what we are going to do," Whitethorne-Benally said. "We said we would continue projects, and we started brainstorming. Now, it's coming together."
But officials say it was not an easy feat to bring a convenience store to Shonto where there is a 100-year-old trading post in the canyon.
---