Entrepreneur creates up-cycled clothing, better life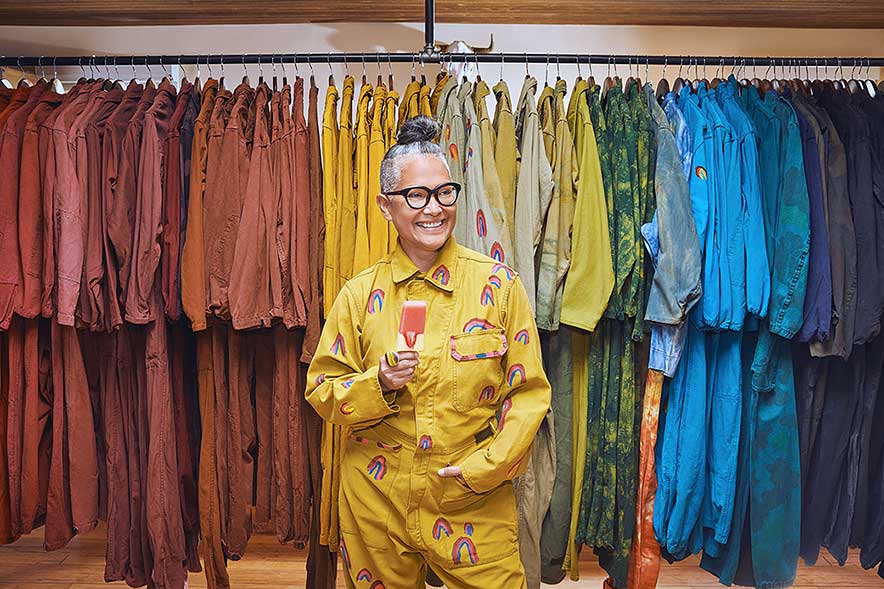 CHINLE
Ideas are flying off Amy Yeung like sparks. A skate part surrounded by an ancestral food garden … custom sweatshirts for each participant in a school science fair … Instagram marketing classes throughout the reservation … a 15-minute safety video to help kids protect themselves from molesters … institutes for mycology and solar research … half a dozen more this reporter's pen was not fast enough to record.
Yeung, 55, has always been a dynamo. But 15 years ago, when she was a clothing designer for big box stores, her considerable energy was focused very differently.
"If I had stayed on that track, I'd be in a corner office by now, getting up at 4 a.m. to answer emails from Asia," she said.
What turned the tide? "Becoming a mom, definitely," Yeung said. "I was such an a******e before I had a kid. I'm glad you didn't meet me then."
Like any mom, Yeung wanted her daughter, Lily, to grow up to be a good citizen of the planet. But Yeung wasn't exactly setting an example. "Here I was designing clothes that would end up in the landfill in six months or a year," she said, "that were made in factories using toxic dyes by people making starvation wages."
Another step in her journey was tracking down her Diné birth mother in 2007. Yeung, raised by non-Native parents in Indiana, had always known she was Native American, "but I really didn't know any more about Natives than most Americans, which is mostly myths," she admitted.
Connecting with her biological mother, who had settled in Ohio after being in boarding school there throughout her childhood, Yeung discovered the good and bad parts of being Native.
"It was such an overwhelming experience to meet this person with my face and finally know where I come from," she said. But hearing about her mother's physical and sexual abuse while in boarding school was a shock.
Later, Yeung and Lily traveled with Yeung's mother to the reservation, where Yeung discovered she was from the Chaco-Bisti area and still had tons of relatives out there. That was another mixed bag.
"You're in this place of incredible beauty and mind-blowing spirituality," she said, "but you feel the trauma of so many generations, the environmental genocide, the massive inequality. That's the dark side of our heritage, and it's discouraging."
The children in particular won Yeung's heart. "It thought, 'I wish they could all have the advantages I was able to give my daughter,'" she recalled.
In 2013, Yeung made a big decision. She gave away all her possessions except a stack of fabric and vintage clothes she had collected in her international travels, and moved from Los Angeles to Albuquerque.
She started a business called "Orenda Tribe," drawing on an Iroquois word for the universal life force they believe is in every living being and even inanimate objects.
Yeung decided she would no longer design clothes. "I don't support the manufacture of clothing," she said. "There are enough clothes in the world."
Instead, she takes vintage "pre-loved" items she finds in Army surplus stores or flea markets, dyes them with natural dyes, puts some finishing touches on them and "up-cycles" them into one-of-a-kind pieces of wearable art.
One of her trademark items is the "flysuit," military flight suits she dyes in vibrant colors that look anything but regimented. She can often be found in one herself, and claims she can live in them for days at a time.
The business is doing well, but its purpose is not to make money, Yeung said. In fact, she's deliberately trying to keep it small.
"I decided how much money I need each month, and after I make that, I stop and focus on other things," she said. "I'd advise everybody to come up with what that number is for them."
With the rest of her time, Yeung tries to make life better for her tribe, especially the children. She has formed a partnership with Tohaali Community School near Newcomb, New Mexico.
"Every month we have a different promotion," which she posts on her website and Instagram page. Currently she's soliciting donations for sports uniforms and equipment from her other tribe, the "Orenda Tribe," which she describes as "like-minded creatives who want to make positive change in the world." To become a member of the Orenda Tribe, all you have to do is follow it on social media.
In addition to marketing her own items, Yeung reserves space in her Old Town store and on her website for other Native artisans. She offers jewelry, soaps and salves, even products from Navajo Agricultural Products Industry.
"Most retailers take 50 to 70 percent of the final sale, so it's hard for artists to make a living doing business the old way," she said. "I don't take a percentage, I just let them sell, and mentor them if they want it."
Eventually, Yeung would like to teach short courses on marketing products on Instagram, which is how she makes a lot of her sales. "There's no reason middle school and high school kids can't be setting up websites for their grandmother who weaves rugs or makes jewelry," she mused. "They can be the storyteller for their own family."
Yeung thinks this type of direct entrepreneurship could get the Diné out of the cycle of dependence on extractive industries, which she feels are threatening the environment of her ancestral homeland near Chaco Canyon.
While Yeung is making a fraction of her previous salary, she says her life is happier and more fulfilling than ever. "It's through this connection with others that we can live our best life," she declared.
She hopes she can inspire others to follow their hearts as well. "You can wake up any day and decide to live your life differently," she said.
Information: orendatribe.com, Orenda Tribe on Instagram
---