New generation is at the helm of San Carlos Café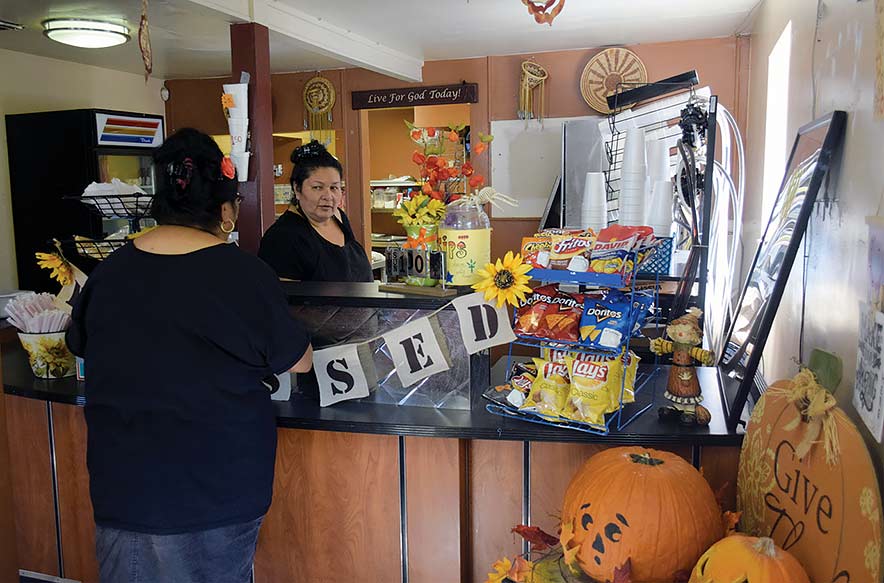 SAN CARLOS, Ariz.
The San Carlos Cafe has been in Arlene Kast's family for nearly four decades now. Her aunt ran it for some 30 years before she passed away. Then, Kast and her family bid to take it over in 2010.
They won and have been running it ever since.
"It's been running all these years," Kast said. The road has been rocky for the Apache-owned business as Kast was diagnosed with cancer twice, once while being the main owner. "To tackle something like this is not an easy job," Kast said. "It takes a lot of hard work and elbow grease. You got to put your all into it. It's all or nothing." It was difficult for Kast and her husband to run the cafe on their own while she was battling cancer.
So the doors stayed closed for two to three months, she guesses, in 2016. Kast called a family meeting to decide the future of the cafe. The vote was about 50/50 to stay open. "It takes a lot of yourself and your family," Kast said. "If we didn't have family to help, it would've been hard. I'm just glad we have a pretty large family." This is when Juanita Hooke, Kast's daughter, decided to take over running the family business.
"I can tell you what day it was," Hooke said. "It was leap year 2016 on leap day. I remember that because I didn't want to start on that day because you have to wait four years to celebrate it. But in 2020, it will be four years." Hooke didn't have a background in cooking, business or really anything that would help her run the business. There was one main reason Hooke took the business over.
"I believe it's the heart of San Carlos," Hooke said. "It's like a landmark." Not only that but it holds special memories for Hooke and her siblings who occasionally worked at the cafe during their visits to San Carlos. "I remember, I was a kid and I would go wash dishes for 25 cents," Hooke said. "I was happy to do that because a quarter got you a lot back then." Now, it's the next generation of kids who are helping Hooke. "To me I think it's such a part of our family," Hooke said. "I ended up leaving my job to come here and run the family business."
It was a huge learning curve for her but eventually she learned it all plus more. "When I came into this business I knew nothing about it," she said. "I didn't know how to make tortillas and now I make tortillas every day." Hooke also barely knew how to cook. She learned on the job to do it all. Now every morning Hooke wakes up at around 4 a.m. to get to work by 5:30 a.m. She makes about four dozen tortillas every morning for breakfast burritos. Some mornings she has to make more.
The mornings are the cafe's busiest time of day. Customers stop in to grab a burrito before they head to work. Right now, the cafe is open for breakfast and lunch. Their lunch menu features the signature "Apache Burger" – two beef patties in a frybread with "all the fixings," as Kast says. The burger is much larger than one would think.
The patties are clearly fresh. It's also thick and well-seasoned. The frybread is golden and fluffy. The burger is served with crunchy romaine lettuce, tomatoes, red onion, pickles and the fancy kind of cheese. On the side are steak fries which complement the burger well. Overall the cafe's signature burger is delicious at an affordable price. This meal could easily feed two people.
"We put our love into that food," Hooke said. "We want everyone to be happy. So we serve everyone that." This style of burger may sound familiar and it is. Here on the Navajo Nation it's called – to no one's surprise – the "Navajo burger."
The most popular item on the menu is definitely the breakfast burritos followed by the regular burgers. The restaurant also offers pizza. The recipe was actually created by Kast who used to do catering for the tribe and was on call to make food for the tribe's wildland firefighters. She oftentimes would make pizza for them. Supporting their community through food has always been a part of the family's goal.
"We're not millionaires. We're not here to make a lot of money," Hooke said. "I think we're really here to serve the community."
---