NGS closure could bring opportunities for wind, solar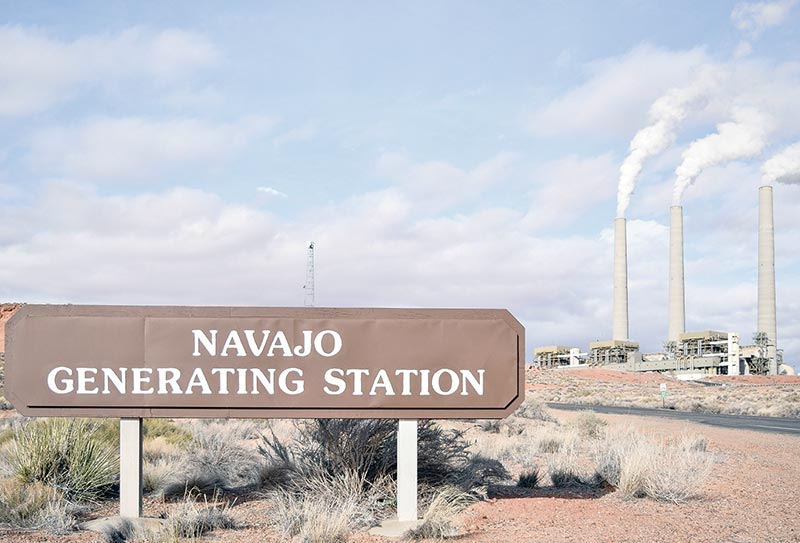 FOREST LAKE, Ariz.
If the Navajo Nation can act fast, there's an opportunity for it to develop almost enough wind and solar power to replace the 2,250 megawatts of coal-generated electricity that is now produced at the Navajo Generating Station, a representative of the U.S. Bureau of Reclamation told about 30 people from the Black Mesa area at a meeting here Monday.
But the key word is "fast." Unless the plant's owners and the tribe sign an agreement to extend the plant's operation until 2019, the NGS is scheduled to close this December, taking with it 1,000 jobs (including mining jobs on Black Mesa) and about 20 percent of the tribe's annual revenue.
The lease extension would give the tribes a two-year "glide path" to launch a new energy industry, which isn't much, said BOR Project Manager Kevin Black. Without it, "There's no more glide path. It's a cliff."
On the other hand, "There's nothing like a crisis to get people talking to each other," Black quipped.
The U.S. Bureau of Reclamation was as surprised as anyone when the non-governmental partners in the Navajo Generating Station announced in February that they would cease operations of the plant after this year, Black said.
A draft environmental impact statement had already been prepared on the possibility of extending the plant's lease until 2044, shutting down one of the three smokestacks and retrofitting another one with pollution control technology.
Then, in February, the four utility owners of the NGS — Salt River Project, Arizona Public Service Co., NV Energy and Tucson Electric Power — announced they could no longer afford to buy power produced from coal when natural gas (thanks to new hydraulic fracturing, or "fracking" technology) had become so much cheaper, and were going to revert to the original 50-year agreement, shuttering the plant at the end of this year.
The utilities followed up on Feb. 13 with a proposal to extend operations until 2019, after which they would spend two years decommissioning and remediating the site and 30 years of occasional monitoring visits.
While the Western Navajo chapters closest to the plant have supported the plan, Central Agency — which has endured the effects of coal mining without the high-paying power plant jobs — tabled the measure at its regular meeting Saturday, effectively turning thumbs down since the Navajo Nation Council is hoping to have the agreement approved by May 1 and the Central Agency Regional Council is not meeting again before then.
While the powers that be iron things out, it seems to be only a matter of time before NGS packs up and moves out. Black suggested the Navajo Nation start thinking about what it wants the future to look like.
"What I would like this to be is an opportunity," he said.
The owners have indicated they're open to leaving behind buildings and other infrastructure, including transmission lines and waterworks, which could be used by the tribe for economic development.
Black said the BOR has been working with the National Renewable Energy Laboratory to develop models for using the land surrounding the power plant for the development of clean energy, and there is the potential to develop solar fields in the area of the plant that could produce up to 1,000 megawatts of power. To put that in perspective, the entire Navajo Nation currently consumes less than 100 megawatts.
Development of wind turbines on Grey Mountain could add an additional 1,000 megawatts, Black noted, and the power transmission lines are already nearby.
He added BOR has asked the Western Area Power Administration to reserve some power transmission capacity for the Navajo Nation in case the tribe decides to go this route.
The Central Arizona Project — the largest user of power from the NGS — might even come calling on Navajo, since the CAP has resolved not to put all its eggs in one energy basket in the future, and has already targeted getting more power from renewables.
The tribe might be able to take over Peabody Coal Company's well into the N-Aquifer and NGS's siphon into Lake Powell — and since solar power takes far less water than coal, the water could be put to use in residential and commercial development.
"I really think it takes a vision, and you all started it," commented Black after hearing reports from community members who want to transition away from both coal and natural gas and toward clean energy. "There's real opportunity for energy development on a utility scale."
Where would the money come from for all this development?
Black said the tribe could consider settling its 50,000-acre-foot claim to the Upper Colorado Basin water in exchange for some pipelines and infrastructure, although he acknowledged that's a "controversial" idea.
The BOR has already provided technical expertise to the tribe's solar project in Kayenta, which is scheduled to come online this month, and could continue in that vein.
"We will work with you and other chapters to better understand how to develop water in all of its ways, to develop energy in all of its ways, and there will be dollars associated with it," Black stated. "This is going to become a place that we prioritize."
While the community members generally reacted favorably to all this news, some were angry they hadn't heard it before.
"This has come as a total surprise," said Percy Deal of Hard Rock Chapter. "We should have been involved in this all along."
"We'd like to be there when our lives are being discussed," seconded Marshall Johnson of Forest Lake Chapter.
Black said the tribe has generally been represented in meetings by the Navajo Nation President's Office or the Navajo Nation Council, but he could understand why the grassroots people were feeling in the dark.
"This is so new and so fresh that what I'm telling you today may be totally different tomorrow," he said. "There are meetings going on every day, all over the place, with different subsets of stakeholders."
Still, "I will work with the Solicitor General to see what I can do to get you a place at the table," he promised.
---