Times is 'Newspaper of Year' for 3rd straight year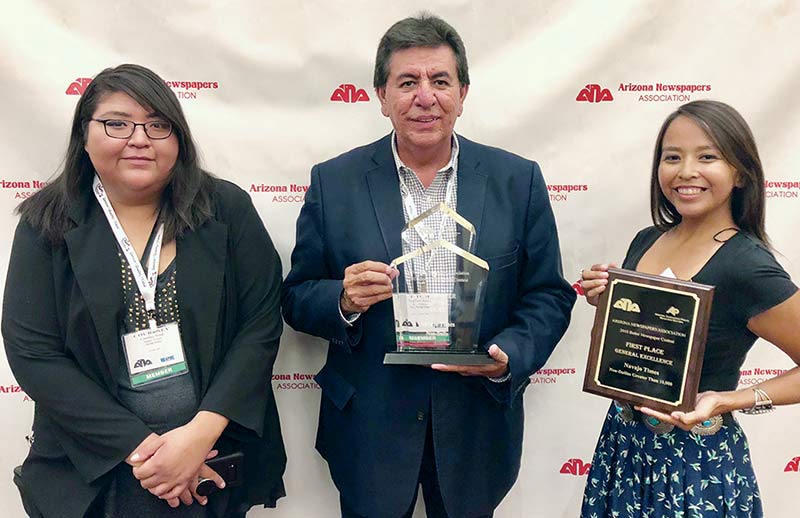 WINDOW ROCK
For the third consecutive year, the Navajo Times was named "Newspaper of the Year" in its non-daily category by the Arizona Newspapers Association.
The Times also won first place for general excellence in the newspaper category and another first place general excellence in the advertising section. Also for reporting and newswriting excellence, editorial page excellence, best use of photography, and for website and headlines.
The Times won seconds in departmental news and copywriting excellence, page design and special section and a third in community service/journalistic achievement.
Readers often don't think too much about the advertisements in a newspaper, but the ads are what support the paper and a good ad designer not only sells our clients' products but draws other advertisers.
The Times has one of the best in the state in Courtney Notah, who placed in the top three in nearly every ad category, racking up six plaques and certificates.
Notah, ironically, did not study graphic design in college but psychology, which perhaps helps her to gauge how ads will resonate with shoppers.
Notah's boss, advertising manager Vernon Yazzie, had the best static online ad, and the Times placed first in the public notice section and third in classifieds — both of which are designed by veteran staffer Josephine Carl.
Not to be outdone, almost everyone in the editorial department won at least one award.
Rookie reporter Pauly Denetclaw grabbed a first in news with her package on the shocking decline in the number of Navajo language speakers.
Krista Allen won best sustained coverage with her dogged chronicling of the status of Bears Ears.
And sports editor Quentin Jodie got a plaque for his series of profiles of top Navajo rodeo cowboys (and one cowgirl).
The Times proved it also has some of the best columnists around, with government reporter Arlyssa Becenti and publisher Tom Arviso Jr. each placing first in analysis and feature column, respectively.
Sportswriter Sunnie R. Clahchischiligi placed second in sports column for her observations of how kindly rival teams treated the Aztec High players after their school was devastated by a shooting.
Veteran reporter Cindy Yurth took home a first in headline writing ("Bullish on Bears Ears"), a third in news and third in investigative reporting for her story "Woman dies waiting for NHA home."
As usual, Times photographers came up in every photography award category, with Donovan Quintero claiming first and third in news and first in sports, and Paul Natonabah topping feature photo with "Little Drummer Boy," an adorable candid of a determined tyke in a baby contest.
But Arviso noted that the newspaper is a team effort and some of the jobs that don't get awards, like the pressmen and the carriers who deliver the newspaper to stores throughout the Four Corners region, are among the most important.
"I'm just really happy and proud of everybody," he said. "This is our third year winning 'Newspaper of the Year.' It shows that our peers and even people who are non-Native appreciate the work we do."
---