Police wanted!: To'hajiilee calls for help to contain virus surge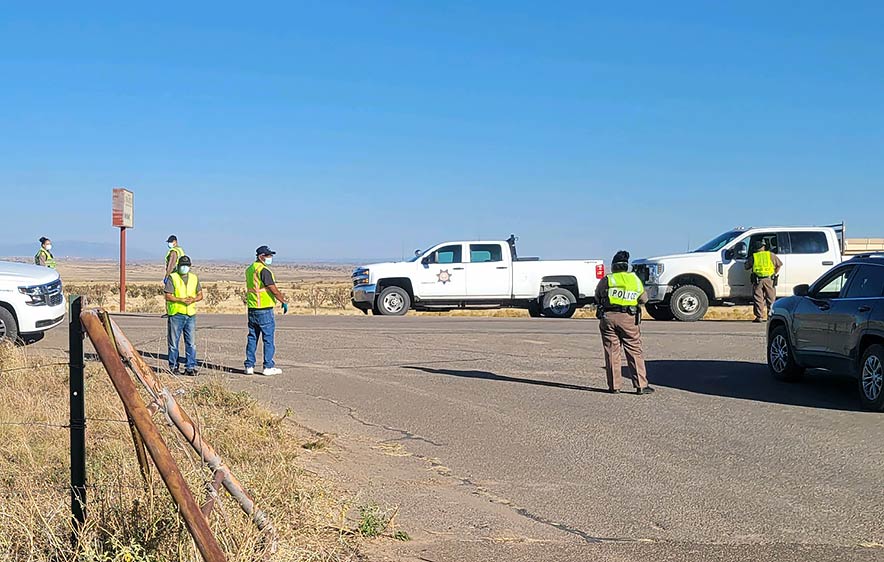 By Colleen Keane
Special to the Times
ALBUQUERQUE
Coronavirus cases are spreading so fast in To'hajiilee the local health clinic is having difficulty controlling the outbreak.
"The situation is shocking!" said Dr. Sheryl O'Shea, the medical director for the Canoncito Band of Navajos Health Clinic.
During two other surges, one in May and one in July, health workers contained them in a couple of weeks. But that's not happening this time.
"It's not letting up," said O'Shea.
Between Sept. 21 and this past Saturday there have been 167 positive cases. Three quarters of the people tested are from To'hajiilee, according to O'Shea.
Marla Jim, nurse manager, said 46 more To'hajiilee households have been impacted.
Four people between the ages of 25 and 69 have died since the onset of COVID-19.
To'hajiilee, once generally known as Canoncito, is a satellite chapter of the Navajo Nation. One housing area is located near the Route 66 Casino exit off Interstate 40, while the main community is about 20 miles farther west.
"We are doing everything we can – rapid testing, on-the-spot contact tracing, support to those who have to isolate by providing food and water, referrals to quarantine and behavioral health," stated O'Shea on Saturday after another day of testing.
But for the current surge she said more is needed.
"We are missing the law enforcement piece," she said. "By issuing citations, law enforcement could help."
Contact tracing shows that the recent outbreak is due to people attending family gatherings and parties and noncompliance with curfew, lockdown and quarantine orders.
Chapter Vice President Jacqueline Platero, who is also the chairperson of the clinic's board of directors, said that people failing to abide by safety precautions are often residents with substance abuse issues.
"People who tested positive and who are supposed to be in quarantine are barging into homes and not practicing any safety precautions," she said.
Jim added that people with mental health issues also have a difficult time abiding by mandates and policies.
O'Shea said that this is causing everyone to be at risk in multigenerational households.
Call for police
In the midst of the surge, Chapter President Mark Begay and the health clinic's Executive Director Cindy Browning called out to the Navajo Nation Police for help.
"We are requesting police to patrol both east and west side, issue citations and enforce the safety orders in place," they said in a statement.
On Friday, Oct. 23, four officers were detailed to To'hajiilee to conduct a "checkpoint" for two hours, from 4 pm to 6 pm. Two Navajo Rangers showed up to help out.
"It is really about education, that is the biggest tool we have right now in combatting COVID," said Police Chief Phillip Francisco.
"It's a way to reach out one-on-one saying we are out here," he said. "It is a deterrent. This reminds them to take it serious and they could be cited for noncompliance."
But Platero said the two-hour patrol is not enough to make a difference.
"It's not going to work," she said. "Once (the police) leave, (some residents) will come and go as they please and we are back to square one."
According to O'Shea, 48 positive cases showed up the week after the checkpoint with 17people testing positive on Monday.
"I don't see a light at the end of the tunnel," she said.
Platero, who handed out educational information during the two-hour checkpoint said around 50 vehicles coming and going drove up to the westside police stop near the turnoff to the health clinic.
Between the east and west sides, there's about 2,500 residents.
Tohajiilee has been asking for more public safety services from the tribe for years now.
Funding for police patrols and other public safety services originates from federal sources, like the Bureau of Indian Affairs.
At community meetings and in social media, residents have expressed concerns about uncontrolled crime and social disturbances.
"The To'hajiilee community is fed up with crime, drug dealings, thieves and truancy," Begay said in a packed chapter meeting two years ago.
Regina Roanhorse, the court administrator for the To'hajiilee Judicial District, said the coronavirus pandemic is shining a light on criminal activity and gaps in services.
'Justice disparity'
For example, besides a need for patrol officers to enforce curfews, quarantines and lockdowns, she's seen a run on protective order petitions, which are posted on the court gate.
"(When) there's no police response that causes (domestic violence victims) to come to court," she noted.
"The fact is To'hajiilee is underserved. It's justice disparity," summed up Roanhorse who is also the court administrator for the Alamo Judicial District.
"We need public safety services!" exclaimed Platero who's advocating for a local police station.
Along with other families in the community, Platero's family has been tragically affected by violence. Her son was shot and killed last spring at the beginning of the pandemic.
Several residents said they know of only one full-time police officer at To'hajiilee.
Francisco said the police department is providing as much support as possible.
He said there are three – one full-time and two others – who serve the community when called upon. They travel from the regional police district in Crownpoint, about two hours away.
"We only have a few officers (available)," said Francisco, adding that the police force is responding to other coronavirus outbreaks, violent crime and the "hemp issue in Shiprock," referring to Dineh Benally's farming operation.
"We've had to divert officers to that," said Francisco.
Besides he noted, "For the population out there (To'hajiilee,) they (already) have a significant amount of resources considering we only have 186 sworn patrol officers and there are 110 chapters. It is not feasible to dedicate (any more.)"
In a follow-up call on Monday, a police spokesperson said another checkpoint is planned this week in To'hajiilee.
"We continue to encourage the public to adhere to the Navajo Nation public health orders . . . and remain vigilant," she said.
'Same old story'
"It's the same old story," Chapter President Begay said about the continued need for police services at To'hajiilee.
Begay said the U.S. Senate Indian Affairs Committee should get involved and investigations should be conducted on where public safety money is going.
Platero would like to see To'hajiilee's share of federal funds go directly to the community.
"If we can get (federal funding), we could have our own (police services) and start our own cross-commission with the Pueblo of Laguna and federal, state and county (agencies)," he said.
Until there are more police from centralized or local sources, nurse manager Jim has a plea to the community.
"The surge is out of control," she said. "We want the community to know gatherings are a risk of getting COVID. (You) need to do your part and practice social distancing."
O'Shea added, "Wear masks inside and outside your homes."
"We have to stand guard," Platero said, "hoping we don't lose our children or grandchildren, that any (more harm) comes to them."
For information, contact the tribal courts at Alamo and To'hajiilee to learn about community coalitions: To'hajiilee Resources and Náásgo Hózhó Hwííndzin in Alamo.
---