Virus strikes at rally: Chilchinbeto church gathering may be source of outbreak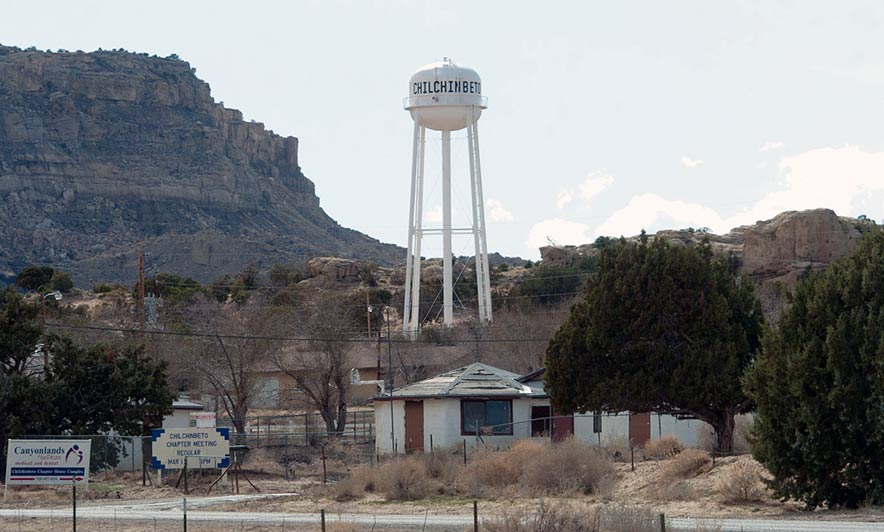 Note: This story first appeared March 22, but was updated with additional details on March 25.
CHIIŁCHINBII'TÓ, Ariz.
A church gathering here earlier this month may be linked to a dozen confirmed cases of coronavirus and at least two deaths.
The participants in the large gathering that congregated March 7 at the Chilchinbeto Church of the Nazarene Zone Rally — a meeting in which pastors deliver messages to their members — may have all been exposed to coronavirus by at least one person who later tested positive for the disease.
Several people who attended the rally or who had family members who did later tested positive for the virus.
Before they could be tested, two people — one in LeChee, Arizona, and one in Chilchinbeto — died of respiratory symptoms, according to local sources.
The LeChee victim was found dead in his/her room last Thursday and had attended the rally with family. It is uncertain whether the Chilchinbeto victim attended the rally or not.
Dozens of people from at least seven Western Navajo chapters — Cameron, Chilchinbeto, Coppermine, Kaibeto, LeChee, Tonalea-Red Lake and Navajo Mountain — and from other places were at that rally, according to a number of people familiar with the gathering, who were all interviewed by the Navajo Times on Friday, Saturday, Monday and on Wednesday morning.
A majority of the interviewees, some of whom are members of the Church of the Nazarene, did not want to be named.
Confirmed cases of COVID-19, the disease caused by the coronavirus, in the Navajo Nation on Tuesday evening rose to 49 from 26 late Saturday. Cases include 30 from Navajo County, seven in Apache County, six in Coconino County, four in McKinley County, and two in New Mexico's San Juan County.
Most of the 30 coronavirus cases from Navajo County are tied to the zone rally, where one pastor was coughing as he gave a sermon, according to sources.
The rally ran concurrently with a "Day of Prayer" event at the Chilchinbeto Chapter House where chapter officials and some members of the church had a prayer service in response to the coronavirus outbreak. Everyone — pastors and members of all churches — were invited to the prayer service.
When asked, Eugene Badonie, vice president for Chilchinbeto Chapter, for an interview, he did not respond.
How did the coronavirus spread across a room full of faithful people? People in church meetings usually sit packed together. One or more people in the room were infected with the virus, which can spread by airborne droplets or by a simple handshake and then touching the eyes, nose or mouth.
The coronavirus spreads mostly through person-to-person contact within about a 6-foot radius, according to the Centers for Disease Control and Prevention.
In this case, more than a dozen people who attended the zone rally became sick with additional symptoms including pneumonia, according to sources.
And those people, many of whom are over 60 and have health issues, went home and infected some of their relatives. Some are recovering, some are awaiting test results, some are self-quarantining, and one individual's condition took a turn for the worse on Saturday night.
"A lot of people usually go to the rally," said one member of the church. "Thank God it was not a revival. That would have been (hundreds) of people!"
One LeChee resident said some of the people who participated in the Chilchinbeto rally also attended the LeChee Chapter meeting on March 9.
"On March 10, the same people (who attended the chapter meeting) attended (another meeting in LeChee)," the resident said, who did not want to be named. "On March 11, we had a District One meeting in Kaibeto."
When sickness strikes
When her brother told her to call home because their 73-year-old father isn't feeling well, she called her parents immediately.
"And my dad's normally a very, very active man," said the Diné woman, a nurse in Chicago, who did not want to be named. "He's a healthy man. He's got no underlying conditions."
Their father showed a number of flulike symptoms, was dehydrated, and slept. When she saw how ill he was through FaceTime, a video chat, with her father, she got worried. She also learned her parents attended the zone rally in Chilchinbeto on March 7.
"I said (to him), 'I think you need to go to the ER.' So, they (parents) went to the hospital in Tuba City and went through an (outdoor) triage and made it into the ER, (where) they wouldn't let my mom in there," she explained. "My dad wasn't exactly himself and he may have said, 'Oh, I'm OK,' (because) he doesn't have any pills that he has to be on. He doesn't like taking Tylenol when he has a headache. He's one of those guys."
After spending some time in the emergency room at Tuba City Regional Health Care Corporation, her father was discharged and sent home about 25 miles away.
She immediately began to question why her father was discharged and if tests were done, such as a comprehensive metabolic panel (blood test) and influenza testing.
"They did nothing, and they sent him home," she said in frustration. "Meanwhile, my mom takes a temperature and he's running a 103-degree fever. I told her, 'Give him some Tylenol and check (his temperature) every five hours. So, from my collection of data, he's been having a fever for six days.
"The way (my mom) remembers is, he started getting sick last Saturday," she said. "So, he's been sick eight days now."
Two days later, on March 16, her father returned to the hospital in Tuba City because he was still feeling ill. He was given antibiotic for a probable sinus infection.
Infuriated, she talked to a physician she worked with a few years ago. The physician suggested her father return to the emergency room for testing.
"So I made my parents go back," she said. "I said to (them), 'When you start talking to the nurse, tell her to talk to me, I'm going to talk to her on the phone.'"
She made a list of symptoms she observed.
"So, I talked to the nurse in triage and I told her the things that were going on," she said. "She said, 'Well, he doesn't have a fever right now.' That's because he had a 107.2-degree fever before they left home and I told my mom to give him some Tylenol."
Her parents were separated again, due to recent hospital restrictions, and she and her mother weren't able to talk to the physician. But she later did over the phone.
"I said, 'Listen, this is my dad. He's got these symptoms.' She said he doesn't meet the criteria for (COVID-19 testing)," she said. "I said, 'I know what the criteria is, I'm a nurse. I do this every day, but he is not the same. I think he needs IV fluids and at least a flu swab. He needs something! He needs some sort of medical care I know it!'
"And they were like, 'We just can't. We don't have the resources. We can't do anything for him right now. We're just going to send him home. He's being discharged,'" she said. "I'm just flabbergasted that they didn't even do a blood test to make sure that his electrolytes were OK. I don't understand."
She said on her father's discharge papers, under diagnostic, it read, "Worry."
"W-o-r-r-y. How in the world do you diagnose somebody with worry when he has things that are happening?" she asked. "Does somebody have to be completely out of breath to where they go … get a ventilator? So, I'm just completely frustrated."
She added that the coronavirus crisis at the hospital where she works in Chicago is daunting and frightening as she is one of the emergency professionals on the frontline of the outbreak.
"It's like walking on eggshells," she said. "It's very eerie. I was sure I would get (coronavirus). I wasn't sure my parents would when they're out in the middle of nowhere. I've been advocating every day that people need to stay home."
First cases in Chilchinbeto
The president's office last Tuesday announced that a 46-year-old Diné woman from this community tested positive for COVID-19.
The woman with recent travel history first reported her symptoms to the Kayenta Health Center in Tódinéeshzhee and then she was transported later to a hospital in Phoenix.
Council Delegate Nathaniel Brown said the woman is still in Phoenix and is recovering.
"Someone posted on social media, 'The first confirmed case passed away,'" Brown said. "(Her) family is really upset. There's so many false information that's delivered out there. People make up a lot of stuff and it's really upsetting."
The president's office also reported that a 40-year-old Diné man from the same area tested positive. The man, also with recent travel history, reported his symptoms to the Kayenta Health Clinic and then was transported later to a hospital in Phoenix. It is unknown how he is doing.
The following day, the president's office announced that a third individual, a 62-year-old male from the same region as the first two, also tested positive. The older man also reported his symptoms to the Kayenta Health Center and then was transported later to a hospital in Phoenix.
The 62-year-old is the pastor of the church, according to sources. And one of the two younger individuals is an educator.
On March 19, the Navajo Department of Health announced seven more cases in the community and deemed Chiilchinbii'tó a coronavirus hotspot.
"(One of) the church members in Chilchinbeto (must have been infected)," said a member of the church who lives about an hour away from the community. "It (virus) was (probably) already there in that church and those (who) attended carried the virus out."
Virus spreads rapidly
LeChee Chapter President Jerry Williams said he was informed last Thursday that a group of people from both the LeChee Church of the Nazarene and the Cameron Church of the Nazarene traveled to Chilchinbeto to participate in the zone rally.
"So with that, I told my officials, 'This is what I'm hearing.' And people started to panic, which I was afraid of," Williams said. "Myself, I was trying to remain calm. With your community being talked about … it's kind of hard for me. When my mind started racing — 'This can't be! This can't be!'"
Brown said the entire situation at first was frightening and caused a lot of fear, prompting the Navajo Department of Health to seal off Chiilchinbii'tó to the public.
The reaction by authorities was swift and the community members were told on Saturday afternoon to only leave their homes if absolutely necessary.
"We still have tight orders to shelter in place for the entire community. Please don't drive around to see what's going on. We still need to contain this virus," the chapter's Facebook post read on March 21. "Medical personnel are doing their best. The emergency response team members initially assigned have been screened and ordered to quarantine. We are continually working with emergency management departments via teleconference and mobile phones. We are being monitored and assisted. Please stay vigilant, patient, and respectful of each other. We are one big family."
Hunkering down
First responders on Sunday traveled to Chilchinbeto to deliver care packages to residents, including elders and those who may be at higher risk for serious complications from COVID-19.
The president's office announced that day that first responders would be wearing protective gear when they enter the community and would not be making person-to-person contact to prevent the spread of the deadly disease.
"Please continue to pray for the safety and well-being of all our Navajo people and communities, especially our first responders and health care workers on the frontline," Nez wrote in a Facebook post that afternoon.
The coronavirus doesn't discriminate by age, race, or income level, nor does it discriminate between the Diné leaders and those who wear a badge.
"It's very eerie in Chilchinbeto," said one Diné law enforcement officer who just got off the graveyard shift from the Chilchinbeto area Wednesday morning. "We wear full protective gear. Not even a badge and a sidearm can protect us against the coronavirus."
The officer, who did not want to be named, said law enforcement were deployed in missions to give presence and weight to the shelter-in-place order and to show uniformed personnel at the shelter in place checkpoints.
Brown said the situation is unknown and he's getting questions about what the community should do, how the situation should be addressed, among other questions.
"The other thing (is) we want an apology from President Jonathan Nez because he did not inform the community of Chiilchinbii'tó," Brown said. "The parents were upset about how Chilchinbeto school is being portrayed by others. They feel that they should have been notified first before (it was posted) to social media. The chapter officials had to find out through social media. They were not informed first."
Brown said he's in self-quarantine and recently was tested for the coronavirus since he's been traveling. He said on Saturday morning he's awaiting his test results. In a follow-up question on Wednesday morning Brown said he's still awaiting his test results.
Na'ní'á Hasání Chapter President Milton Tso said the pastor from Cameron Church of the Nazarene held Sunday church service, on March 8, upon his return from the zone rally. He was seen at the church service with his family.
Tso fears that some people from Na'ní'á Hasání also might be exposed to the coronavirus if the Cameron pastor was infected with COVID-19.
"How do I deal with this?" Tso asked Saturday evening. "What are the steps on (how to avoid) panic in the community? What do I say?"
The following day, Tso announced confirmed cases of COVID-19 in Cameron, a tight-knit community of about 1,300.
"We do have cases of coronavirus in our community," Tso said. "So, with that being said, I'm asking our small community here to please wash your hands and follow President Jonathan Nez's instructions and stay 6 feet away from each other."
The Chicago nurse added, "There's a lot of people who don't read … the information that is out there. I don't know how we could simplify––instead of saying the COVID virus, (we) should make it simple and say, 'COVID-19 is a germ.'"
---