With schools closed, food for students is key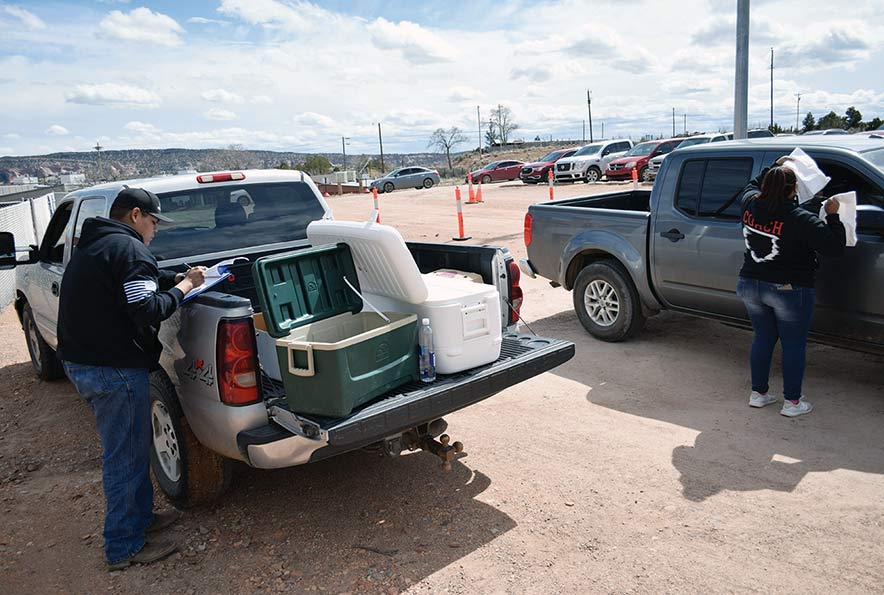 WINDOW ROCK
When schools closed down unexpectedly due to the Covid-19 pandemic, local and national organizations began to worry about how students would eat.
"One hundred eighty-three elementary and secondary Bureau of Indian Education schools have closed," Diana Cournoyer, executive director of the National Indian Education Association, said. "A lot of our students receive breakfast, lunch and a snack. And it could potentially be their only food source for the day.
"So," she asked, "how are the school closures impacting our students again on reservation, our boarding schools, and public schools on or off your reservation?"
On the Navajo Nation unemployment sits at 42%. And 40% of families live below the poverty level, according to the Division of Economic Development.
"Our biggest concern was our children and the community children being fed," Dot Teso, president of St. Michael Indian School, said. "Families have to buy lunch and breakfast all of a sudden when their kids have been on free and reduced lunch. That's huge. And families, how are they going to afford that?"
---
So the school, like many across the Navajo Nation, jumped into action. For SMIS, it meant calling the Arizona Department of Food Services to get permission to start running a lunch program. The department gave the OK and the school started its lunch program.
"Our kitchen staff … comes in and they make the lunch and the breakfast and get it ready," Teso said. "Then, this is two of our workers (Courage Todachine and Kevin Thompson). They used to work events or athletics and other things.
"So they want to continue working as long as they're healthy and happy," she said. "So they said, 'Hey, let us distribute.' We said, 'Sure!'"
The school normally does their lunch program during the summer months. The meals consist of lunch and breakfast for the next morning. The school serves between 150 and 200 children in the Window Rock/St. Michael area every weekday.
The meals are open to everyone in the community who is 18 and under. The program runs from 11:30 a.m. to 1 p.m. Monday through Friday.
The school is also committed to keeping all their hourly employees working. So this is a way to keep children fed and to keep their hourly employees working.
"Most of our staff is on contract," Teso said. "They get paid regardless. We have probably another 10 or 13 employees who are hourly employees. So finding them things to do and keeping them paid is super important. They have families."
Other school districts providing breakfast and lunches are Kayenta Unified School District, Chinle Unified, Tuba City Unified, Central Consolidated and Gallup-McKinley County.
Kayenta is also delivering meals to students who live out of town via the bus routes. For those in town, meals are provided from 10:30 a.m. to 1 p.m. at the Kayenta Middle School.
Chinle Unified has four locations — Many Farms Public, Tsaile Public, Canyon de Chelly Elementary and Chinle High — that are open from 10:30 a.m. to 1:30 p.m. during weekdays.
Tuba City also has four locations – Tuba City Elementary, Tuba City High, Cameron Elementary and Gap Elementary – that are providing meals from 7:30 a.m. to 11 a.m., Monday through Friday.
Central Consolidated has five locations – Kirtland Middle, Shiprock High, Newcomb High, Ojo Amarillo Elementary and Naschitti Elementary – that serve from 11 a.m. to 12:30 p.m. during weekdays.
Gallup-McKinley has 24 locations. Breakfast is available from 8:30 a.m. to 9:30 a.m. and lunch is from 11 a.m. to 1 p.m. during the week. For more information on the locations visit their website, www.gmcs.org.
These locations will be serving meals through April 3. This may be extended if students aren't allowed to return to school.
---