A Navajo flare: Diné teach, learn welding at RSI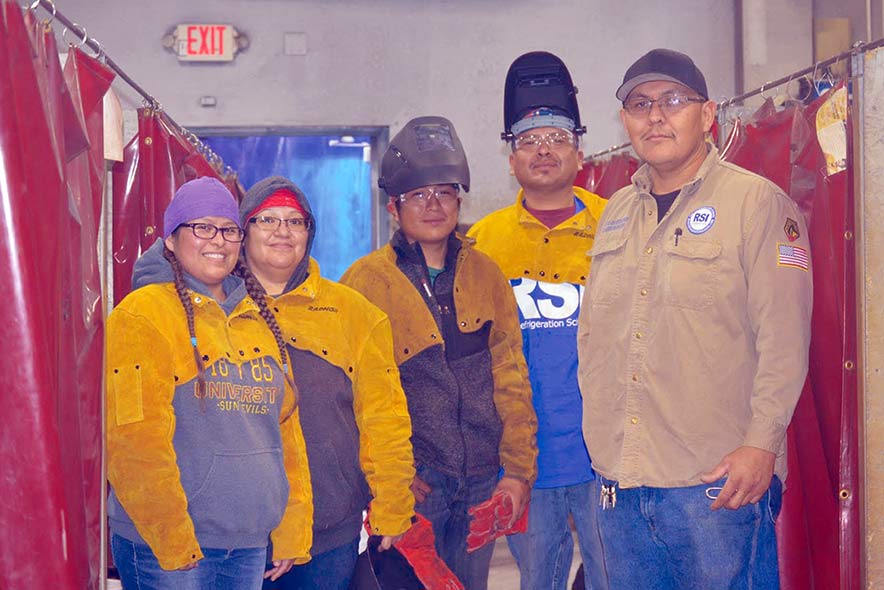 By Candace Begody
Special to the Times
PHOENIX
For many students, college seems like the obvious next step. But for some Diné students, trade school has given them an opportunity that a university could not.
"I did OK in high school, but I didn't want to try for a college degree," said Davey Pete, a 2019 graduate of Ganado High, "but welding is something I have always loved doing and it's something I enjoy. It is something I picked up from my dad. He is the main reason why I weld today."
Pete, who will graduate in June 2020, is one of several Navajo welding students at The Refrigeration School Inc. in downtown Phoenix.
RSI traditionally offered programs in residential and commercial heating, ventilation and air conditioning, and electricity. But in January 2018, RSI began offering a welding program and has since seen a spike in the number of Navajo students.
So far the program has graduated 75 Navajo students.
"A lot of our Navajo students want a hands-on skill or trade and they have shown a greater interest in the welding piece," said David Eaker, RSI campus president. "Most of the students that come here come from families that have done welding. Welding has either been self-taught or has been handed down from generation to generation."
Eaker said when people want to go to trade school to become a welder, they immediately think of the Tulsa Welding School in Tulsa, Oklahoma.
"Now they have a school that is close to them, that teaches the Tulsa curriculum," Eaker said, adding that the school has partnered with the Tulsa Welding School to provide its curriculum at RSI.
"I am proud that we have students who come here and when they leave, the end result is that that they are in a different place, making money and doing what they love," he said.
RSI has likely seen one of its largest classes of Navajo students to date with around 10 Navajo enrolled students, in addition to about 90 others who self-identify as American Indian or Alaska Native.
Two students – Verdella Betoney of Tonalea, Arizona, and Michelle Joe of Dennehotso, Arizona – were in their third day of the program and already working in the welding shop.
Betoney had been a pipefitter for several years before deciding to make a switch to welding.
"My parents are pipefitters, my whole family are welders and pipefitters," she said. "But pipefitting has been very strenuous on my body because you're constantly lifting things."
Before pipefitting, Betoney was going to school for nursing.
"Trade has been very good for me," she said "I was going to school for nursing, but I decided to come here instead. For me, it was going to take too long to get my degree. With trade school, I am here for seven months, I get my certification, then I can go off to work, and it is all hands on."
Betoney said another reason for attending RSI was in honor of her late brother, who passed away recently.
"We were both enrolled and were supposed to go to school together," she said. "I came here in honor of him, but I also know he would have wanted me to better myself, so I came."
Joe had also gone to school to be a medical assistant, but that offered her minimum wage.
"On the rez, there is really nowhere you can get with that," Joe said, adding that she had no experience welding before attending RSI. "My daughter is at Dixie University, going for nurse practitioner. It's too time consuming and very expensive. This was the best route for me."
RSI also has four Navajo welding instructors. One of those instructors is Larrison Smith, originally from Upper Fruitland, New Mexico, who is also RSI's lead welding instructor.
"A lot of students come here thinking they do not like science or math or that they are not good at it, but when they leave, they are taking the math and applying it to the metals and pipes," said Smith, who is of the Many Hogans and Tachii'nii clans. "We are also dealing with electricity too. You're using the positive and negative to melt two pieces of metal together."
Students attend one day of class throughout the week and the rest of the week is hands-on. In class, students learn the fundamentals of welding before going into the welding shop. They learn how to use the welding machine, rods, various safety equipment such as safety glasses, safety hoods and gloves, and the settings on the machine.
Once the students are instructed in the basics in the classroom, instructors such as Smith go over the different aspects of the welding machine, the machine settings, and demonstrate for the students. After the demonstration, the students are then allowed to work independently in their own welding booths.
"I go from booth to booth, engaging with every student, and making sure they are doing good," Smith said. "I make sure they are making progress and I make sure they are not making the same mistakes over and over. I tell them that now is the time to make all their mistakes, so they don't make them out there."
RSI offers structural welding, basic pipe welding, advanced pipe welding aerospace, and pipeline, but students start with stick welding. In addition to the fundamentals, students also learn how to read blueprints and the schematics of a blueprint.
"When they show up at a construction site, many students have to know how to read a blueprint to even start their project," Smith said.
Though safety is taught in the classroom, safety cannot be separated from the lab experience. This is something instructor Cindy Whitehat, of Kaibeto, Arizona, knows all too well.
"When I got injured, I had all my PPEs (personal protective equipment), but what saved me was a fire extinguisher," Whitehat recalled of her clothing catching fire. "I cut into a tube and it exploded on me. My husband had to put me out with a fire extinguisher."
Whitehat has taught beginning and advanced pipe welding since May and brought nearly 20 years of experience to the classroom, 16 of which she spent welding and traveling with her husband, also a welder, to different jobs sites before he passed away.
"You have to deal with many moving machines, people rigging, cutting, grinding, everything is constantly moving around you," she added. "You might leave for home one day but the next day it could be different. That is something I teach the students – always keeping yourself safe."
Despite the dangers, Whitehat said she has seen an increase in female welders.
"When I first started, I was the only woman welder but throughout the years, I have encouraged more women to do this," Whitehat added. "We really can do the same things guys do."
Both Whitehat and Smith agree that welding does challenge a person because they must have an eye for detail and a passion for building or creating things, but it also can provide a good life.
"It is exciting to see them learn and weld, and to see how far they come in seven months," Whitehat said. "I tell them how far it can take them. Some of the students realize how much they walk away with.
"It can be a good life," she said. "If you want to travel, it will be there. If you want a 40-hour-a-week job, it will be there. I even took my kids on the road with me."
For Smith, who was the first welding instructor to be hired at RSI, being in the classroom with students has had its perks.
"Being a welder is rewarding," Smith said. "It is rewarding to be a part of projects and part of building many of these buildings around town. People are using the buildings and these students are going to be taking these skills and doing the same."
Welding has allowed Smith to work at places like Intel as a pipe welder, at Buckley Air Force Base in Colorado as a structural welder, Primo Food, the Four Corners Power Plant, and the Desert Diamond Casino-West Valley.
Other instructors in addition to Smith and Whitehat include Elliot Chee and Marty Sampson.
Other entities around state have taken notice of RSI and its Navajo presence.
RSI, spearheaded by Smith, will be organizing the upcoming Native Skills Competition, scheduled for April 2020 in Window Rock.
---