Bird's-eye tour for Mr. Moore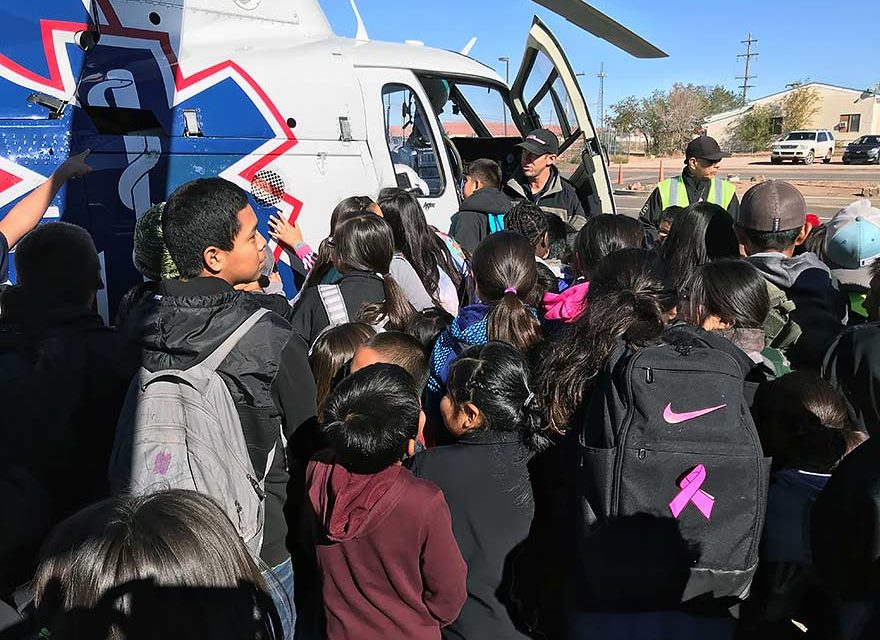 MANY FARMS, Ariz.
When Many Farms Elementary School Principal David Moore won a helicopter ride in a recent charity golf tournament, his first thought was, "I wish I could share this with my students!"
As a matter of fact, he could.
Of course, all 451 of them couldn't climb in the helicopter with him … there's a weight limit of 5,000 pounds, which is one thing they learned today.
But when he asked if the chopper could land at the school, the answer from Air Methods, the Gallup-based medical transport company that donated the ride, was "Why not?"
So Friday, the teachers and staff were asked to park on a dirt strip between the school and the teacher housing while a crew from Aramark Educational Services swept the parking lot and got it ready for the chopper's arrival.
Moore met the chopper at Fort Defiance and had a lovely 20-minute ride to Many Farms right over Canyon de Chelly. As he got close, the entire student body was released to watch him deplane.
It was a first for the school, a first for Air Methods, and a first for Moore.
"I've never ridden in a helicopter before," said Moore. "It was a bucket-list thing."
Pilot Danny Coon has landed in some tricky places picking victims up from car crashes, but this was his first time landing at a school. For him and the crew, it was a nice respite from their usual life-or-death missions.
"I love kids," confided a grinning Coon as a sea of excited little faces gathered round him after the landing. "I have two about these guys' age."
Coon has seen a lot of the rez doing transports to various hospitals, but had never flown over Canyon de Chelly.
"I could tell it was a spiritual place even from the air," he said.
For Moore, who is only in his second year at Many Farms, it was not only a beautiful tour but revealing of the circumstances some of his students are coming from.
"Some of the houses we flew over were unbelievably remote," he observed.
The children got a close-up view of a helicopter and asked some very good questions, such as how much weight it could carry (see above) and how helicopters work (the main propeller creates downdraft, and the propellers on the tail make the chopper go right or left, the crew explained).
A few of them had actually ridden in a medical transport helicopter.
While the children were a little disappointed they didn't get to go up, they seemed genuinely happy for their principal.
"Mr. Moore is nice," observed one girl. "It's really cool he got to fly."
---