New gym for St. Bonaventure to serve community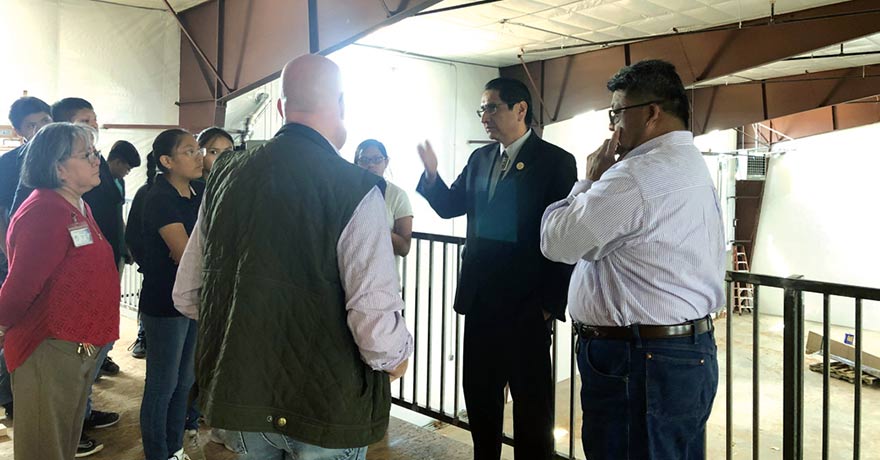 THOREAU, N.M.
St. Bonaventure Mission and School's Principal Tracie Lee stood with her eighth grade class as they inspected their soon-to-be new gym.
Over the years the school, which has more than 186 students – about 95 percent Navajo – in grades from preschool though 8th grade, and the community have used a tiny gym for basketball games, Christmas events, and the 8th grade promotions, among other events. But the school has simply outgrown the gym especially since they've joined the New Mexico Athletic Association.
Soon they will have a brand new 18,000-square-foot gym after the Navajo Nation approved the withdrawal of approximately five acres of land next to the school for the new gym.
In December 2017, Delegate Edmund Yazzie successfully pushed for a 25-year lease for the gym, which was approved by the Resources and Development Committee. "This gym doesn't meet regulation so we had to rent the cathedral gym for our basketball season," explained Lee. "This is standing room only."
As a father of two, Yazzie, who represents Church Rock, Iyanbito, Mariano Lake, Pinedale, Smith Lake and Thoreau, had a son and now a daughter attending the school. "The staff and teachers here are really good," said Yazzie. "The gym will also be a community center for the community here, along with Mariano Lake and Smith Lake."
Navajo Times | Arlyssa Becenti
St. Bonaventure Mission and School's 8th grade students, along with their principal Tracie Lee and the school's executive director Christopher Halter, took a tour with Navajo Nation President Jonathan Nez and Council Delegate Edmund Yazzie, of the school's new 18,000 square-foot gym Friday afternoon.
---