Results mixed for young school board candidates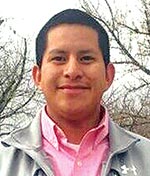 CHINLE
Voters in the northern part of the reservation took a chance on a candidate just three years out of high school for their school board member, while another young, progressive school board candidate did not fare so well farther south.
Adam J. Begaye, who at 20 may be the youngest person to ever serve on the Central Consolidated School Board, blew the older guys out of the water with 278 votes compared with 116 for incumbent Hoskie Benally and 87 for Richard Begaye (no relation). (All tallies in this article are unofficial; the results probably won't be certified until tomorrow at the earliest.)
"Basically, I think everyone was ready for someone young who understands the needs and wants of the parents and students, because I was just there," Adam Begaye said. "I know what they go through every day for nine months."
Begaye threw one campaign rally, actually more of a public forum, but this Facebook-generation candidate spent most of his campaign the old-fashioned way: knocking on doors in his District 2, northern Shiprock and Beclabito.
"I think it was the canvassing that really did it for me," he said. "I'm looking forward to partnering up with students, parents, teachers and the whole community to work for our students' education."
Begaye added he is grateful for the support of "my family, my friends and my Lord and Savior, Jesus Christ."
In CCSD's District 3, where School Board Vice President Matthew Tso was not running for re-election, the vote was even more lopsided, with 213 people casting their ballots for Charlie Jones versus 85 for Michael Warren and 55 for Harrison Todacheene.
---