Riding into education, profession and a future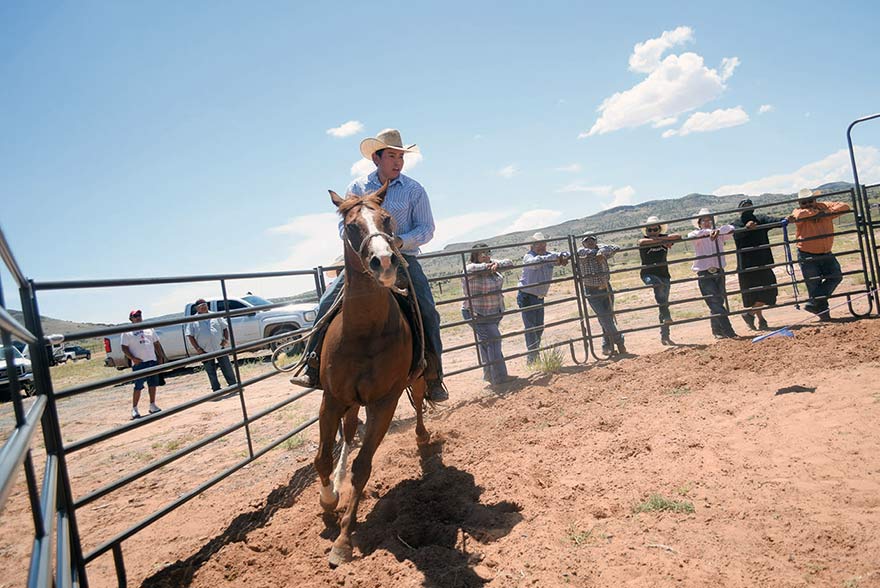 DILKON, Ariz.
Jerome Chee, 19, made standing on top of a newly trained horse look easy. Chee tucked his legs under him before carefully standing straight up on the saddle. The small crowd looked at him in awe before erupting into applause. Chee was helping his uncle, Tom Chee, with the horsemanship workshop at the 2019 Southwest Fair and Rodeo in Dilkon, Arizona. But ironically, his calm demeanor and self-assured attitude didn't reach outside the corral.
Chee was all smiles and nervous laughter as his uncle, a former Council delegate, was teasing him after the workshop was done. This made Jerome Chee more nervous as he talked about where he goes to college and how he learned to stand on top of a horse. Chee will be starting his second year at Lamar Community College located in southeast Colorado. He is getting his certificate in horse training and management. He took his love for horses beyond the rez and into the classroom. "I started roping when I was small," Chee said. "One day, my good horse got hurt. So I had to start a horse myself and I didn't know how to ride a horse correctly. I didn't know how to position his body movement."
So, he took to Google and found a program that would help him become a skilled horse trainer. "I found a school I wanted to go to and I did that," Chee said. "I learned it all." He will also be adding ranch management to his education and possibly become a veterinarian. He's not sure yet. "There's still a lot to learn," he said. What peaked his interest in this program is that he gets to ride horses everyday, seven days a week. "Rain or shine," he said with a smile.
This is the allure for a lot of young people who love horses. "First semester, you break one colt," he said. "Then they go through the basics of how to ride a horse real well, how to start a horse, how to approach a horse." But the classroom is a key part of the program and where a lot of students get caught up. Chee encourages students who are interested in the program to focus on the academic part of the program as well. It's not just about training horses, he said.
Through this program he was able to gain a lot of hands-on experience and this has helped him get job opportunities. "It opened a lot of opportunities for me," Chee said. "I got jobs out-of-state over the summer. I got to work for other people, ride other people's horses and get to meet a lot of new people who are high in the training world." Choosing this path has given him more agency over what he wants to do in a field that he is passionate about. "I get the choices of where I want to go and what I want to do now," he said. "You just have to make sure you make the right decisions every time."
---