Diné College celebrates 4-year accreditation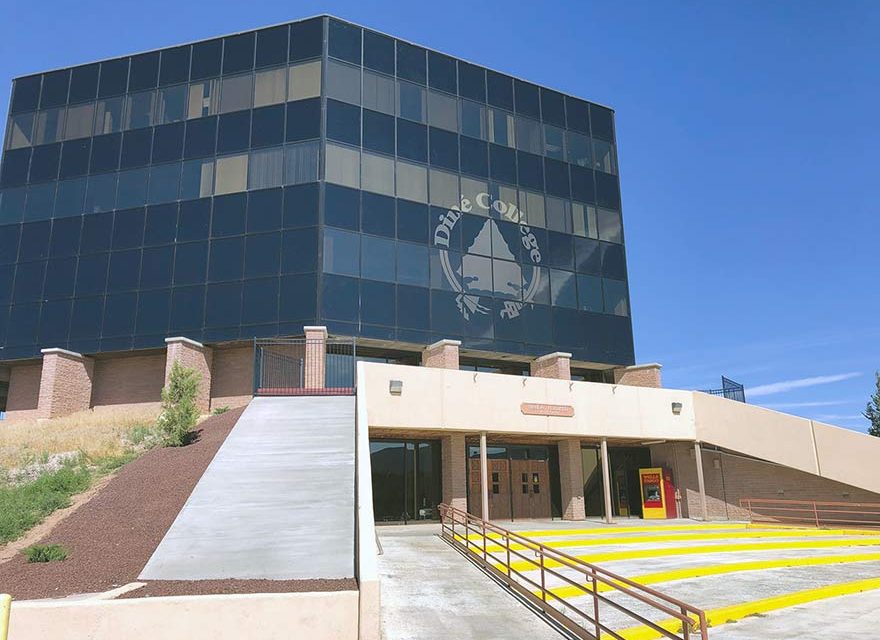 WINDOW ROCK
With school starting Aug. 19, Diné College students can look forward to some exciting upgrades, including a four-year institution accreditation, a refurbished Ned A. Hatathli Cultural Center, enhancements to the distance learning program, and a new coffee shop, Warrior Coffee. "This four-year status is a big milestone for the college," said Marketing and Communications Director George Joe. "We've risen up as an institution."
Last year, the college celebrated its 50th anniversary and, this past April, another major milestone was achieved when the Higher Learning Commission approved changing the college's status from a two-year to a four-year institution. The accreditation permits the school to transition to a full-fledged four-year college that offers many advantages for administration, faculty and students and elevates its independent authority as a stand-alone higher-ed institution. The immediate impact is that the college can create new bachelor's degree programs in addition to offering existing associate and certificate programs.
For example, the college recently added silversmithing and weaving to its emphasis options for a bachelor's degree. Provost Geraldine Garrity says core courses had already been running effectively for several years with faculty in place so a lot of work has already been done to accommodate the new status. "As an alumni, community member, and the provost of Diné College, I am proud to be a part of building the Nation's college," said Garrity.
"Becoming a four-year institution is a humbling journey with an excellent team of provost council and faculty members." To date Diné College offers certificates and degrees in four academic areas: Arts, Humanities and English; Diné Studies and Education; Science, Technology, Engineering and Math; and Business and Social Science.
"Our schools will be working on adding five master's degree programs by fall 2021," said Garrity. Stephanie Lynn Tsosie is pursuing a bachelor's in psychology after completing an associate in social and behavioral science.
Originally she thought she would have to transfer to UNM or ASU to get the degree she wanted, but by the time she was ready to make a decision, Diné College was offering the program for psychology. "When I heard about that opportunity, I jumped on it," said Tsosie. "The reason being, it had a high emphasis on Diné psychology and outlook on life. Once I found out that program was in motion it was a no-brainer for me to come back to Diné College for the bachelor's degree."
A resident of Tsaile for 10 years and a parent, Tsosie says she's very happy she can continue to stay in the same environment with her friends and family. Garrity said the college also offers online Navajo language classes that have helped many people learn including students trying to qualify for Chief Manuelito scholarships.
"Students are taking advantage of it from Phoenix to Alamo (New Mexico)," she said. Meanwhile, a recent $8 million capital improvement project refurbished ground-floor offices and classrooms in the architecturally significant hogan-shaped Ned A. Hatathli Cultural Center, and replaced the outer window panels of the six-story building. "We're really excited — it's something good for the students," said Garrity. The Tuba City campus has also added two new science labs.
"This allows us to offer more science courses there," said Garrity. Additional plans for renovations and improvements include the Tsaile main library, a new student activity center, a wellness center, and a basketball court. Warrior Coffee opened up last week and serves Starbucks coffees and Navajo specialty foods and drinks.
The coffee shop, also located in the Hatathli Center, is open to the public and walk-in traffic. "It's a hit and has already become a hub for students and locals," said Marie Nez, vice president of external affairs. Warrior Coffee will also offer a training facility that can be rented to outside organizations. New enhancements to the college's IT capabilities will make it easier for students and staff to connect to classes wirelessly on or off campus. The pilot program, in its trial stages using Zoom software, will offer connectivity to classes in remote locations as long as there is access to wi-fi.
"Before, if you were taking an I-TV course, you had to go to one of our sites to interact with other students and the teacher," said IT Director Joy Thompson. "But now a student can use the Zoom software, which allows them to take a class from anywhere — even from their hogans." The Zoom software is much like other interactive video-conferencing platforms like Skype or FaceTime, and is available as long as internet is available, said Joe. Students can join their classes from their phones.
"This is a major step forward in offering access for students," said Joe. The college, which has an enrollment of approximately 1,500 students, graduated its fourth largest class in school history in May. Courses are available for $55 dollars per credit and about 120 to 126 credits are required to graduate with a bachelor's degree. Joe says the rate is the most affordable in the region. "I chose Diné College because of the price," said Jolan Shirley, who is pursuing an associate. "It's a really good price for tuition and it also has a great curriculum. It's just like any other college, so why not save some money while I'm doing it?
"I love staying on the rez and being surrounded by everybody," she said. "That's one of the reasons I'm studying social and behavior science because I want to help out my native community." Garrity says scholarships are also available. "Students can apply for Pell Grants, Navajo Nation scholarships, or other scholarship opportunities, and Diné College is now offering $500 scholarships to 500 students," she said.
According to Diné College President Monty Roessel, thousands of dollars have been raised through fundraising activities like golf tournaments, a gala, and the sale of a 50th anniversary commemorative blanket, all to benefit students and help with financial aid. Garrity said there are also paid internship opportunities at the college that can help pay for the cost of schooling. It's not too late to enroll for fall semester.
The college registration deadline is Friday, Aug. 16, but there is a grace period offering late registration through Aug. 23. Students can enroll on site or online. Open enrollment is available at the Tsaile campus on Aug. 15 and 16, but any branch, including Shiprock, Chinle, Window Rock, Crownpoint, and Tuba City can assist.
Garrity says she's looking forward to another half-century of growth and advancement for the college. In that spirit, a gathering will be held on Aug. 30 at the Tsaile campus to help usher in another 50 years of success.
"Moving forward the team at Diné College will begin the new school year with a blessing way ceremony to celebrate the four-year status, begin the next 50 years for a successful journey and to re-emphasize the college values — T'aa ho ajit'eego, self initiative; Ahil na'anish, honoring kinship; Il idlii, respecting; and Il eehozin, competence," said Garrity.
Information: www.dinecollege.edu
---