Letters: It's time we dissolved this government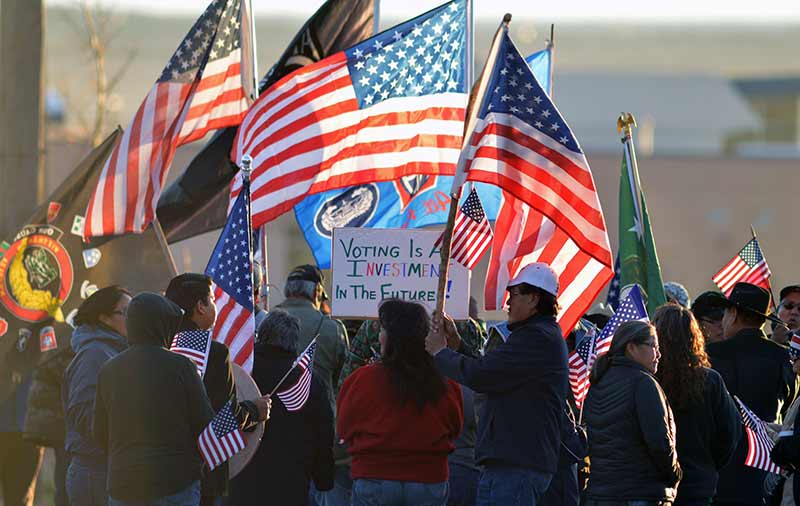 It's May 28, 2014, and hopeful candidates are paying their fees to run for Navajo Nation offices. All candidates sign paper, acknowledging qualification.
One qualification is "Must be fluent in Navajo and English." Merriam-Webster's definition of "fluent" is able to speak a language easily and very well.
Ten days pass, all candidates are certified under full sweep of qualifications by the people's Navajo election board.
June 6, 2014, comes and goes, there are no challenges.
Then finally Aug. 26, 2014, comes and goes and the people by democratic vote choose former Arizona State Rep. Chris Deschene and Apache County Supervisor Joe Shirley Jr.
Two candidates who lose the election come out of nowhere and file election grievances against a young rising Diné star, Mr. Deschene. This is where everything becomes vague and all of a sudden you have the OHA and Supreme Court dictating the people's choice and making their own law.
Navajo leaders told me that you need to climb that ladder and get an education to come back and help your people.
Instead of following that teaching, many leaders, elders and scholars bashed Mr. Deschene, discrediting his credentials and honor. He served proudly for this country to protect our democracy, he got his education and became a lawyer, served in the Arizona Legislature and ran for Arizona secretary of state.
The very freedom he fought for was violated by two former candidates and a bilagaana lawyer. Not to mention a Supreme Court that works with two different laws.
With respect to checks and balances of the so-called three-branch government of the nation, two of the three justices should have stepped aside. Don't you find it ironic to see Chief Justice Herb Yazzie and Justice Eleanor Shirley who were appointed by then President Joe Shirley Jr. to be the majority vote to hold the people's election board be in contempt?
Who is really pulling the strings behind the curtain? Could it be the power play?
My hope, if anyone is reading this, is to hold the Navajo Nation president, vice president, 22nd Navajo Nation Council, and Supreme Court in contempt by the people. They have lost my trust and respect.
It's time we dissolve this government. I'm not upset at the fact of the ruling but how it was interpreted.
My people, it's time we rise and send Window Rock and Herb Yazzie a clear message. We are tired of your corrupt ways. We are protected by the Dine Bi Beehazaanii (Navajo fundamental laws). We have the right to choose our leader, not the Supreme Court and definitely not two candidates who lost their bid for presidency.
Let's rise, let freedom ring from the blue mountains of Mount Taylor to the valley of the Chuskas, Canyon De Chelly and to the edge of the Grand Canyon, from the New Lands to the rich oil Utah plateaus. Freedom will ring one day soon again on our Navajo Nation.
Titus Jay Nez
Church Rock, N.M.
The people voted for Deschene
We, the people of the Navajo Nation, have voiced our opinion on who we feel is the right choice for Navajo Nation president. This man is Mr. Chris Deschene.
Mr. Deschene has served our country as a military veteran of the Marine Corps. He is also a lawyer that provides him with the legal knowledge and abilities to better serve our people. He has also been a member of the Arizona House of Representatives, which has provided him an understanding of the political processes. Most importantly, he seeks a better tomorrow and better living conditions for the Navajo people.
While it's true that the preservation of our way of life and our culture is extremely important, the future of our people and our nation, dictates that we adapt to these changing times. One can honor tradition and the culture, even though they are not fluent with the language. Honor and respect comes from the heart, not from the tongue.
Making it a requirement for the president to be able to speak the Navajo language fluently was a great decision when it was made into law. However, this is a new era, regardless if the president speaks the Navajo language fluently or not.
Having the Navajo Supreme Court decide if he can even be a candidate, regardless of what the people of the nation want, is ridiculous.
If speaking the language is mandatory in order to be the president, then it would also be mandatory for all the Council delegates to speak the language. All those who don't speak the language should immediately be terminated.
Furthermore, if this requirement to speak the language exists, it should also be mandated in order to be a leader of the Navajo Nation the person should be 100 percent Navajo. Therefore, since Diné Benally is a descent of African-American, he should not be allowed to run.
What about Joe Shirley? He tried to start a new power plant in total disregard for our health. Mr. Shirley had his chance to make a positive change and the Diné people have seen this work during the two terms served in office.
The track record over the past eight years clearly shows why we, the Diné people, need new representation. Someone with fresh ideas and will work to foster and support the people of the Navajo Nation, someone that is sensitive to the people's needs and a desire to make sound decisions aimed to make improvements and advancements.
Many people, particularly on the western side of our land, lack basic utilities like electricity and running water. Also, the roads are unpaved and become treacherous when it rains and snows. The past presidents had done little for the western part of the Navajo Nation.
The people of the Navajo Nation have had a hard life and need change in order to improve this quality of living, for the people now, and hundreds of years from now. Without change and improvements, our younger generation will leave the reservation and seek better living conditions away from the reservation and lose their heritage.
Our younger generation are taught the English language and encouraged to continue their education and attend college. Why do this and at the same time continue to support the ideas that they should live in the conditions our people have lived in the past?
The requirements for the president to speak the Navajo language should be waived. This is outdated. It's time for a change in this requirement and a time for change in our presidential leader.
We, the people of the Navajo Nation, have voiced our opinion on who we feel is the right choice for the Navajo Nation president. This man is Mr. Chris Deschene.
Lisa Glen
Shiprock, N.M.
Court should have never canceled election
Concerning the Nov. 4 Navajo election, the way I understand it, is come spring of election year, candidates are declared, campaigns are run, and come the first Tuesday of November an election is held, so that come January, a new tribal administration is instituted in Window Rock.
This decision concerning the executive branch this past Nov. 4 from the Navajo Supreme Court is curious in so many ways.
What's more, is we're so distracted by the Navajo Nation Oil & Gas Company mess that I am not sure we are truly focused on the dire constitutional questions facing the fact that the Navajo Tribe does not have a president elect to seat come inauguration day 2015.
What's more dire is the constitutional question of who is in charge of the tribe (in the period from high noon inauguration day through until an election decides and seats a new executive administration) has yet to really be answered just weeks from the ceremonial hand off of the old administration to what should be the new administration.
Does Mr. Shelly just keep going, and not move out of the president's office? And how legally is Mr. Shelly's term extended?
It is just implied somewhere — that should the situation come up or by pure default that no one is available, and Mr. Shelly had the job already to begin with? Through constitution?
Holding up the election really set a dangerous precedent that the Navajo court can just upend the system over a language ban especially in light of the notion that the Navajo executive branch doesn't have a leader or a clear process to decide a date so the electors can finally decide who should assume the head chief, which could be months off.
The court should never have canceled the election, it should have gone on and merely voided Chris Deschene from the final tally count as well as any votes afforded him as being forewarned of the void. At least then the tribe would have a leader.
Even in Bush v. Gore 2000, there was someone to assume command and the dust settled. Who really is supposed to by tribal law take over come inauguration day in January? The speaker of the Council? The chief justice? Me? Is there a law in place that says so-and-so assumes power?
Talk about a constitutional question awaiting an answer from Window Rock.
Nathan Shorty
Ganado, Ariz.
Diné are the governing body, not Council
I am of the Chahta-Diné tribes and retired from the Navajo Nation government after 30 years of service. I worked for the Office of Management and Policy Analysis and designed training for the IGR Committee and for Budget and Finance.
I want to educate about Navajo Nation government history and why it needs to implement inclusive creative solutions for the Diné people. The first thing to realize is that the Diné people is the governing body of the Navajo Nation, not the tribal Council, who are only representatives of the Diné people.
A referendum and initiative process are the two law-making mechanisms for the Navajo voters and their vote does not need to be approved by the tribal Council.
Second, the Navajo Nation government is a one-branch centralized socialist government established by a federal democratic and capitalist country that only has to control the Navajo leadership to control the Diné people and their resources.
The Navajo Nation government created the judicial and executive branches without approval of the Diné people and can dissolve them at will without approval of the Diné people. What is being called legalities is legalese, or legal jargon, but it is not just.
Third, a society that does not control its own education does not control its own destiny. For example, the Holocaust Museum on Central in Albuquerque has an "Indian" section with this sign posted, "Indian Education is Genocide," and I thought, wow, that is what this quote means, "Kill the Indian and save the man."
It means to replace Indian thinking with the White mind through a Western education system that is exclusive of tribal thinking.
Now, we can understand how we were intended to destroy ourselves according to the white mastermind: (1) conquest and power over; (2) conversion to a deficient self-image set up to fail; (3) domesticated to support a capitalist country; (4) exploitation and victimization of and now by the Diné people; (5) self-termination of our youth in high rates of suicide.
It takes one generation to destroy a language and three generations to destroy a culture. We are now in the 4th and 5th generations of boarding school syndrome and that is why many are lost in addiction that leads to suicide.
The creative solution is simple: Remember we are the precious children of the holy people, accept it and live it. Truth needs no defense. The beauty of truth is that truth just is and does not depend upon belief.
Fourth, it is the Diné people who decide who their leader is in their own mind and in their choice regardless of unjust legal jargon.
Therefore, Chris Deschene would have already won the popular vote of the Diné people if he were a "write-in" candidate, and if the Navajo Nation government was a just governing system of the Diné people.
Ralph Davis
Albuquerque, N.M.
I'd like to feature a teen boy or girl
I'm a 16-year-old aspiring filmmaker in Los Angeles. At my school, New Roads, we are given the opportunity to apply to do an independent study project, which is a project where we spend the whole school year researching a topic that is of interest to us.
My proposal was selected out of several dozen submissions, which is a great honor. For my project, I decided I want to make a documentary short (around 20 minutes) about Native Americans and Native American reservations.
As a filmmaker, I like to explore social justice issues. My films tackle race, cultural adversity, and shed light on areas that are not often talked about. My purpose for doing this documentary short is to help reveal the adversity existing on many reservations while at the same time bringing light to the beauty I find in Native American culture.
I'd like to feature a teen boy or girl (anywhere between the ages of 13 to 17). I came across your wonderful organization and was hoping you might be able to put me in touch with a teen living on or off a reservation who would be interested in sharing their story.
I can be contacted at g.gym.gab@gmail.com. Thank you for your time and I look forward to hearing your response.
Gabrielle Gorman
Los Angeles, Calif.