Agreement signed for Canyon de Chelly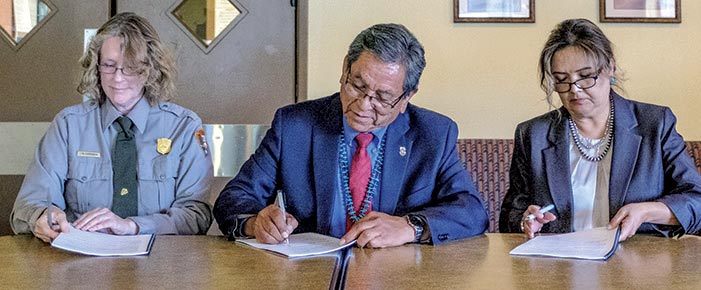 CHINLE
Eighty-six years after Canyon de Chelly National Monument was established, groundwork has finally been laid for its management.
A strategic agreement, describing the existing management roles of the National Park Service, Bureau of Indian Affairs and the Navajo Nation, was signed Friday by President Russell Begaye, the BIA's Navajo Region director, Sharon Pinto, and Lyn Carranza, superintendent of the Southern Four Corners Group of national parks, which includes Canyon de Chelly.
While the agreement lays out the existing responsibilities on everything from feral horses to archaeological resources, some canyon residents were leery of it.
Annie Lee, of the Tséyi' Diné Bikéyah Association, a group formed to represent the canyon residents during the planning process, said many residents felt left out of the process and had presented a petition to the Park Service asking that the signing be postponed until more public hearings could be held.
Several public hearings on the strategic agreement were held over the past year, but Lee said a lot of the canyon residents did not know about them.
Carranza said the meetings were advertised in the Navajo Times, on KTNN and flyers posted at locations like the Chinle Post Office, and emails were sent out to people who had attended previous meetings.
In some cases, she said, Deputy Superintendent Wilson Hunter had called or visited people he thought would be interested. He had also asked that the meetings be announced at the chapters that include parts of Canyon de Chelly.
Carranza noted that some of the people who were complaining about being uninformed had actually attended one or more meetings.
"Honestly, I don't know what more we could have done to get the word out," she said.
Tour guide Daniel Staley said rumors were circulating that the agreement would allow "people from places like Shiprock and Many Farms" to obtain a home-site lease in the canyon.
"There are a lot of rumors," he said. "People don't understand it."
Bidtah Becker, director of the Navajo Nation Division of Natural Resources, explained that one of the first things she was tasked with when hired in 2015 was to get the ball rolling again on a joint management plan for the canyon, and the strategic agreement is the first step.
---