Big Mountain resident famous for HPL resistance passes on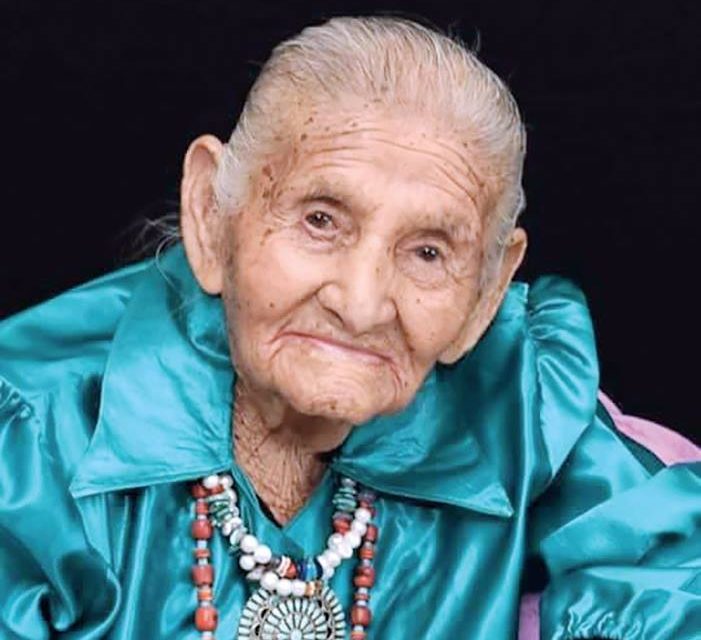 TUBA CITY
Katherine Smith, a cultural educator, a relocation crusader and resistor from Big Mountain, Ariz., has died. She was 98 years old, according to records, but her family says she was more than 100 years old.
Mary Katherine Smith, the daughter of Katherine Smith, said her mother passed away at 11:18 a.m. on March 29.
Behind a fence holding a rifle outside her hogan, wearing her traditional outfit, is an iconic photograph of Katherine Smith that shows her amid a territorial dispute between the Diné and the Kiis'áanii.
This diaspora is also the focus of "Broken Rainbow," an Oscar-nominated documentary that she took part in.
Katherine Smith was Tábąąhá, and born for Chíshí Dine'é. Her maternal grandfather was Tł'ízíłání and her paternal grandfather was Naakaii Dine'é.
Katherine Smith often drew on Diné philosophy to explain her profound connection to her ancestors' traditional land she called home, and played an indispensable role protecting it when the federal government removed thousands of Diné families from Hopi Partitioned Lands.
In the mid-summer of 1979, a Bureau of Indian Affairs crew set out to fence her property in Big Mountain – Dziłntsaa in Diné Bizaad – only to find themselves staring into the muzzle of her .22 caliber rifle, according to history. She fired over their heads, and when they scattered, she began pulling apart the fence.
Katherine Smith at that point in time was arrested on serious charges, only to receive a directed verdict of acquittal from a judge.
"That was just a representation of what she stood for," Mary Smith said in an interview with the Navajo Times on Wednesday night. "One of her last words … a couple of days ago was, 'I never sold out. I never sold my land, I never left, I never took payment, and I never got a relocation house. I stayed on my land where I was born, and I feel like I won this battle.'"
Lynette Goldtooth said Katherine Smith, her nálí woman, was a true advocate and was "very vocal."
"She stood her ground and did not get relocated," Goldtooth told the Navajo Times. "She continued to live up on Big Mountain."
"She was always accepting and very gentle," Goldtooth added. "She was always smiling and happy. That's the way she was when she passed on today."
Mary Smith says her mother received a doctorate degree in sociology from the University of Northern Colorado, where she taught, and at other Colorado schools, for 20 years.
A private graveside service for Katherine Smith will take place on Saturday, April 1. Thereafter, a celebration of life will take place 11 a.m. at her homestead in Big Mountain.
---