Bloomfield, Gallup, PV remain in playoff hunt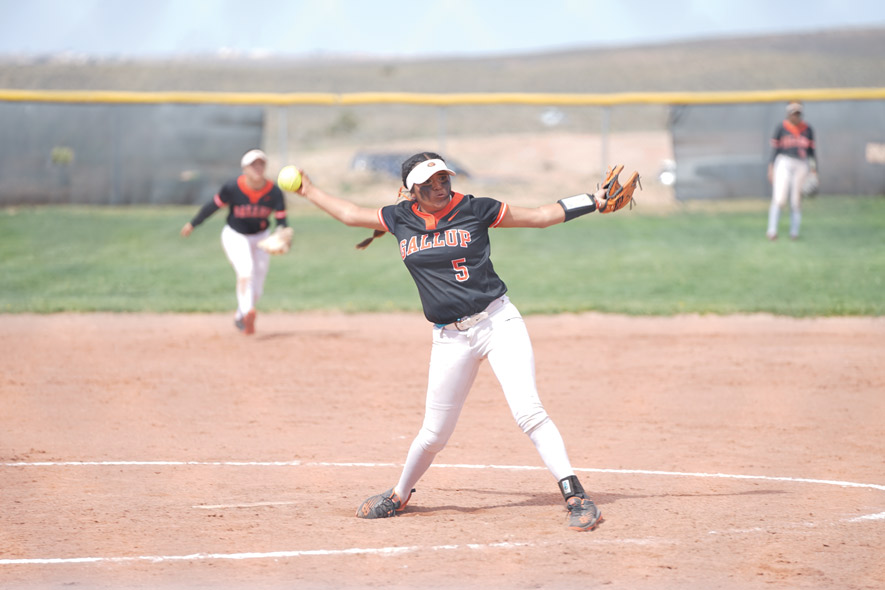 RIO RANCHO, N.M.
The New Mexico Class 5A and 4A state softball tournament has been whittled to six teams in each bracket.
The playoffs started with 16 teams, and half of those squads played in Thursday's double-elimination bracket.
In Class 4A, Gallup and Bloomfield remain in the hunt to make Saturday's finals, while Piedra Vista seeks to do that at the 5A level.
Those three teams went 1-1 at Cleveland High School as they will have to work their way through the consolation bracket.
"It's going to be a challenge, but we're up for it," Gallup first-year coach Williams Haines said of reaching the 4A state title game for the third straight year.
The Lady Bengals will need to win three straight games today, starting with Bloomfield at 9 a.m.
The game-winner will play the survivor between St. Pius X and Lovington at 1 p.m.
At 3 p.m., the last remaining team will play the loser between top-seed Artesia and No. 2 Silver for a chance to play in Saturday's title game.
"It's tough to be in the loser's bracket and work your way up, but I think we can do it," Haines said. "We got the talent, and we got the pitchers to make a run. We just got to continue to fight."
Gallup won its opening game on Thursday by outlasting Lovington 3-0, and in the next round, the Bengals dropped an 8-2 decision to Silver.
"We had SJ (Haines) pitch for us, and she did really good," the Gallup coach said. "The defense backed her up, and we won."
Things took a turn for the Gallup team in the Silver game as it was beset with errors.
"I think we had like seven errors on defense," Haines said. "That is what killed us, and the momentum went with Silver."
At the plate, Gallup struggled with only three hits against Silver pitcher Makaylah Roybal, who finished with seven strikeouts and four walks.
"She kept us off balance," Haines said of Roybal. "She was throwing a lot of drop balls, so we just got to make our adjustments if we see them again."
Bloomfield, meanwhile, dropped its opener to No. 4 seed St. Pius X by a 9-1 count before bouncing back with a 2-1 win over Bernalillo in the consolation bracket to advance to face the Lady Bengals.
"We just have to hit the ball," Haines said. "Against Silver, we didn't hit the ball, and we didn't execute. You know, Bloomfield is tough, and they're playing well. They took out Los Alamos and now Bernalillo, so we got to be ready for them."
In the 5A bracket, PV edged Alamogordo 1-0, with first baseman Ayanna Stevens nailing a two-out single to score shortstop Brielle Sledge for the game-winner.
PV ace pitcher Emma Lovato went the distance and struck out 16 batters.
In the next round, the Lady Panthers fell short of top-seed Las Cruces Centennial by a 3-1 count.
PV plays Cibola at 11 a.m., with the winner playing the La Cueva and Alamogordo matchup at 3 p.m.
The last remaining team will match up with the loser between Centennial and No. 2 Hobbs at 5 p.m.
---