SFIS comes up short in 3A title game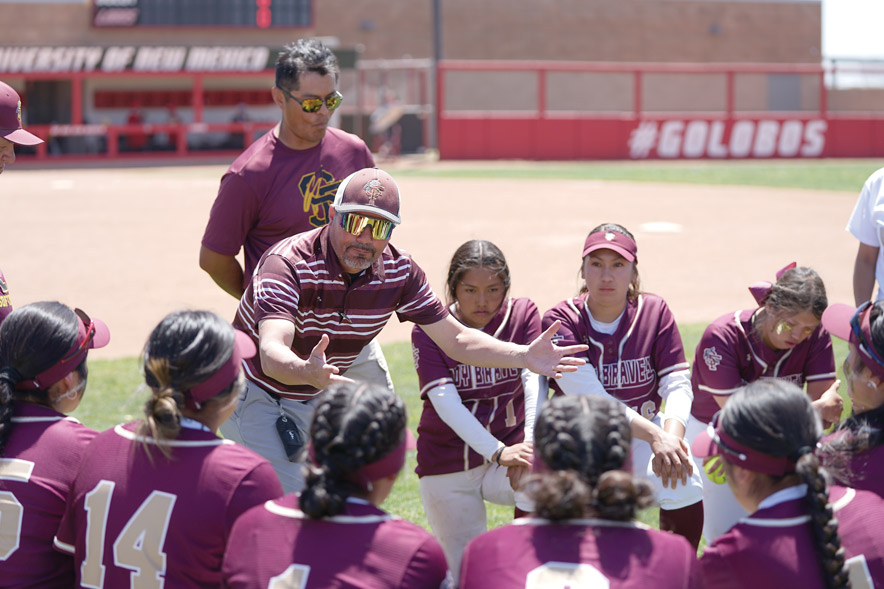 By Santiago Ramos Jr.
Special to the Times
ALBUQUERQUE
It was a rematch of last year's Class 3A state softball finals.
Unfortunately, it had the same result for top seed Santa Fe Indian School, which suffered a 10-4 loss to No. 2 seed and defending state champ Robertson during the state finals on a hot Friday morning at the UNM Softball Complex.
The 25-3 Lady Braves, with all three losses to Robertson, were unable to match the strong pitching, coupled with the solid hitting displayed by the 25-5 Lady Cardinals, who secured back-to-back state titles.
Robertson showed its aggressive hitting at the plate, scoring in five of the six innings and outhitting SFIS 14 to 9.
Robertson junior starting pitcher Ariana Sanchez shut down Santa Fe Indian's bats by retiring eight Lady Braves in a row in the middle innings.
Lady Brave senior pitcher Shade Phea Young, who pitched all five state games, including three games in a row on Friday, struggled in the first inning, allowing three runs on three hits but also hitting a pair of Lady Cardinal batters.
SFIS head coach Oliver Torres said his senior-loaded squad played through a difficult state bracket.
"Fatigue set in," Torres said. "Our side of the bracket was a strong side of the bracket. It was a heavy side. They (Robertson) had an easy run till they played us. That was the story of the tournament is that they had an easier way to the finals than we did. It's happened like that two years. We worked hard for the No. 1 seed, and it worked against us."
The SFIS coach said Young is one of the best players inside the circle.
"Shade Young pitched every game this year except maybe two games," he said. "Shade is one of the best pitchers, regardless of class. She showed it this year. But fatigue set in. We played three games yesterday. We just fell short. Our catcher is catching injured. A lot of our girls had sore muscles, and lot of that had to do with coming out of our strong side of our bracket. We had to go through Cobre twice."
Robertson downed SFIS 8-4 on Thursday in the winner's bracket and advanced to the state finals, while SFIS had to play an extra game against Cobre that ended just before sunset on Friday.
---