Checkmated by crime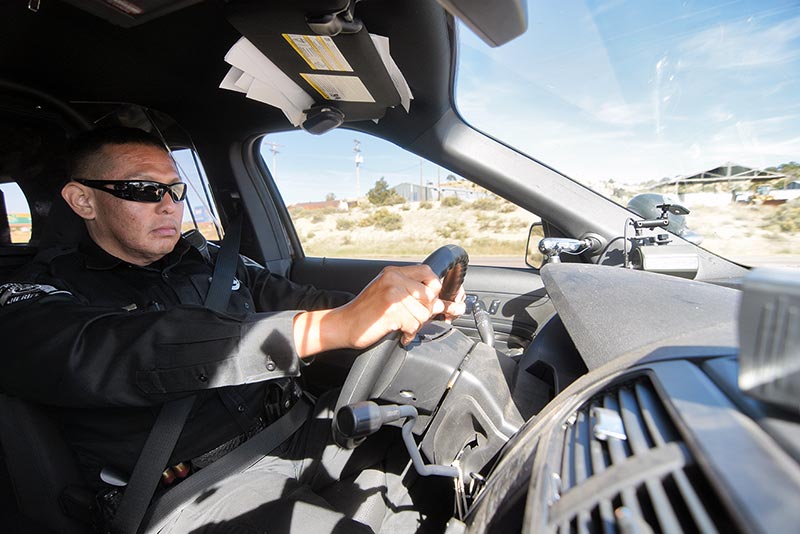 Jurisdictional issues plague police, citizens
Editor's note: This is part one in a series on law enforcement issues affecting the Navajo Nation.
GALLUP
In 2012, a Church Rock, New Mexico, family – all women – living seven miles from the city of Gallup, were told by the McKinley County Metropolitan Dispatch Authority that all they could to do was to find a safe place to hide while an intoxicated, abusive man tried to break into their home.
Instead of hiding, one of the women, who requested to remain anonymous, said she, her mother and her then-pregnant sister took matters into their own hands.
They did so after they were told the jurisdictions of the McKinley County Sheriff's Office and New Mexico State Police did not include the Navajo Nation — even though they could see the glow of the city lights from their doorstep.
Using the dark night to their advantage, they snuck up on the man – her sister's boyfriend – roped him and wrapped the rope around him until he was securely tied.
They quickly retreated back into their home after tying him and waited for the Navajo police, who did not arrive until the following day. By that time, she said, the man had managed to untie himself and leave.
Another incident took place in 1982, according to Church Rock Chapter Vice President Sherman Woody. Woody said his uncles had gotten into a dispute that ended with one uncle shooting the other in the leg with his .22-caliber rifle.
Woody said the state police immediately responded and began investigating. Navajo police did not respond to the incident until the following morning. By that time, the uncle who was shot had already been treated at a local hospital and released, while his other uncle, who did the shooting, had fled the state. He was never prosecuted, he said.
The incident occurred just three miles away from Gallup, but did not happen on land where the county and state police have jurisdiction, he said, so the state police could not press charges.
Woody said when his home was broken into last November, he called the Navajo police in Crownpoint to report the crime. What the dispatcher told him angered him.
"They said, 'Was anybody hurt?'. I told them, 'No, nobody's hurt,"' he recalled. "'Well then, the next officer that's closest to you is Ojo Encino.'"
Woody said from his home, Ojo Encino, New Mexico, is a three-hour drive. A Navajo police officer did not arrive until the next afternoon.
"This is real. This is real," Woody angrily said. "Gallup is five minutes away and we have to call Crownpoint. Some people here never get help. Absolutely nothing … we got a sheriff sitting three minutes away and he won't respond."
Gray areas
The sheriff Woody is referring to is McKinley County Sheriff Ron Silversmith, who said he has been in law enforcement since he was 18. The Oak Springs, Arizona, native says law enforcement has been his life and he takes the oath he's taken very seriously.
The more than 6,000-square-mile county, which he was elected to defend from crime in 2011, includes parts of the Navajo Nation and his deputies respond to calls on tribal land.
But with four different jurisdictions — county, state, tribal and federal — there are gray areas.
While his deputies and officers from other agencies have a great working relationship, politics and lawyers have made a conundrum of it, according to Silversmith.
"We've been in negotiations for the last three years with (Navajo Nation Public Safety Director) Jesse Delmar, with the Navajo Nation DOJ attorneys and our (county) attorney Doug Decker … trying to hammer out a feasible, legitimate cross-commission that'll cover liability," Silversmith said. "Right now we do honor the cross-commission."
But according to Navajo Nation Council Delegate Edmund Yazzie in a Navajo Nation Council press release, McKinley County is not honoring the cross-commissioning agreement.
Yazzie, the chairperson for Law and Order Committee, said the county is not responding to emergency calls occurring on the reservation.
The agreement allows tribal and county officers to respond to emergencies across jurisdictional boundaries, ideally providing a shorter response time and preventing a violator from using jurisdiction as a means to evade the law.
---