Letters: Prayers for brother who served in Vietnam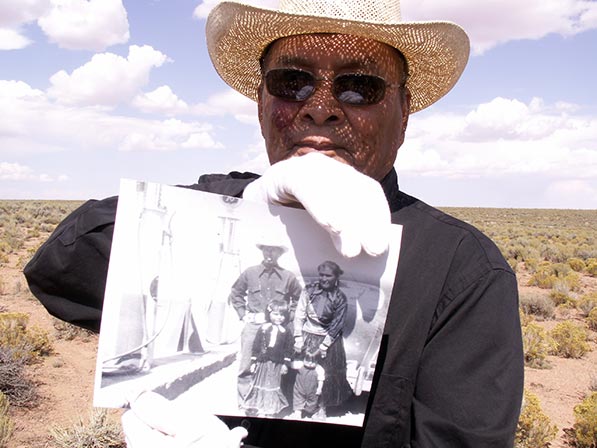 My name is Delores Wilson-Aguirre and my clans are Biih bitoodnii nisli, doo Tsi'naajinii ba'shish chiin, Kiyaa'áanii da'shi chei doo Tl''z' lán' shi nali. I currently live in Tuba City, and grew up above the confluence of the Little Colorado and Colorado rivers at the Grand Canyon's east rim. I am the youngest of nine siblings.
This is a story about my brother, Clyde Wilson, who was drafted by the U.S. Marines and served in Vietnam in 1968.
I hardly remember Clyde joining the military or leaving for Vietnam. I guess my late mother did not want me to know how long my brother would serve, and she never told me.
I recall seeing her wipe her tears, walking to bidaa to say her prayers for the safe return of Claa (Clyde's Navajo name). Sometimes I made the journey with my mom and stood beside her as she repeated the prayers for her son's safe return – "Hozho'go sh'eh awee' ni'doo daal".
I don't remember my exact age but one day I remember when my brother returned from Vietnam. My mother and grandmother quickly prepared a Navajo ceremony for my brother's return. It was only then I remember sitting beneath dark skies, listening to Clyde, who told us about his experience in Vietnam.
This was the last time I heard my brother talk about Vietnam until recently. He mentioned how he was told he fought for America, which included Navajo land, especially biidaa, where our mom said her prayers.
My brother is frustrated because he and his extended relatives are at the whim of a Navajo Council vote, which will consider the Grand Canyon Escalade bill. The Navajo prayers for his safety, emotional wellbeing and protection from bad things are sealed in the canyon.
I feel for my brother. He sacrificed his young years to a war, which he only understood much later as an adult. I feel a part of his journey to war was so that everyone can appreciate the land all around, especially the canyon.
The Vietnam War is a memory. I know my brother has stories to tell but holds them deep. Perhaps safety is the reason why Clyde moved to Tsah Tah, to build a home near the canyon, where my mother said Hozho prayers for him. The prayers we witnessed for his return to a state of balance, to walk in beauty, within the universe or "Hozho" in the Navajo language, are part of the canyon.
For my brother, a true former Navajo warrior, I respectfully ask the Navajo Nation Council to vote no on the Escalade bill.
Delores Wilson-Aguirre
Tuba City, Ariz.
Shiprock has been stagnant for 60 years
It seems the community of Shiprock is stagnant and has been in the same state for the past 60 years or so. There is the same talk about age-old issues: bad roads, no activity centers for young people, no trailer parks, no public playgrounds, and on down the list.
The only things that continue to develop are fast food establishments and gas stations, but is that progress?
Our population is still growing and our economy cannot keep up with the social issues of unemployment, lack of adequate housing and good health care facilities.
There are offices with names like Navajo Department of Transportation, Bureau of Indian Affairs Road Department, Shiprock Chapter House, Navajo police system and workforce manned by some personnel. The services that these offices are supposed to provide are nonexistent as our Navajo people continually struggle with conditions of poor roads, no housing, lack of training for jobs, safety, insufficient health care, etc.
What are our elected officials doing to stimulate projects for community improvement? What are people who get paid to sit in tribal offices and government offices doing to help citizens who need services?
Wilford R. Joe
Shiprock, N.M.
Our ancestors always found a way
Just one unsolved case of a missing Diné woman is one too many. One. No matter what her circumstances, she is sacred, she is loved and she is hozho.
The recent article, "Mothers of missing women cling to hope" (Oct. 12, 2017) is a stark reality of the unfortunate plight of family members reaching out in desperation for answers, for validation, for closure. This is an epidemic that is historical in nature, rooted in the scourge of colonialism, far reaching and touching our lives today.
Today this issue is not simply limited to women, it extends to children and men. It is both a multi-faceted and complex problem to tackle.
We are left with questions with very few answers. Namely, parents such as Lela Mailman desperately, desperately seeks help, weeping in the parking lot of the president's office. We deal with the convoluted jurisdiction concerning these matters, as well as resources and time.
So what are the right questions to ask? How do we take steps to address this issue?
Missing and murdered indigenous women are among the highest demographic to experience all that encompasses it. Unfortunately, these numbers do not currently exist for Diné people, and is a reflection of all Indigenous communities in the U.S. This problem offers an avenue of change in the process, in an effort to garner effective support in addressing this issue.
I believe that getting evidence-based data would offer a tangible foundation to finding solutions, as well as working collaboratively within communities to understand how to best serve them.
Finally, I ask you to consider not resorting to laying blame on any particular agency or organization. That is too easy. Effective solutions look at the strengths of our people, and who we believe we are as K'e.
Our ancestors have passed on valuable teachings as a creative lens to work with problems. I am encouraged by the fact that it is why I am here today, because the odds were always against us.
Even now that is true. They found a way. That is my greatest hope, that we will continue to be the answers to our problems as well.
Melody Delmar
St. Louis, Mo.
The resounding resonance of K'e
Citizens of the Dineh Nation are privileged to read about K'e in each edition of the Navajo Times. Does the average reader know what the term even means? I don't think so. Let me give an example of the full resounding resonance of K'e.
On the surface K'e carries a sign of respect. The respect is founded on relationship. Further, the relational respect is characterized by reverence for our ageless Dineh cultural greeting system.
At my initial reading of the article entitled "Speaker: Zah guilty of 'abuse of authority' in referendum debate" (Oct. 19, 2017), I was immediately reminded of the one-on-one remark I made to then-speaker of the Council after the passing of Title Two in 1988.
I said to Mr. (Nelson) Gorman, "Is it true that you are now the most important official in the Dineh Nation government and that the Dineh people did not vote you in to be the speaker?"
Speaker Gorman did not have a word to say. It was then that I knew that Title Two was a makeshift spur-of-the-moment legislation.
I said to Mr. Gorman, "Title Two is not a Constitution voted on by the people."
I left his office quickly as he had absolutely nothing to say.
Now to K'e. Mr. Peterson Zah's father is of the Táchii'nii Clan. So over the years I have known him, his uncle John Billy and cousin-nephew Irving Billy as my neighbors at Indian Camp during the late 1950-1960s. I have always addressed Mr. Zah as "my son."
In fact, after Zah was elected president of the Dineh Nation, I introduced him as "my son" to the Durango townspeople and faculty when the president of Fort Lewis College asked me to invite him to speak at FLC when I taught there in 1982-83.
I told the audience that Mr. Zah is eight years my senior, but that in our Dineh way he is "my son." But K'e is more than that,
Current Speaker Bates is married to a distant cousin, Lillian Franklin, who also grew up at Indian Camp. Speaker Bates has the authority of Title Two to "speak down on a former Dineh Nation president." No K'e.
I wish to exercise my K'e on Mr. Zah's behalf. Mr. Zah is merely functioning as a lobbyist for the wishes of the executive branch. Mr. Zah is not an elected official. His job is essentially to represent the wishes of President Begaye. He has no authority.
I take it personally when someone who has a little bit of authority based on Title Two abuses that bit of authority to denigrate "my son."
Mr. Bates, back off, as you do not represent the wishes of the Dineh voters to speak your mind carelessly.
Now that, folks, is K'e.
Tacheeni Scott
Flagstaff, Ariz.
Sign my petition
I am writing to you, so you can open your eyes once and for all and realize that you are being neglected by the people you elected to take care of your needs.
The worst perpetrators are so-called president and vice-president of your nation who use every opportunity to be on camera to be seen so they can fool those who are blinded by the crumbs these two men throw at you.
Helping the Texas and Florida victims of the hurricanes when your people are homeless? Poor? Bless your heart Navajos, giving from what you don't have. May God give you that back and more.
Tell me, how are you better since these two took office? I have seen with my own eyes how you live on the reservation. It is sad, it is embarrassing, it is despicable, it is shameful and it is inhumane.
A leader commands, leads and cares about those under him not by uttering words, but by actions, and not by a few actions done to a few for show. No, they do it for all.
I want all you to know that I emailed after emailed while Senator McCain was investigating NHA and questioned the former NHA CEO until she "resigned." I don't pretend to think that I put her out, but I stated to her in one email that I will not rest until she was fired or resigned. I also stated that I will not stop until HUD gets the monies from NHA and HUD itself takes command of the housing problem on the Navajo Nation.
You deserve better, you cannot be commanded by men whose only purpose in office is their own betterment. Have you seen Mr. Russell's home, his bank account and what about Mr. Nez? I think that they should disclose their income tax and salary, so they can once and for all dissipate any doubts of their mismanagement and should be for all the public officials of the Navajo Nation.
How come 40 percent of the Navajo Nation residents don't have access to running water in their homes? (Cronkite News, Arizona PBS, May 15, 2017), not only the people have to haul the water but have you seen the roads? Not even Third World countries have these kinds of roads and I come from one and have visited several others.
Let's go back to the housing issue. The staff and officials of the Navajo Nation did a remodeling of their offices with the money of the Navajos. If the Navajo homes are in a dilapidated condition, why should the offices of the Navajo Nation be in better shape? Are they above the rest of the Navajos? Why? Because they have a high school diploma? College degree? I have those, too, and more, and I do not feel that I am above the Navajos.
On the contrary, I felt a humble feeling when I met the family of my husband and friends this past September in Cedar Ridge. I felt a privilege to be in the presence of the descendants of great leaders such as Manuelito and in the presence of the descendants of people who got here over 23,000 years ago and whose resilience proves they are a great people.
But I am upset with the Navajos, because I put a petition to vote Mr. Begaye and Mr. Nez out of office and people from all over the world signed, but only a few Navajos. What's that say of you?
What about the NHA? The NHA was created and funded by us American taxpayers and you. You pay taxes don't you? It was created for your benefit so you could live in decent homes with the dignity that you deserve.
This is not about welfare or charity, this is about the unalienable rights given to you by God to live, liberty and the pursuit of happiness and within those rights is the right to live in adequate housing. Have you read the mission statement of the NHA? It says, "We are committed to building sustainable quality homes, promoting economic self-sufficiency and providing exemplary services through professionalism, leadership and respect."
Yet Ms. Priscilla Tsinigine called my nephew Perry and told him, "that due to an article published by the Navajo Times, the house of my mother-in-law (who died waiting for her home) and now is inhabited by my sister-in-law, will not be rebuilt." That dear Navajos is bullying, threats, the lowest resources used only by mobsters.
I have reached out to your "leaders" to do what is right and what have they done? Nothing. Mr. Begaye and Mr. Nez just turned their backs (as always) and ignored my pleas to make sure that NHA builds the needed houses for the Navajos. But like I stated to them over and over, the fight is not over and I will continue pressing the U.S. federal government until NHA is no more.
I am only touching the surface of your problems, because as you know they are many. You have friends in America, willing to fight for you, for your betterment and we will continue fighting for you, but you must help us.
Please sign my petition. I hope that the Navajo Times puts it in its page so you all can sign it. If not, it is on my Facebook page, Guadalupe Zapata-Slim.
Don't let the bread and circus distract you (all those fairs and trinkets given to you like candy and shocking hazardous toys) from the real issues, the fact that you need jobs, education, homes, road and water like everybody else in America. Please sign the petition, help me help you.
Guadalupe Zapata-Slim
Metairie, La.
Please help Diné fire victims
I would like to request your help for one of our Navajo relatives who lost their home to a fire in San Pedro, California.
Mabel Dayzie-Boone, of Shonto, Arizona, has been living in California for over 30 years. On Sunday, Oct. 15, she lost her home to a devastating house fire.
Mabel (May) is a single parent, she has children and grandchildren who lost all of their belongings and a home, which they loved. May and her family are trying to hold themselves together in this most difficult time, they need our help.
There is a GoFundMe page set up for those who would like to help this family. On the family's behalf, I am pleading with anyone who might be able to assist this Navajo family in California to try and rebuild their living. Please help with anything you can at https://www.gofundme.com/the-boone-family-house-fire-fund.
Thank you to those who have already donated, and to others who can donate to this cause. The family very much appreciates it. May your lives be blessed with abundance of gifts from our great Creator for your kindness and help to this family who experienced this loss.
Bernice Boone
Yah-Ta-Hey, N.M.
---