Code Talker remembered for faith, family and bowling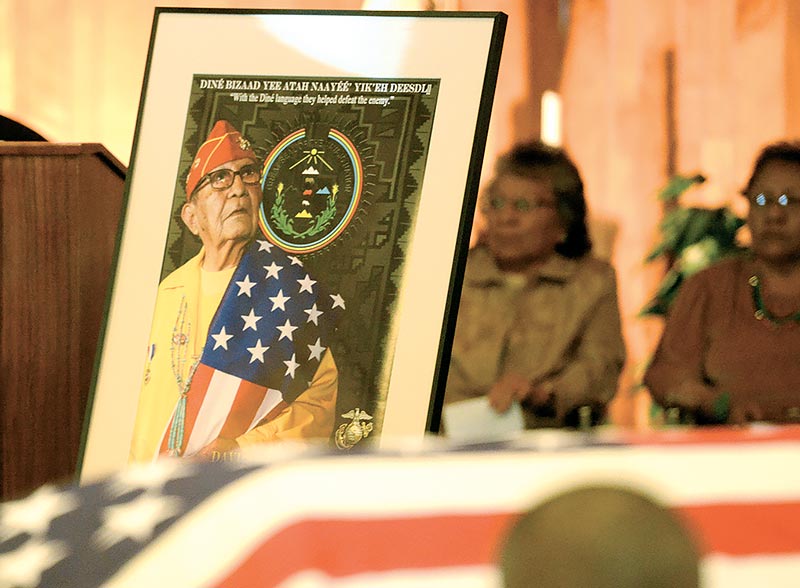 SHIPROCK
Navajo Code Talker David Patterson, Sr. was laid to rest today and what will be remembered is not only his service to his country but his love for his family, Catholic faith and bowling.
"He was a devout Catholic," said Curtis Ray Benally, Patterson's great-nephew. "He was very disciplined and there are only few folks like that. He was proud of that."
Mourners came to pay their last respects to Patterson and filled the pews of Christ the King Catholic Church in Shiprock. As the priest, Jeff King, whose father was also a WWII Veteran, gave the homily he reminisced about the discussions he would have with Patterson about their faith.
King compared Patterson's faith and wanting to learn more about it to that of the indecipherable Navajo code he used as a weapon against the Japanese military.
"We met often and we would talk about Jesus, about the church, we talked about the code and the Catholic faith," King said. "In so many ways it was similar when we spoke of mysteries of the church and the code that was developed."
"Teach your children this powerful language that the creator gave us. Our language is powerful. Our language changed the world. Our language is why we are sitting here today in the Land of the Free."

– Navajo Nation President Russell Begaye.
Among the crowd of mourners were Navajo Nation President Russell Begaye and Shiprock Council Delegate Tom Chee. As a 27-year-old working for social services, Chee worked alongside Patterson and wasn't aware that he was a Code Talker.
He described his former colleague as a hard worker who would always walk to and from work, and would decline Chee's offer to give him a ride. One day, Chee said, he asked advice of Patterson on how he could better his own life, and the response the delegate received from the war hero was "Formal schooling." After that Chee returned to school and obtained his teaching degree from Fort Lewis College in Durango, Colorado.
"I went back to school … by his very small response to me it made a huge life turnaround to my life,"Chee said. "He had an impact on me."
Patterson was born Nov. 11, 1922. He attended Catholic school in Shiprock in 1931. He served in the Marine Corps from 1943 to 1945 and was the recipient of the Silver Congressional Medal of Honor in 2001.
After obtaining his degree, Patterson became a social worker and worked for the tribe's Division of Social Services until retiring in 1987.
"The Code Talkers are our treasures," Begaye said. "Always speak your language. Teach your children this powerful language that the creator gave us. Our language is powerful. Our language changed the world. Our language is why we are sitting here today in the Land of the Free."
---