Code Talker Roy Hawthorne Sr. passes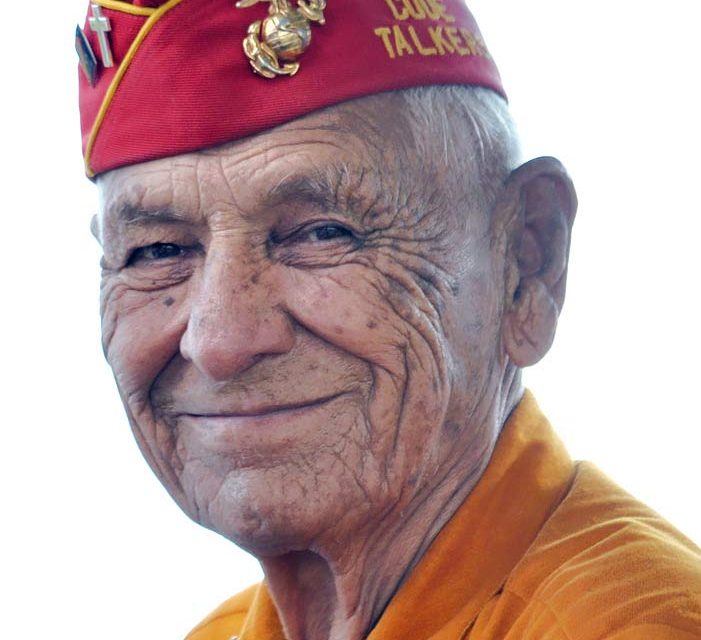 LUPTON, Ariz.
Roy Hawthorne Sr., one of the most recognizable Navajo Code Talkers, died Saturday. He was 92.
He was one of the most active members the Navajo Code Talkers Association and served as its treasurer for many years. He was serving as the association's vice president at the time of his death.
"He probably spent more time working for the association than any other member," said Martin Link, who helped organize the association in the early 1970s as director of the Navajo Tribal Museum.
While he didn't write a book about his experience as a Code Talker during World War II, he made numerous public appearances on behalf of the association and was interviewed several times for documentaries on the role the Code Talkers played in winning the war in the Pacific. "People looked up to him," said Link. "He made friends easily."
Like others who served as a Code Talker, Hawthorne took the vow of silence seriously and never told anyone what he did in the war until 1968 when the use of the Navajo language as a code was declassified and the Code Talkers were free to talk about it. "I never even told my family about it until we were told it was all right," Hawthorne said in a 2010 interview.
Hawthorne was Kinlichii'nii (Red House People Clan), born for Bilagáana (Anglo). President Russell Begaye was also an admirer of Hawthorne. Hawthorne "is highly respected," Begay said in a statement issued on Tuesday.
"He was not only a hero and a warrior but (he) was a true spokesman who worked on behalf of the welfare of the Navajo Code Talkers consistently. It was a privilege to have known him." One of his projects during the last decade was helping raise funds for a museum honoring the Code Talkers and other Navajos who served in the military.
Hawthorne always thought it was ironic that the federal government, which had tried so hard in the early 1900s to force Navajo kids who went to BIA boarding schools to stop using their language, asked these same students to use their language as a code against the Japanese.
"When I was inducted into the Marine Corps and when I raised my hand and swore allegiance to the United States and to the Marines, that is when I became somebody," he said in one of his interviews for a documentary on the Code Talkers. "That's when the whole world realized it wasn't true that Navajos were non-achievers," he said. "That they were achievers. That is what makes me proud that we were chosen to do this specific task. And so we did."
He was invited back to Camp Pendleton in 2015 and was presented with an honorary coin from the U.S. Marine Corps. This marked the first time that he had been back there since he was trained in 1943 to become a Code Talker.
He was 17 when he enlisted. He came after the original 29, all of whom have since died, and at the time if his death was one of only a dozen Code Talkers who are still alive. He also served in the Korean War but wasn't a Code Talker during that war, said Link. When talking about the code in his later years, he said it was developed for the war and was simple to any Navajo but totally confusing to the Japanese. "The longer we live, the more we realize the importance of what we did, but we are still not heroes," he said in 2015, stressing that as a Code Talker he and the others made a lasting contribution to the war effort.
A pastor after getting out of the armed services, Hawthorne said his proudest achievement was being a Code Talker and being able to travel and talk to people about his experiences. "God had it planned out," Hawthorne once said, "that the Navajo language would be used to save democracy." He was preceded in death by his wife, Jayne Hawthorne.
He is survived by five children and 13 grandchildren. Visitation is scheduled at 5 p.m. tonight (Thursday) at the Rollie Mortuary in Gallup, New Mexico. Funeral services will be held at 10 a.m. Friday at the Tse Si Ani Baptist Church in Lupton, Arizona.
---