'Once we go, we get going'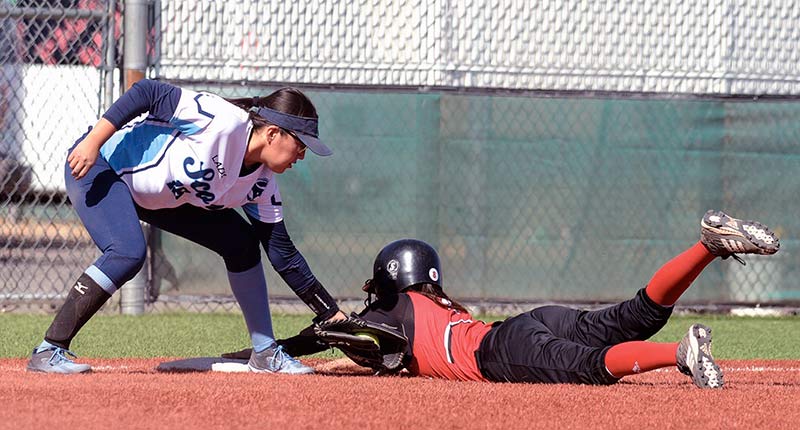 Page breaks tie with rally to win 3A North championship
TUBA CITY
It took them awhile but the Page Lady Sand Devils found their footing at the start of the fourth frame to gain some distance to win the 3A North Region softball tournament last Saturday.
With the game tied 1-1 heading into the fourth, the Sand Devils scattered four big hits and built a 7-1 cushion before they withstood a Window Rock rally and posted an 8-6 win at Tuba City High School.
"It usually takes us a few moments to get started but once we go we get on our rallies and we get going," first-year Page coach Sunni Crank said. "The enthusiasm gets going, and then the confidence gets going."
In that pivotal fourth, the Sand Devils put two runners on base to start the inning. Next-at-bat, Camryn Nockideneh hit her first homer of the season on her first offering as the DH cleared the bases for a 4-1 Page advantage.
"When I got to first base I saw it go out," Nockideneh said. "It felt good to get one, especially in a regional tournament."
After Nockideneh's big hit off Window Rock ace Rachel Smiley, right outfielder Mikenna Penrod added a single and she later scored on a sac fly from midfielder Erin Hunt.
Senior shortstop Amaya Curley kept the rally going with a base hit, followed by a walk from sophomore Christina Lucero.
With the pitch count reaching 3-2, Smiley gave up another walk and before the ball was returned to the Window Rock ace Page scored two unearned runs.
"That was the two runs we needed to pull through with the 'W,'" Crank said. "We're real quick and base running has always been one of our strongest assets."
---