Council surprised by BIA director's removal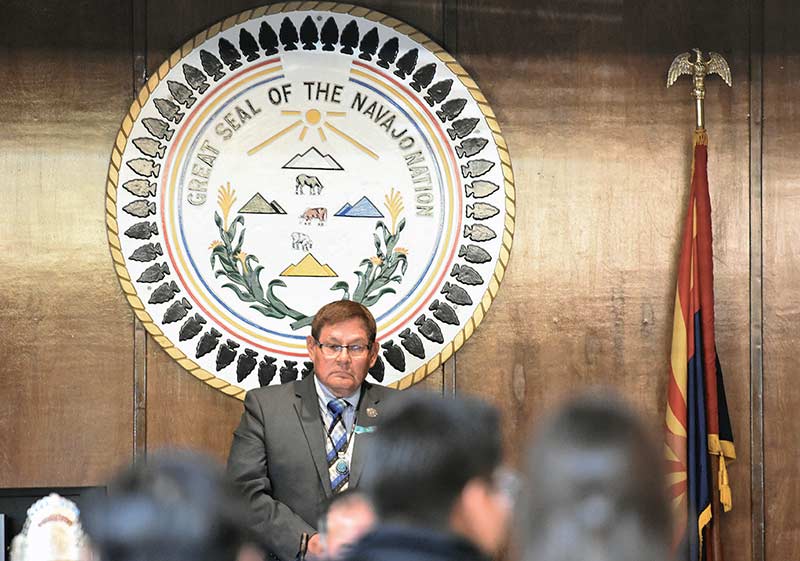 WINDOW ROCK
In a surprise announcement during Tuesday's Navajo Nation Council spring session, delegates were informed that the Bureau of Indian Affairs Navajo Regional director in Gallup, Sharon Pinto, had been removed from her post.
Pinto was named regional director in 2011 and before that she served as the deputy director since 2007. She had attended the first day of Council to give the BIA report and that is where she told Speaker LoRenzo Bates that her last day would be today.
"This was brought to my attention last night," said Bates. "I had a discussion with her about how this all came about and it does have something to do with the reorganization."
Bates said that Navajo Nation President Russell Begaye was already informed of Pinto's move and that he gave his consent for Pinto to be replaced. Bates said they would write a letter to the U.S. Department of Interior opposing the change and another letter to Begaye regarding the matter and why it wasn't brought to the attention of the Council.
"As the Bureau of Indian Affairs Navajo Regional director, Sharon Pinto has been an invaluable ally to the Navajo Nation. She's helped the Nation convert approximately 86 acres of fee land into trust land status," emailed Begaye to the Times. "This is the land that the Navajo Department of Transportation is built upon," he said. "She helped develop and sign a Memorandum of Understanding between the Navajo Nation and the BIA Navajo Region to develop an Integrated Resource Management Plan addressing the FBFA.
"In partnering with the BIA, we've relied upon her experience to bring solutions to issues the Nation's faced," he continued. "Because of which, I'm against her being reassigned. However, I wish her the best and hope that her new assignment will further partnerships that benefit the Nation Nation, and all tribal nations, at a national level.'
---