Etsicitty remembered as one who loved the simple things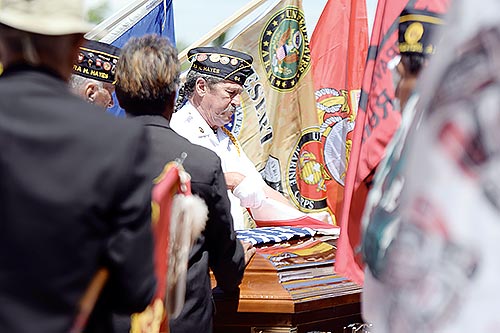 GALLUP
More than 400 people showed up Friday for the funeral of Navajo Code Talker Kee Etsicitty, who died Tuesday June 21 at the age of 92.
Among those who attended the funeral at the Sacred Heart Cathedral were several of the remaining 20 or so Code Talkers who are still alive. They included former tribal chairman Peter MacDonald, who is the current president of the Navajo Code Talker's Association, and Thomas H. Begay, Alfred Neuman and Bill Toledo.
During World War II, some 420 Navajos who joined the U.S. Marines were assigned to a special communications unit that used the Navajo language as a code to baffle the Japanese in the Pacific.
During his three years in the Marine Corps, Etsicitty participated in several battles, including Guadalcanal, Guam and Iwo Jima.
Family and friends at the funeral described Etsicitty, who worked for the railroad and then the Bureau of Indian Affairs after getting out of the military, as a simple person who enjoyed simple things, such as attending sports events that his son, Kurtis, was playing in.
---