For volunteers, shooter training was too real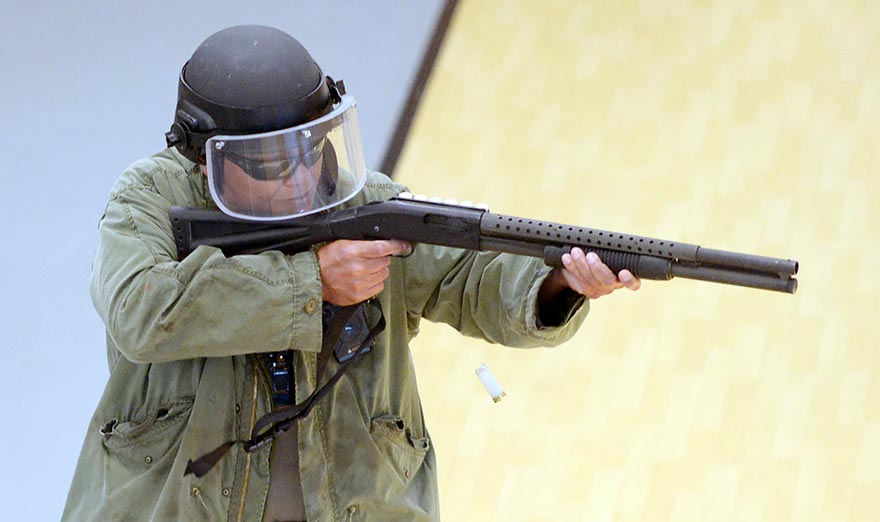 FORT DEFIANCE
It began suddenly and violently, despite being only an exercise that was planned weeks in advance.
The realism of last Thursday's active shooter exercise held at the Tsehootsoi Medical Center's wellness center caught the people playing the roles of gunshot victims off guard.
The scenario began with a boyfriend who argued with his girlfriend before she enters the Nihi Dine'é Baa Wellness Center. The argument ends at the front entrance with the boyfriend angrily walking away. The girlfriend walks inside to begin her exercising.
Volunteers, like Stephanie Bryant, played the role of patients going about their business with the center's exercise equipment.
Suddenly, the angry boyfriend, played by Sgt. Shawn Bodie with the Apache County Sheriff's Office, strolls into the center armed with a shotgun and two handguns and shoots the girlfriend and a fitness trainer.
The boom of the shotgun blast reverberated throughout the large open space.
Observers watching the exercise see Bodie unleash a barrage of gunfire at patients from the second floor. The unlucky ones who are shot lay on the floor and listened to the blasts of the shotgun.
Bryant played the role of a gunshot victim.
"When I heard the shots from right behind the wall, to hear all the shooting, I was really crying because it was so dramatic," Bryant said. "My coworkers and my friends, they were falling and they were screaming and they were bleeding. It was really emotional."
Robert Platero, the hospital's emergency preparedness coordinator, said the exercise took about a year to plan and coordinate and involved the Navajo Nation's Department of Public Safety, Apache County Sheriff's Office and TMC.
Platero said the exercise is based on a system called ALICE, or Alert, Lockdown, Inform, Counter, and Evacuate, which was created by Greg and Lisa Crane after the Columbine High School shooting that killed 13 people in 1999.
"We have an active shooter course for our employees," Platero said. "We have four hours where we address workplace violence. They're basically tools to detect and we use the ALICE Training where we put individuals through a PowerPoint course and we actually put them into actual scenarios."
Thursday's exercise drove that scenario home. As soon as the shooting began, people tried to evade and evacuate the wellness center.
Nadia Clyde, a fitness specialist at the wellness center, said it took her about five seconds to comprehend that an alert, which TMC calls "Code Silver," was activated.
"I looked to my left and saw a patient down," Clyde said, while telling the crowd of participants how she reacted to the exercise. "I heard the gunman and I ducked down behind the injured patient. Gunfire was so loud. My heart was racing so loud."
Platero said if a person walks into a building with a gun to start yelling, "Gun, gun, gun!"
"That should be your first and foremost – alert your immediate area that you're in," he said. "You have options to barricade, you have options to attack, you have options to evacuate. Once you feel you're in safe place, try to get information about the individual to law enforcement."
Platero said discussions on how to keep patients and staff safe are ongoing. One safety measure they've discussed is metal detectors, but public perception could backfire.
"We're researching it and how the public is going to react to it when they see it," he said. "They might say, 'I'm not going, this is an armed place and this is a target.' That's not going to be received well by the public."
But the safety of everyone was their top priority, he added.
An active shooter exercise was held in Crownpoint on Nov. 14, similar to the exercise held in Fort Defiance. An individual called the Navajo Times saying a shooting is happening and "a police officer is down."
However, call to the Crownpoint Police District revealed that it was only an exercise, according to Capt. Henry Moore.
---