'I'm gonna get bald'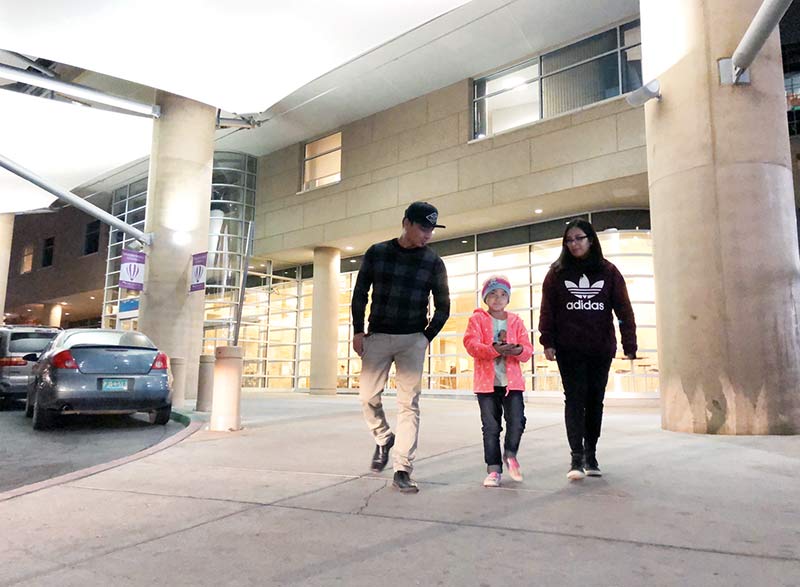 6-year-old begins second bout against rare cancer
ALBUQUERQUE
Kaylynn Sienna Woolboy is like any other little girl who spends her time watching children's shows like "Teen Titan," "My Little Pony" and "Sponge Bob."
The shy 6-year-old from Dennehotso, Arizona, likes to draw and color as well.
She is also enduring Stage IV cancer, which her parents, Kevin and Tawny Woolboy, thought she had successfully defeated.
After going through months of chemotherapy treatment and an eight-hour surgery to remove the shrunken tumor at the University of New Mexico Hospital in Albuquerque in 2016, doctors told them their daughter had beaten the rare cancer called Wilms' tumor. The tumor is a kidney cancer that affects children between the ages of 3 and 4. According to the Mayo Clinic, doctors are not sure what causes the tumor, but heredity may play a role.
A cancer develops when "cells develop errors in their DNA," which begin to grow uncontrollably, according to the Mayo Clinic. These cells continue to develop and soon turn into a tumor.
Last year, the young survivor and her parents were elated because they had beaten the odds. Kaylynn had lost nearly 20 pounds, her dad said, and it was time to gain the weight back and grow back her hair. "She was just bones by the time she was done with treatment," her father remembered during an interview at the UNM Hospital on Monday evening.
They didn't think they'd ever see the inside of the hospital again, but they were there to begin their kindergartner's second fight against the tumor, which doctors said was even more aggressive and had gone from Stage III (spread to the lymph nodes) to Stage IV (spread to other organs).
---