'A chill to my bones'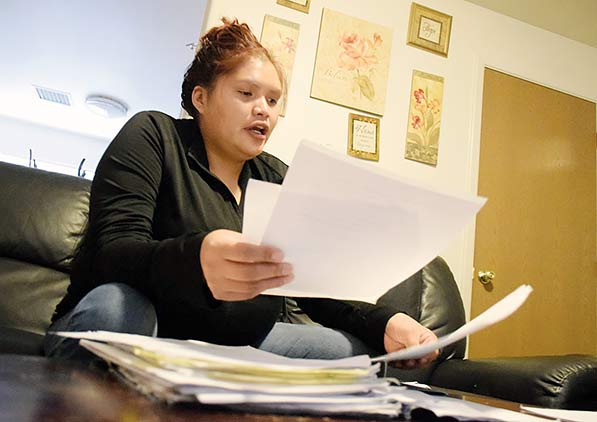 Mom of 4 says she's being unfairly evicted from NHA home
NAVAJO N.M.
Last year at the end of May, Chantelle Willie, 30, brought home her newborn baby for the first time. Her baby was born on May 18 and was just a week old. The family lives on Poplar Street in an NHA housing project in Navajo, New Mexico.
Willie remembers putting her bags down and trying to settle in with her newborn when NHA officials knocked on her door to serve her with a warrant of removal – despite Willie having a court order staying the eviction. Willie had been at home for 20 minutes.
The mother of four had been fighting her eviction for almost a year. This time NHA officials brought with them Navajo Nation Police officers who were there to remove her and her four children by force if necessary.
"That really put a chill to my bones," Willie said. "They threaten you. They intimidate you. When they (NHA officials) come to the door they have like a smirk on their face to where it seems like they want to see me physically taken out of my home."
Willie's spouse Bruce Harvey Jr., who was her boyfriend at the time, had come by that morning to check on her and his child. He wasn't allowed to stay in the house with Willie because he wasn't on the lease that she signed on May 2, 2016 – per NHA regulations. "Rose Tsosie (an NHA official) told the police officers to arrest him if he doesn't leave and arrest him for trespassing," Willie claims. "He was trying to say to her, 'I'm just trying to check on my daughter.'"
Feeling helpless, Harvey voluntarily left NHA property. To this day, Harvey doesn't stay with his family fearing it will create more issues for his wife, Willie, as she continues to fight her eviction. "She would cry every night and every day there was something new," Harvey said. "It's not about us. We're trying to do this for us, for our kids and the community."
"I have a lot of nights where I toss and turn," Willie said. "I really dread tomorrow. I really wish I could freeze time to where I have a home and I'm here with my kids."
---