Inauguration of 23rd Navajo Nation Council brings community out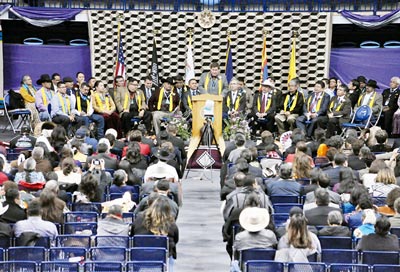 WINDOW ROCK
With a new president and vice president conspicuously absent thanks to the continuing election brouhaha, the 23rd Navajo Nation Council took office Tuesday after an inauguration ceremony attended by about 600 people at the Fighting Scouts Events Center in Fort Defiance, Ariz.
Chris Deschene, former and possibly future presidential candidate, was in the crowd and received loud applause and cheers when introduced.
Community member Cheryl Tullie of Fort Defiance said the ceremony was educational as well as entertaining.
Although Tullie is unsure about the new Council delegates she remains hopeful and very positive. She said would like to see changes with more focus on the youth.
"A lot more youth recognition. A lot more youth development going on as far as events," she said when asked about her vision for the Navajo Nation.
Tullie hopes that the new Council will use events centered on youth to help teach the kids about their culture and get them more involved with the community.
Among the 600 attenders were community members, former Council delegates, teachers, students, and tribal, state and federal officials. They watched as not only the Council was sworn in but also the Navajo Board of Election Supervisors and the Navajo Board of Education members.
Community member Vee Tsosie of Wide Ruins, Ariz., said she would like to see the presidential election happen. She hopes that this new Council will help heal the tensions.
---