Man gets 50 years in courthouse killings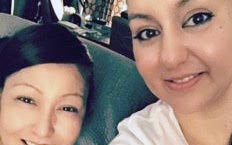 HOLBROOK, Ariz.
As a young mother Ashley Utley, 25, was finally reunited with her own mother, Sherry Quintero-Davenport, 45, after years of being forcibly estranged from her and the rest of her family.
They were ready to put all the events of the past behind them and forge on as a family unit once again. But that would never happen.
Last Thursday, Salomon Diaz, 49, was sentenced to 50 years for shooting and killing Utley and Quintero-Davenport on June 28, 2016.
He not only killed the two Navajo women, shooting them 14 times at close range, but he also shot and wounded Angela Chambers, aunt to Quintero-Davenport.
With the family of both sides present, Diaz was sentenced at the Navajo County Superior Court, which was the same place where two years prior he had killed Quintero-Davenport and Utley following a bitter custody battle over his two grandsons, Utley's children with Diaz' son.
On that summer day the courts had given Utley temporary custody of her two sons. The father of the boys is Salomon Diaz's son Jesse Diaz, a former Gallup Police officer.
"Sherry was my only daughter and Ashley was my only granddaughter," said Priscilla Quintero as she addressed the judge during Diaz's sentencing. "They were brutally murdered in my presence outside of this courthouse by Salomon Diaz. Losing my children is the greatest loss I have ever experienced. It demolished me. I feel I lost a part of my own identity."
A summer day
On that fateful summer day Quintero along with her own sisters, Chambers and Anna Joe, had accompanied Utley and Quintero-Davenport to Holbrook for the custody hearing.
It was no secret that Utley and Jesse Diaz had a tempestuous, sometimes violent relationship that, according to Utley's family members, included Jesse preventing Ashley from seeing her family. After she was finally able to leave, she planned to fight for custody of her boys.
But many obstacles were placed before Utley to prevent her form gaining any type of custody of her boys, at the time aged 3 and 2 years old, including Jesse Diaz taking the boys from New Mexico to the home of Salomon Diaz and his wife in Snowflake, Arizona.
The custody hearing was the first favorable outcome for Utley. But the family's happiness turned to shock and horror as they left the courtroom.
"It has turned my life upside down," stated Chambers to the judge. "I remember those few moments of the murder of two beautiful souls, whose lives were taken without warning, without cause, without hesitation, without any feelings from a man who thought it was his right."
Chambers continued to say that deadly day was the first time she had seen Utley in six years. She said Utley gave her a hug and said, "Now I feel so much better, Grandma," as they prepared to go up against the Diaz in court.
…
---