Who Sold the Farm?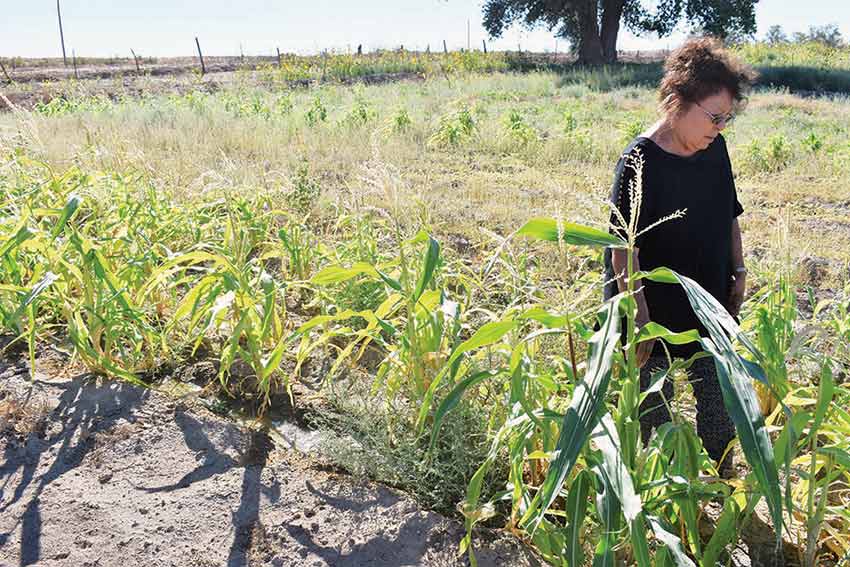 Business owner steps up
Editor's note: This is the second in a series on resource extraction.
SAN JUAN CHAPTER, N.M.
Shirley Montoya began looking into the company that was drilling six new wells on the land that was formerly her aunt Elsie Slim's farm. Reaching out to them directly via the number on the well markers didn't yield return calls.
According to drillingedge.com, Vision Energy Group LLC started production in the San Juan area in 2012 and has 25 total wells with 14 currently producing 400 barrels per month, as of June. At $70 per barrel (today's price), that would amount out to an estimated $336,000 in revenue per year.
Steven Prince, principal petroleum engineer at the Navajo Nation Minerals Department, confirmed that Vision Energy was within its rights, having acquired the oil lease from a company that went bankrupt years ago.
Interestingly enough, the original lease was purchased in 1921 by oil giant Midwest Refining Company.
After the Mineral and Leasing Act of 1920 was passed, it opened up public lands to coal, oil and gas leasing, with the royalties from extraction going to state and federal governments. So this would have been one of the first oil leases purchased through the Navajo Nation, with approval from leaders who were installed largely for the purpose of signing leases for the U.S. government.
Today, the lease gives Vision Energy the right to drill and extract oil and overrides any surface rights holders. Prince said as far as he knew the company was in good standing and had gone through the proper steps.
However, he did question whether they had done enough to address the condition of the roads after the recent drilling work.
Prince said that the original lease dictates that 12.5 percent of the revenue from the oil wells goes to the Navajo Nation general fund and the balance goes to the company. Those terms haven't changed or been renegotiated since 1921 even though the lease has changed hands.
As far as he knew, no royalties go to back to San Juan Chapter or residents.
Sand and gravel
In addition to the oil wells, a sand and gravel mine is planned within site of the family's home, blocking the view of the San Juan River.
Montoya and her husband attended the chapter planning committee meeting on Oct. 2 and expressed their concerns. Chapter President Rickie Nez suggested the best idea would be a follow-up meeting with Robert Whitehorse, who had proposed the mine, to discuss its current status.
---