'Navajo Cops' producer: Officers invest their heart, soul to protect the people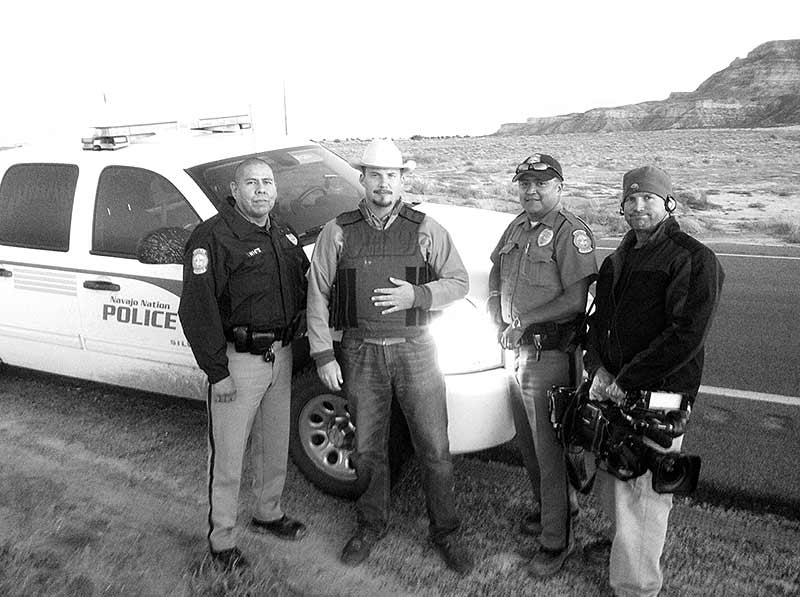 By Samuel K. Dolan
Special to the Times
All of us have moments in our lives that when we look back, we can say, "Yes, that's when my life changed forever."
For me, that moment came on the night of June 18, 2010, when I watched Officer Carlton Jim, a patrolman with the Navajo Police Department's Chinle District, climb over a barbed-wire fence and disappear into a dense thicket of pine trees in search of a potential victim.
I was a 30-year-old producer working with a camera team sent to the Navajo Nation to film the first scenes "Navajo Cops," real-life police work for a documentary series. This was our first official patrol.
We'd arrived at the rural homesite in the high country northeast of Tsaile, in search of a rancher who had allegedly been shot at during a dispute over livestock. For about fifteen minutes, Jim had used the PA system on his patrol unit to call out to the man in both English and Navajo, hoping to draw him out of the woods so that he could help him. We still weren't sure if the armed assailants were still out there, watching us from just beyond the tree line. Finally, Jim reached into the back of the unit and retrieved his rifle. Then, after showing us how to use his radio in case things went bad, he stepped into the darkness.
In the end of course, Jim survived his journey into the woods, just as he has hundreds of other times before and since. However, that incident affected me deeply, and was only the beginning of a unique chapter in my career that would prove to be life changing. Later, I would come to realize that the situation out there on that dark night could have gone another way altogether.
Carlton Jim could have been killed. But, as a professional peace officer, Jim accepts this as part and parcel to the job. "If I don't do this, who will?" This was how Officer Jim described the nature of his work.
My memories of Carlton Jim have stayed with me a long time now. So have my memories of Officers Chris Holgate, Tiffany Tallman, Alfreda Wagner and dozens of other members of the Navajo Police Department.
Between the spring of 2010 and the winter of 2012, I had the honor of getting to know these brave men and women, who I saw perform countless acts of bravery on behalf of their community.
Many of these incidents became a part of the television broadcast of "Navajo Cops." However, it's the off-camera moments that I usually think about the most; the laughter we shared with the officers after some hilarious experience, the silence that speaks volumes after witnessing one of their job's routine horrors, the simple acts of kindness that our officers displayed in helping a young child, or an "elderly" at some distant homesite.
There was also the raw emotion over the death of Sergeant Darrell C. Curley in 2011, the regrettable presence of children at crime scenes and the understandable outrage when faced with the results of a car accident involving alcohol.
There were the bitter threats and the anger expressed by those arrested, or even by some of the witnesses.
"Why does it always take so long for you to get here?" a young woman yells at one of the patrolmen, while all I can think is "Ma'am you have no idea how much ground this man has covered in the past eight hours, and his day isn't over yet."
On paper, a patrolman's day is defined by an eight-hour shift, but it wasn't unusual for that to turn into ten hours, or twelve, or fifteen, or more. My crew and I did a fourteen hour shift with Philbert Toddy in October of 2011 that involved everything from DUI arrests, to a man being kicked in the head by a horse, to a report that a woman had been fired on while grazing her sheep.
That particular incident resulted in a long night of searching for the subjects involved, arresting them one at a time, retrieving the weapon used, and transporting the suspects to jail, all the while dealing with suspects and their families who were often less than cooperative.
On the night of March 19, I received the heartbreaking news that a Navajo officer had been killed in the line of duty and that two of his colleagues had also been wounded. Hundreds of miles away, and three years since my last patrol with the Navajo police, this news hit me like a punch in the gut, just as it has when I have learned about other losses of life or injuries sustained by the officers I care so much about. And while I did not know Officer Alex Yazzie, I have no doubt that he was just as brave, and just as committed to his mission as any of the fine men and women I worked with between 2010 and 2012.
On behalf of my family, my colleagues, and myself, I extend my deepest sympathies and condolences to the family of Officer Alex Yazzie. And to those officers who were wounded, you have my admiration and prayers for a speedy recovery. And to those wonderful people across the Navajo Nation, you have one of the finest law enforcement organizations in the country.
The men and women of the Navajo Nation Police Department, care about you immensely. When you hurt, they hurt. They invest themselves heart and soul in their mission to protect the people, and when you ride with them you learn that right away.
Even now, as you're reading this, the officers of the Navajo police are out there; lone patrolmen working many miles from their station, taking risks, and riding into danger. To those wonderful men and women in the khaki-brown uniform of the tribal police, I still think about you every day. Be safe out there.
(Editor's note: Samuel K. Dolan is from Northern Arizona and currently a senior producer and writer for Flight 33 Productions in Los Angeles. He was one of the writers and directors on "Navajo Cops" between 2010 and 2012.)
---