Nez wins by 19,000 votes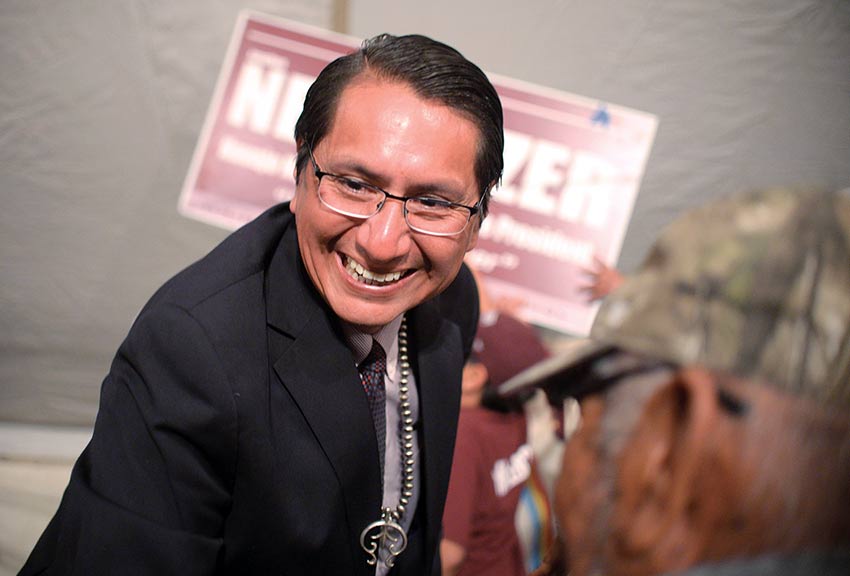 WINDOW ROCK
Jonathan Nez sprinted to the finish line and is now the youngest person to be elected as Navajo Nation president.
From the beginning as numbers started to come in on Tuesday evening, Nez and his running mate Myron Lizer took the lead. Candidate Joe Shirley Jr. and his running mate Buu Van Nygren just couldn't catch up.
The unofficial results in the race for Navajo Nation president show Nez winning with 39,783 votes. Shirley finished with 20,146.
"We all got to come back as one," said Nez to the huge crowd inside the Navajo Nation Museum. "If you didn't vote for us we just want to say, 'Thank you to you, as well.' But tomorrow let's come back and unite as one."
These impressive numbers show for the second time Shirley lost with a large margin as he attempted to reclaim his presidency for a third term. When Nez and President Russell Begaye claimed victory four years ago, they won with only 23,815 votes.
Yesterday's nearly double the numbers of votes is what Nez considers a "mandate" from the people asking for a change.
Clara Pratt, campaign manager for Nez, said at the end of the night that this may have been the biggest turnout for an election but was trying to confirm that.
"We are elated," said Pratt. "We are humbled by the margin. It's pretty historic. We have managed to to do two amazing things in one night: elect the youngest Navajo Nation president by a literal landslide."
Nez is 43 years old.
---