Nygren appoints new Navajo VA executive director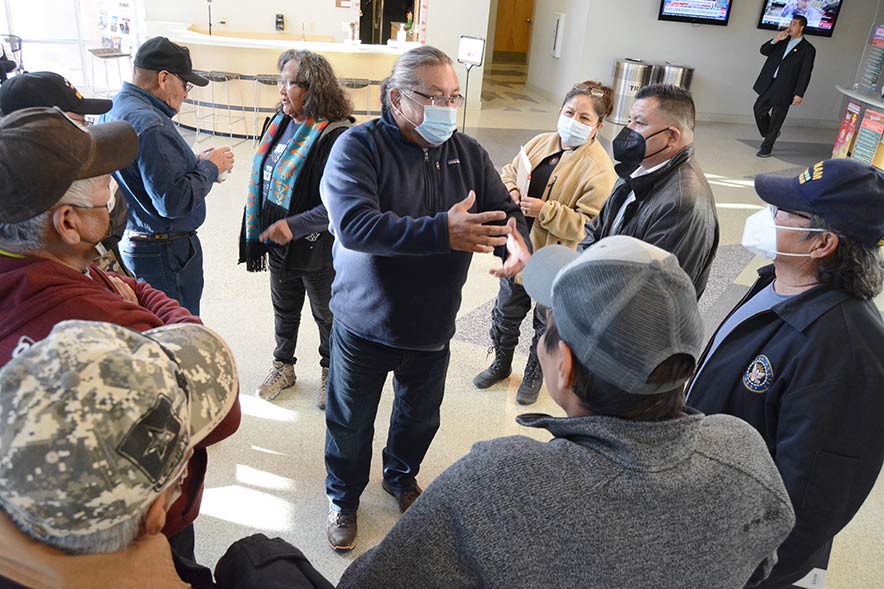 WINDOW ROCK
Bobbie Ann Baldwin, the former veterans service officer in Ft. Defiance, was appointed executive director for the Navajo Nation Veterans Administration.
Baldwin was not present at the announcement.
Baldwin, who received the majority of votes from the Navajo Nation Veterans Advisory Council, was selected over former Council Delegate Kee Allen Begay Jr., who was also in consideration. Begay alternatively was offered an appointment as a Navajo Nation Veterans Advisory Council representative, who'd be frequently traveling to Washington, D.C. However, Begay declined.
Former Navajo Nation Veterans Administration Executive Director James D. Zwierlein is a political appointee by former President Jonathan Nez. Under the contract Zwierlein signed with Nez, his contract is for six years.
President Buu Nygren said he was considering making the new contract for the Navajo Nation VA director position for four years, which would coincide with the four-year term a president has.
Three days into his term, Nygren gave Zwierlein a six-week notice Jan. 13. Nygren said Zwierlein would train a newly appointed executive director to ensure a swift transition for the Navajo people.
It is undetermined when or if the Washington advisory position will be selected.
The announcement comes with mixed yet vocal feelings from a group of Navajo veterans that anxiously waited a few hours outside the closed-door meeting.
Six of the nine-member Navajo Nation Advisory Council and Nygren spoke with the group informing them of the decision. The veterans shared their thoughts and disappointment in the selection process, stressing that their voices should be considered and heard in these critical appointments.
Ret. U.S. Army Capt. Sean Begaye, who served from 1998 to 2021, was one of the veterans who spoke with the Council and Nygren.
"There were no changes under Baldwin's tenure as VSO (veterans service officer)," Begaye said.
Begaye adds that Baldwin should have optimized changes that would have genuinely helped veterans but nothing improved year after year as she served as VSO.
Begaye, who went to school with Baldwin, said she is a friend. However, he believes she is not qualified to hold such a critical position for Navajo veterans based on her previous performance in the different roles she has served.
Willis Becenti, commander at Tsaile Chapter Veterans Organization, was also in attendance.
"We don't have time to wait," Becenti said. "Veterans don't have time to wait for a learning curve while Navajo veterans have been struggling and have already been waiting a long time. We again will have to wait and see."
Baldwin is expected to be at the president's office Wednesday morning (Jan. 25).
---