Top stories of 2016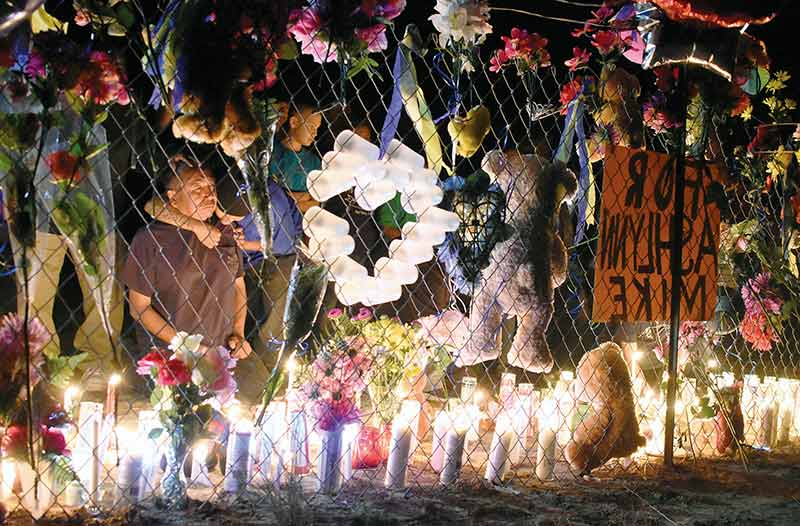 From mourning to action
WINDOW ROCK
Twenty-sixteen was a big news year for Native Americans and other American minorities.
An unconventional (to say the least) Presidential campaign exacerbated race relations already strained by a spate of police shootings of unarmed Black men, while thousands of Natives gathered at a construction site for the Dakota Access Pipeline in a protest dwarfing both the 1969 takeover of Alcatraz (involving 89 people) and the 1973 standoff at Wounded Knee (around 200).
But here on the Navajo Nation, it was the deaths of a woman and a girl a little over a month apart that took center stage, unleashing a flood of grief and anger that is only now starting to resolve into a discussion of how to protect our most vulnerable citizens.
On March 27, a white Winslow Police officer shot to death a 27-year-old Navajo woman, Loreal Tsingine, armed only with a pair of scissors, during a shoplifting arrest.
Officer Austin Shipley resigned in late October after being cleared of wrongdoing (other than possessing two extra firearms that may or may not have been authorized) by an external investigation. He described feeling "sick" over the incident, while maintaining he felt his life was in danger and he acted in self-defense in accordance with his training.
Natives from Winslow and elsewhere who believe the shooting was racially motivated launched protests at the police department and city hall, and Tsingine's family is suing the city and Shipley for wrongful death.
Just a little over a month after Tsingine's death, on May 2, the body of 11-year-old Ashlynne Mike was found seven miles from the Shiprock pinnacle.
Police shortly thereafter arrested Tom Begaye Jr., a 27-year-old Waterflow, New Mexico man, on charges of sexual assault and murder. Begaye, who allegedly confessed to police that he abducted, sexually assaulted and killed Mike, is awaiting trial. He has pleaded not guilty.
While Mike's family and the whole Navajo Nation reeled from grief, some began to question why an Amber Alert had not been immediately issued for the missing child – leading to the discovery that, although hundreds of thousands of dollars had been allocated toward creating an Amber Alert system for the Nation several years ago, it had never happened.
The Navajo Nation Council has set aside more funding to kickstart the project, but technology experts within and outside the tribal government have privately told the Times the lack of infrastructure and a rural address system could set the project back by years. Meanwhile the state of New Mexico has offered to issue Amber Alerts on behalf of the Nation, and private citizens have set up Facebook pages to share information on missing adults and children.
(To see the Navajo Times list of Top 10 stories, pick up a Navajo Times or subscribe online today.)
---