Totah mayor proclaims 'Indigenous Peoples Day'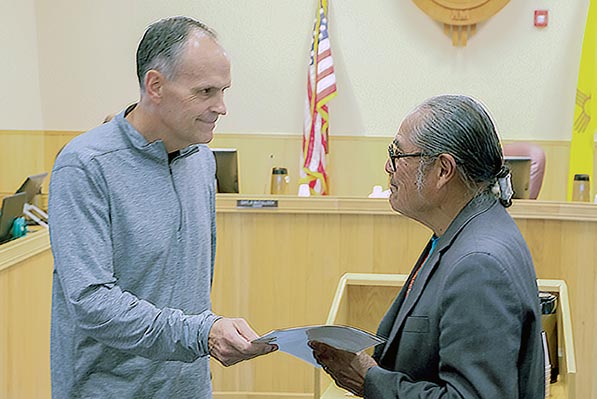 FARMINGTON, N.M.
Five hundred and 25 years after Columbus sailed the ocean blue, the city of Farmington is taking a closer look at the Italian explorer and the holiday that celebrates his voyage.
During a regular city council meeting Tuesday, Farmington Mayor Tommy Roberts officially proclaimed the second Monday in October every year as "Indigenous Peoples Day."
Although the proclamation does not explicitly replace the designation of that same date as Columbus Day, it does add nuance to conversations about European explorers and the destruction of America's Indigenous people.
"This proclamation represents a desire to demonstrate respect for our neighbors," Roberts said during the meeting.
More than a quarter of Farmington's population is Navajo, he said, and additional residents claim membership in the Hopi, Southern Ute, Ute Mountain Ute and Jicarilla Apache tribes.
The proclamation acknowledges that Indigenous peoples occupied the Four Corners area "many hundreds of years prior to European exploration and settlement" and continue to be "a prominent and an influential part of the rich cultural, societal, economic and political history."
It also recognizes that the city of Farmington "benefits each and every day, in a multitude of ways, from the contributions of Indigenous peoples."
With its proclamation, Farmington joins the growing ranks of municipalities both local and nationwide that are showing Columbus the door. Albuquerque, Denver, Los Angeles and Seattle have abolished Columbus Day completely, officially replacing the holiday with Indigenous Peoples Day.
In Farmington, a town bordering the northeastern part of the Navajo Nation, historical relationships with indigenous neighbors have been unpredictable at best. Since 1974, the U.S. Commission on Civil Rights twice has visited Farmington to investigate what it called "a conflict of cultures."
The commission, which first studied Farmington following the brutal murders of three Navajo men in 1974, explored community attitudes, administration of justice, access to medical and health services and economic inequality. It revealed systemic discrimination against Navajo citizens and called on elected officials and professional leaders to make changes.
When the commission returned in 2004, it found "significant progress in race relations between Navajos and whites in Farmington," but still identified persistent racist attitudes and ongoing tensions. Following the commission's recommendations, Farmington in 2007 established its Community Relations Commission, a nine-member board tasked with safeguarding equal opportunities for all citizens.
Three years later, the city of Farmington and the Navajo Nation entered into a memorandum of agreement to harmoniously address issues of discrimination.
Tuesday's proclamation represents another step in the right direction, said Shiprock Chapter President Duane "Chili" Yazzie, who has fought for civil rights in the Farmington area for decades.
In a statement to the city council, Yazzie acknowledged the discussion process that resulted in the proclamation and called for greater communication and collaboration in the future.
The proclamation "is a recognition of a great egregious wrong that was done to the Native peoples of this western hemisphere," Yazzie said.
"There is no doubt that our indigenous world would have been eventually found by foreigners … but we did not have to be slaughtered," he said. "Columbus is not a man to be celebrated. His reputed accomplishment is overshadowed by the atrocities that he perpetrated."
---