9 seek Nez' seat on tribal council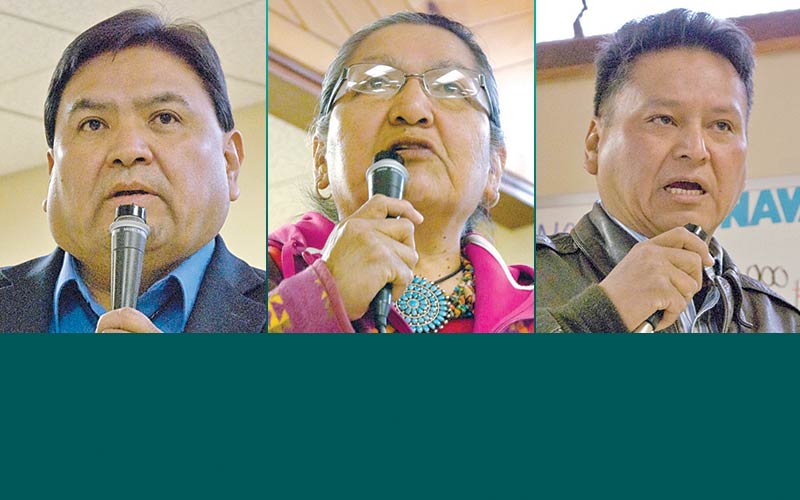 SHONTO
Billy Goodman Jr. of Ts'ahbiikin, Ariz.; Joe Holgate Jr., Felix R. Fuller, Paul Lee Todacheene and Elizabeth Whitethorne-Benally of Shonto, Ariz.; James Frank Adakai, Herman Daniels Jr. and Harve Holiday from Oljato, Utah; and Willie Greyeyes from Naatsis'áán, Utah are all vying to represent Naatsis'áán, Oljato-Monument Valley,
Shonto, and Ts'ahbiikin – the four chapters in northwestern Navajo collectively known as "NOST."
According to the Western Navajo Agency Election Office, the filing deadline for delegate was May 26.
Voter registration specialist Sally Tohannie said that a special election will take place either in late June or in early July.
This article will profile four of the candidates, and the others will be profiled in future editions of the Navajo Times.
James Adakai
Ałk'idąą, the torch was passed to James Adakai from Oljato-Tsébii'ndzisgaii, a former táá'naaznilí some would say delivers.
In Rainbow City, Utah on May 15, Adakai briefly introduced himself, making known his clans and his family of five. He stood before his constituents with a message of hope and opportunity.
Adakai said he's many years old, having served as the District 8 (Chilchinbeto, Dennehotso, Kayenta, and Oljato) Council president and the Western Navajo Agency Council president, among other positions.
"When you're holding a position, you're the overseer as well as the matriarch and the patriarch of a community," he said in Navajo. "All of us are in unfavorable circumstances, that's the reason you don't belittle."
"To be a leader, you have to be trusted. You have to advocate," he continued.
"Leadership is about preliminary work and logic. I enjoy it. I've procured the knowledge and I want to help you."
At his home chapter of Oljato two days later, the people saw the realization of an innovator – whether it's dealing with the Navajo Trust Fund or planning for infrastructure.
Adakai believes his work is complete at the chapter level. He's also worked for the city of Sedona, Ariz., the counties of Coconino and Yavapai, exerting himself on zoning ordinances as well as controlling and planning development; and he has worked for Kayenta Township when hotels and restaurants were being planned. Currently, he's working for the Navajo Nation.
Thanks to scholarships from the Nation, Adakai has two bachelor's degrees – political science and sociology – and a master's in public administration.
"I want to give back," he said. "I want to help (the) community (of Oljato) and the other three chapters. I believe I can do it."
If elected, his top priorities include economic development, natural resources, and public safety.
Adakai is Nát'oh Dine'é Táchii'nii (Tobacco People of Táchii'nii) and is born for Bit'ahnii (Folded Arms People). His maternal grandparents are Tódích'íi'nii (Bitter Water Clan) and his paternal grandparents are Tábąąhá (Water's Edge Clan). He's married to Naomi Greymountain.
Nelson Yellowman of the San Juan School District Board on May 17 endorsed him.
Billy Goodman Jr.
Billy Goodman became a politician on May 15, taking up the challenge. On Day Two of his campaign, he stumbled over his words but presented himself as an airman turned politician and a voice of reason.
Now more than a week into his campaign, the Cross Roads-Ts'ahbiikin native has gotten his message through that if elected, he'd lead his chapters in the same manner as he led in the military.
"We need someone from (the area) to take up arms for us in Window Rock," Goodman said in Navajo.
Goodman spent 24 years in the U.S. Air Force and in the Utah Air National Guard.
Last weekend, Goodman talked of core values: Integrity, service before self, and excellence – virtues and values that exist for all members of the Air Force family. He incorporated the concept of a commitment to learn, assess risk, and a continual improvement for his district chapters.
"I don't plan on making it up as I go along," he said in English. "I plan on using organizations, I plan on using you, the chapters, to get the goals accomplished, to remedy everything that ails you."
"I don't make promises because I'm going to break them," Goodman continued.
"The outcome might not be what we anticipated. You always weigh your options, always weigh the resources that you get … sometimes your priority isn't high enough."
Goodman said that he can step into his learning model and immediately apply it, noting that he started in the service where he put forth the extra effort to exceed the highest standards that were placed upon him.
He joined the Air Force after seeing that he wasn't interested in college. Overwhelmed by the roster of possible careers, Goodman said he threw a dart, metaphorically, at a career field that seemed interesting: electronic warfare.
"I picked the best job (and) it challenged me to no end until I hung up my uniform (in 2008)," Goodman stated in his biography submitted to the Navajo Times.
If elected he'd arrive at the council chambers with less executive experience than most of his predecessors, but possibly more competence in problem-solving.
Goodman refers to himself as one of the Diné warriors, a common man who stands for common sense and truth. Not to mention, he stands firm on bringing the youth home.
Goodman is the son of Billie and Mary Goodman from the NOST area.
"The ultimate on my agenda is to bring back our youth to our people," he added.
Joe Holgate Jr.
Joe Holgate casts himself as a protector of the land. Holgate's pitch didn't come from his ranch or his old office at Peabody Energy where he spent 38 years as a supervisor for training and safety. Instead, he billed himself as a former Shonto Chapter president (before it was certified under the Local Governance Act) and the former
Navajo Government Development Commission vice president, among other roles.
"There are issues, pressing matters out there that I felt like need addressing at a level … I know" Holgate said. "Especially the people of the land, the people who really use the land, and who really live in these areas (NOST). And I'd like to move forward with it."
Holgate said he's at the graduate level of being a Diné and living the lifestyle as a result of his formal and indigenous educations. While leadership offers a great deal of knowledge, Holgate said one of the important things he's learned working in a corporate
setting is being accountable for the responsibilities that were given to him.
"If you don't make a profit, you don't get a paycheck," he said. "We need somebody (who can) negotiate the same level of knowledge and talk about certain issues that are made."
Holgate is a present-day rancher who doesn't see running for delegate as a win or lose situation.
"My message is going to be out there to those people who are voters. It's going to be up to them to determine whether I get the council seat," Holgate said. "I leave it in the hands of the voters because my record will hopefully speak for itself."
If elected, Holgate intends to empower the local governance and improve communication with constituents; continue to push projects forward from the previous council delegate; improve local communication services – Internet, phone, and transmission lines; improve the accountability of local leadership; and foremost, to address grazing issues.
"I see the condition of the land. I see the land not sustaining these stray animals.
We are not practicing conservation. In our area here, very little rain can bring an abundance of plant growth, but we just don't get it a chance."
At the central government level, Holgate intends to continue to advance government reform; promote reliable energy initiatives that can continue to stabilize the Navajo economy; and to empower the youth to foster their understanding of Diné traditions, among others.
Holgate is currently establishing the Native Rodeo Historical Society, to commemorate the local athletes. Holgate is Lók'aa' Dine'é and born for Tódích'íi'nii.
His maternal grandparents are Naaneesht'ézhí Tábąąhá (Water's Edge Clan) and his paternal grandparents are Yé'ii Dine'é Táchii'nii. He's been married to Vera Holgate for nearly 40 years. They have six children.
Elizabeth Whitethorne-Benally
The fourth candidate, Elizabeth Whitethorne-Benally, is a steadfast scion of the Sunshine Springs.
Originally from Didzétsoh near Black Mesa, Ariz., Whitethorne-Benally is an artist and a welder. She is also the sister to well-known artist Baje Whitethorne Sr. and politician Hank Whitethorne.
She's the current president for Shonto Community Governance, the president for NOST, and is a partner of the Arizona Office of Tourism, among other posts.
And if elected, Whitethorne-Benally intends to make her way náás (moving forward) by erecting new senior centers and homes using alternative building materials; bringing economic development; proposing scenic preservation, solar energy, and wind power to the masses; as well as improving roads.
Whitethorne-Benally has been described by her supporters as an inspiration for women trying to break through the glass ceiling and for individuals devoted to serving
the people. It is said that she is an individual who does not flinch.
"My vision and experience is going to expand," she said in English. "I believe in hózhǫ́ and náás – my way of thinking."
She began her chapter work in Shonto 15 years ago as a volunteer, doing paperwork and later becoming the administrative assistant. Now, she is a candidate who's campaigning as a crusader for growth.
Whitethorne-Benally is Lók'aa' Dine'é (Reed People) and is born for Hashk'ąą Hadzohí (Yucca Fruit-Strung-Out-In-A-Line Clan). Her maternal and paternal grandparents are Tł'ízíłání (Many Goats Clan). She is married to Kenneth Benally, who is Tábąąhá. Together, they have one daughter and one granddaughter.
Recently, Whitethorne-Benally's critics argued that she may be cut from the same cloth as Hank Whitethorne, who came under fire for initiating the lawsuit that eventually ousted popular candidate Chris Deschene from the presidential race.
"I was told that I might be like him and that I might also start a controversy," Whitethorne-Benally said in Navajo. "Our philosophy is completely different. If you have questions, you have to ask him. We're not under the same impression."
She said if she indeed supported Hank Whitethorne, she would have supported him during the court hearings in Window Rock, when he and Dale E. Tsosie challenged Christopher C. Deschene's candidacy over his ability to speak fluent Navajo.
"I wasn't there, you didn't see me there," she said.
---