Council set to convene winter session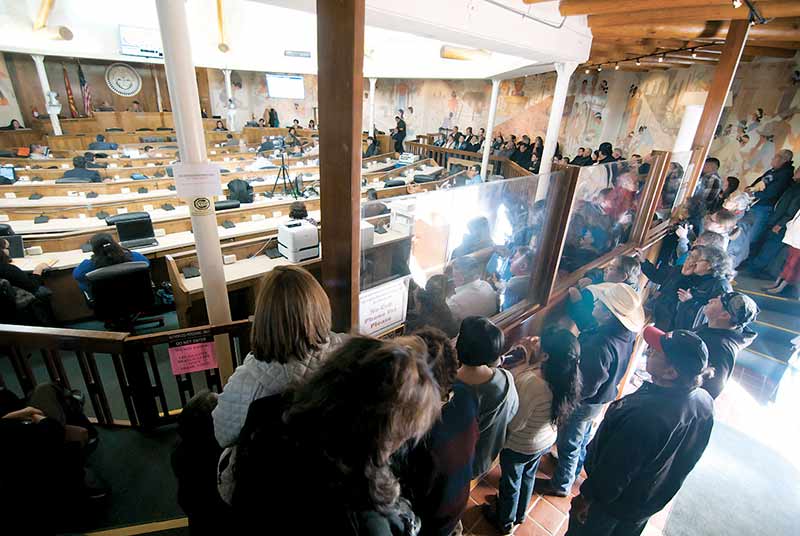 WINDOW ROCK
The speaker's office reports that the 23rd Navajo Nation Council is scheduled to meet for the opening day of the winter session on Monday, Jan. 22, in the Council Chamber.
Speaker LoRenzo Bates invites all Diné citizens to attend or watch the proceedings through the Ustream channel.
Prior to the meeting, the public is invited to join the "Blue Campaign to End Human Trafficking" walk on Monday, beginning at &:30 a.m. at Wells Fargo Bank. The walk is to raise awareness of human trafficking issues and is sponsored by the Division of Social Services' Strengthening Families Program in collaboration with Council.
At the winter session, the Dilkon Veterans Organization will post the colors, Miss Navajo Nation Crystal Littleben will sing the national anthem, 2017-18 Black Mesa Community School Princess Haiden Polly Begay will lead the pledge of allegiance, and Pastor Tom White will provide the opening prayer.
The Council's first order of business will be to receive the state of the nation address from President Russell Begaye, followed by reports from Speaker LoRenzo Bates, the Bureau of Indian Affairs, Indian Health Service, controller's office, attorney general's office and the chief justice.
On Tuesday, the Council will begin considering legislation. The proposed agenda, which is subject to change at the discretion of the Council, lists 17 bills. You may view the proposed agenda on the Council's website at: www.navajonationcouncil.org.
The Council will honor and recognize individuals and groups for recent achievements, including the UFC women's flyweight champion Nicco Montano of Lukachukai, National Finals Rodeo team-roping champion Erich Rogers of Round Rock, the Arizona 1A state volleyball champions from St. Michael High, two-time American Youth Bull Riding Finals champion Jacob David from Grand Falls, and others.
The winter session will be live-streamed on ustream.tv (search for Navajo Nation Council).
---