Election board OKs purge of 52,000-plus voters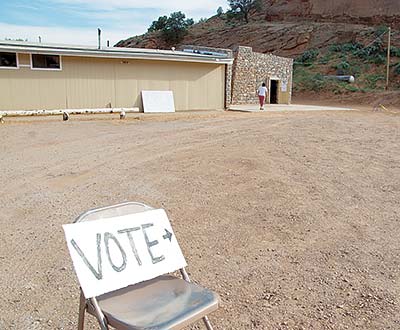 WINDOW ROCK
The Navajo Board of Election Supervisors has agreed to cancel the voting registration of more than 52,000 tribal members who did not vote in the 2014 election for president and the 2016 chapter elections.
The Navajo Election Administration is required by law to purge tribal voters who register and then do not vote.
Those who have had their registrations canceled do have the right to re-register before upcoming elections for president and the Navajo Nation Council in August.
The office sent out notices in December to more than 60,000 registered voters who failed to vote, giving them an opportunity to stay on the voter registry by returning a card, but only about 15 percent complied.
"The Navajo Election Administration has provided fair, adequate and reasonable opportunity for voters to respond to cancellation notices and/or to update and make necessary connections to the Navajo Voter Registration Listing in respect to names addresses and chapter affiliation," the resolution approved by the election board stated.
Past purges also saw massive cancellation of voters as well and over the years one of the reasons has been laws that require anyone who receives a tribal scholarship to be a registered voter, resulting in thousands of young Navajos registering who had no intention of actually voting.
---